This Weekend: James Taylor Concert and the Treasure Island Flea Market
In addition to a James Taylor concert and the Treasure Island Flea Market this beautiful weekend, the Up Your Alley Fair takes place on Sunday in SoMa (the 12 Folsom/Pacific will be rerouted). And don't forget: the Muni Metro Subway will be closed for new train tests for the second of four weekends.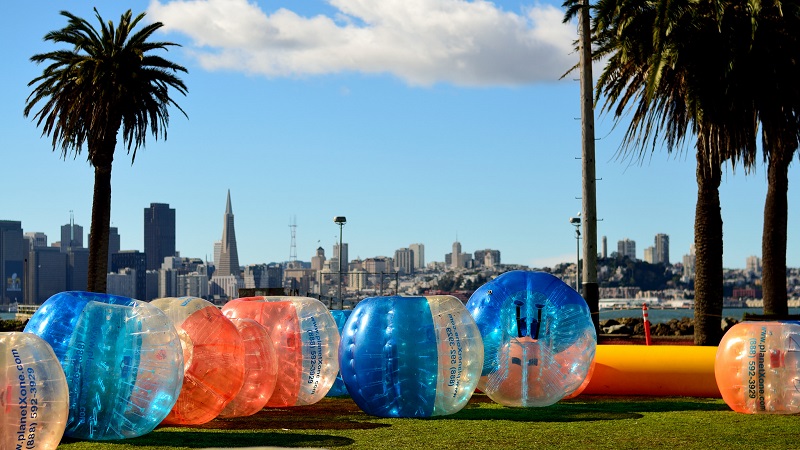 Fun and excitement awaiting all comers on Treasure Island in 2016. Photo: Tom Hilton/Flickr
James Taylor Concert
Saturday, 7 p.m.
AT&T Park
The unmistakable James Taylor will take to the stage at AT&T Park  and weave a story through hit songs from his nearly 50-year Hall-of-Fame career. He will be joined on stage by another music legend, Bonnie Raitt. 
How to Get There on Muni: E Embarcadero, T Third, Metro Ballpark Shuttles, 10 Townsend, 30 Stockton, 45 Union/Stockton and 47 Van Ness.
Muni Service Note: Due to the weekend subway closure, there will be no Muni Metro service between West Portal and Montgomery stations. Concertgoers can get to the ballpark by taking Muni train service to and from Embarcadero Station and use a Metro Bus shuttle between there and West Portal. 
Treasure Island Flea: Hawaiian Island Theme
Saturday and Sunday, 10 a.m. to 4 p.m.
Treasure Island
This month's Treasure Island Flea Market will have a Hawaiian twist with everything from Mai Tais to tiki bars, free leis and a special Hawaiian food truck menu. Embrace the Aloha spirit and enjoy all that Treasure Island has to offer this weekend in the bay.
How to Get There on Muni: The 25 Treasure Island Route will take riders to and from the event. 
Muni service note: Due to increased ridership, the 25 may see delays.
Reminder: Muni Subway Shutdowns for New Train Tests
Muni Metro subway closures for tests on new Muni trains will continue until Sunday, Aug. 20, except for Aug. 11 - 13. Subway service will close early on weekdays at 9:30 p.m., and all weekend from Fridays nights until Monday mornings. Muni Metro trains will continue to operate on the surface during the test period. For complete details, please visit our service alert page.
Reminder: J Church Stop Changes at Balboa Park
Due to construction for the Balboa Park Station Area and Plaza Improvement Project, the J Church Line will continue to serve alternate stops on San Jose Avenue until the fall.
For details, please visit our Green Light Rail Center Track Replacement Project page.
Reminder: Van Ness Construction
All left turn lanes on Van Ness Avenue have been removed with the exceptions of those at Broadway (southbound), Lombard Street (northbound) and temporarily at Hayes Street (northbound).
Van Ness traffic lanes have been reduced from three to two on these segments:
Northbound from Post to Filbert Street
 
Southbound from Filbert to Washington Street
For complete details on these changes, please visit our Van Ness Improvement Project page.
"On Tap" gives you a heads up about the big events in town and what Muni routes and lines will get you to the party. Look for this feature to be posted usually on Wednesdays for a look ahead to the weekend. Check out our Weekend Traffic & Transit Advisory for more details.