This Weekend: K Bus Shuttle Service, Giants Baseball Heats Up
Wednesday, August 24, 2016
Muni Metro Service Alert:
This Sunday, as part of the on-going Balboa Park Station Area and Plaza Improvements project, the K Ingleside Line will have all day bus shuttle substitution service between Balboa Park and West Portal stations. Regular K Ingleside and T Third train service will operate between West Portal Station and Bayshore Boulevard and Sunnydale Avenue.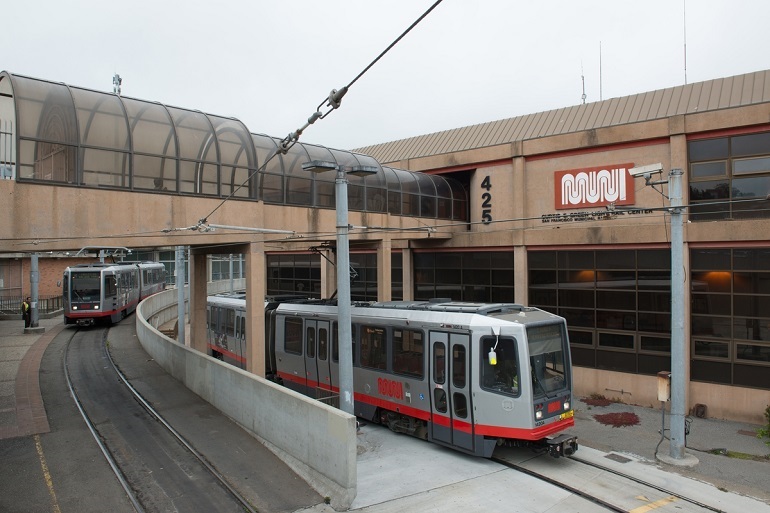 The Muni Metro Green yard at Balboa Park on August 21, 2015. SFMTA Photo Archive
Event:
Giants Baseball
Friday through August 31, various times
AT&T Park
With the final month of the 2016 baseball season around the corner, the Giants'  five-game home stand starts up this weekend. Starting Friday, the Giants will play  three games against the Atlanta Braves, followed by two games against the Arizona Diamondbacks next Tuesday and Wednesday.
If you're planning on heading out to the ballpark, let Muni take you to AT&T Park. Service on the N Judah, T Third, E Line, 10 Townsend, 30 Stockton, 45 Union/Stockton, and 47 Van Ness will get you to or near 24 Willie Mays Plaza.
Visit our service alert page for complete details on taxis, biking, and parking during baseball season.
Taking Muni? Skip the search for exact change or the wait in a ticket line by using our MuniMobile app to purchase your fare in advance.
Muni service note: Muni Metro will provide addition ballpark shuttle trains to assist fans with both pre- and post- game service. Patrons should expect minor service delays near the ballpark due to heavier pedestrian and vehicle traffic.
Upcoming Regional Transportation Alert:
The next weekend BART closure between Daly City and Glen Park stations is scheduled for the Labor Day weekend, September 3 to 5. This project runs until October 16. Muni and SamTrans will be providing free shuttle service and extra service on alternativeroutes. For details, check out our July 18 blog post.
Upcoming Holiday Service Schedule and Enforcement Alert:
On Labor Day (Monday, September 5) seven-day street sweeping and parking meters (including those meters on Port of San Francisco property) will be enforced. Residential permit, Monday through Friday street sweeping, and commuter tow away will not be enforced. For complete details visit the holiday enforcement schedule webpage. Muni will operate on a Sunday schedule.
"On Tap" gives you a heads up about the big events in town and what Muni routes and lines will get you to the party. Look for this feature to be posted usually on Wednesdays for a look ahead to the weekend.