This Weekend: Sunday Streets and TreasureFest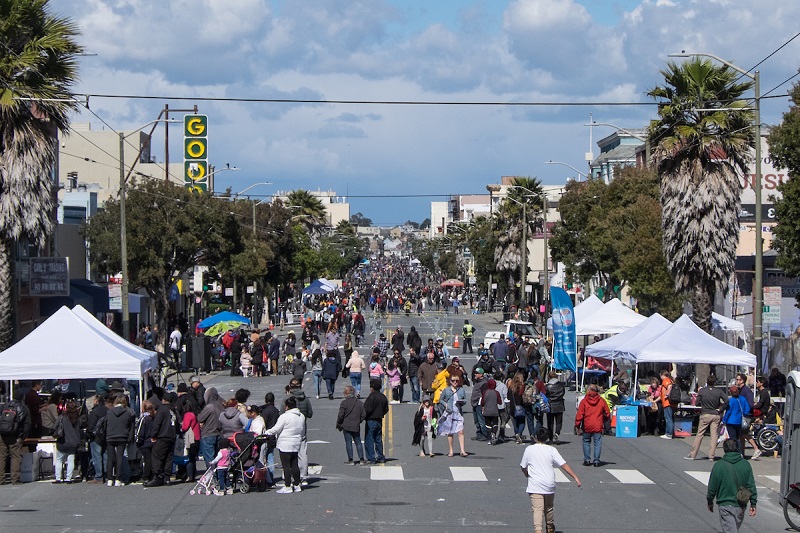 Enjoy the over one-mile of car-free open space in the Excelsior during this weekend's edition of Sunday Streets. Photo: SFMTA Archive
TreasureFest: Easter Brunch
Saturday and Sunday, 10 a.m. to 4 p.m.
Treasure Island
This month's TreasureFest is a brunch and Easter celebration wrapped into one joyous event. Some highlights include at least one special brunch item from each food vendor, the Golden Egg Scavenger Hunt each day with $250-worth of TreasureFest tokens hidden inside, live music and of course, the terrific views from Treasure Island. 
---
How to Get There on Muni: The 25 Treasure Island Route is true to its name as the Muni route to and from Treasure Island.
Muni Service Notes: There are no planned service changes for this event.
Sunday Streets: Excelsior
Sunday, 11 a.m. to 4 p.m.
Excelsior
Over a mile of car-free entertainment and fun comes to the main corridor of the Excelsior from Silver to Geneva Avenue for the second Sunday Streets event of the month. Along with special exhibits, live music and activities, the event will create an open space and neighborhood park in an area with an otherwise limited number thereof. The Persia Triangle Pop-Up Park will give residents a taste of what the proposed, permanent mini park might look like. Activity Hubs at Cotter, France and Persia Triangle will provide visitors of all ages with fun activities throughout the day. 
How to Get There on Muni: Riders may take the 8 Bayshore, 14 Mission, 14R Mission Rapid, 29 Sunset, 43 Masonic, 44 O'Shaughnessy, 49 Van Ness/Mission, 52 Excelsior or the 54 Felton routes to near the event.
Muni Service Notes: The 14, 14R, 49 and 52 routes will have reroutes in the area of the event. Ridership may also see an increase which could result in minor delays or some crowding.
Remember that you can take Muni for the entire day for a single $5 fare. The new $5 Day Pass, available on MuniMobile®, is part of Muni's recent fare changes. The pass is intended to encourage a safe, convenient way to pay your fare and quickly board Muni vehicles, which reduces overall travel time for everyone. The $5 Day Pass is Muni bus, rail and historic streetcars only.
"On Tap" gives you a heads up about the big events in town and what Muni routes and lines will get you to the party. Look for this feature to be posted usually on Thursdays for a look ahead to the weekend. Check out our Weekend Traffic & Transit Advisory for more details.