This Weekend: Treasure Island Flea, the Giant Race and SF Deltas Soccer
Wednesday, August 23, 2017
Saturday Demonstrations: 
UPDATE 8/25/2017 9:17 PM. Due to cancellation of events at Crissy Fields, all service in the Marina will run on Saturday. The 76X will be in service. Buses will provide cable car and F Market service.​ We will continue to monitor the situation throughout the day and notify customers via Twitter of potential service adjustments.
Follow us in real-time on Twitter @sfmta_muni.
This weekend's activities consist of the SF Giant Race, the Treasure Island Flea Market and SF Deltas soccer at Kezar Stadium. Read more about our featured events below.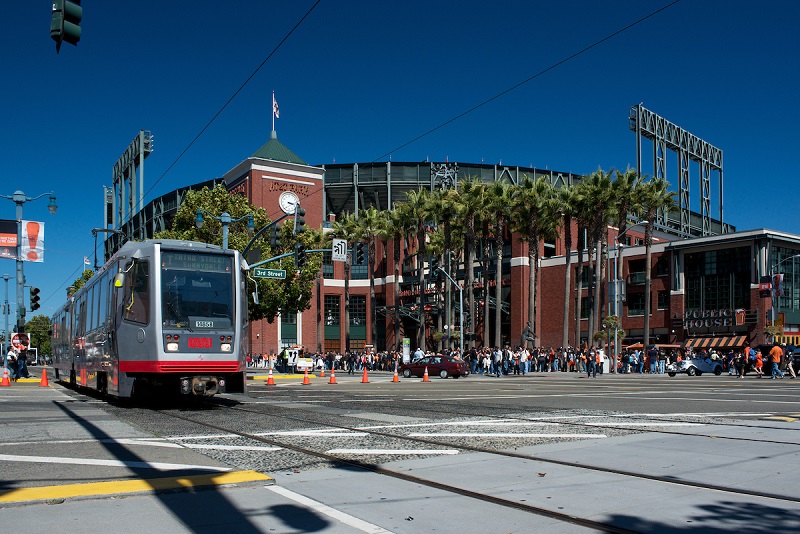 Muni Metro services many different events at AT&T Park. Photo: SFMTA Archives
The Giant Race SF
Saturday and Sunday, various times
AT&T Park and The Embarcadero
In its eighth year, the San Francisco Giant Race Half Marathon, 10K, 5K, Kids Race and Family Relay showcases the scenic waterfront while helping support a number of charities. The kids' race and family relay takes place on Saturday and is scheduled to begin at noon. Sunday features the bulk of the athletic action with the half marathon and 10K races beginning at 7 a.m. and the 5k kicking off at 10:50 a.m.
How to Get There on Muni: The E Embarcadero, N OWL, N Judah, and T Third lines as well as the 8 Bayshore, 10 Townsend, 30 Stockton, 45 Union/Stockton, 47 Van Ness, and 91 OWL routes will take riders close to the starting line.
Muni Service Note: The 19 Polk, 28 19th Avenue, 30 Stockton, 39 Coit, 47 Van Ness and 49 Van Ness/Mission routes will have reroutes. The E, N, T, 8, 10, 30, 45, and 47 may see service delays and increased ridership.
Treasure Island Flea Market
Saturday and Sunday, 10 a.m. - 4p.m.
Treasure Island
Celebrate the dog days of summer at a pup-themed Treasure Island Flea. The weekend will feature a "yappy hour" and bar crawl, a doggie wedding, a doggone scavenger hunt and more. While this month's theme celebrates man's best friend, don't fret as the Flea will still feature much of what humans have come to expect from the event including hundreds of local vendors of art, antiques, food and drink. This is the one time it's ok to mix dogs and fleas, so leash up Fido if you're looking for some island fun this weekend.
How to Get There on Muni:  The 25 Treasure Island Route will take riders to and from the event.
Muni Service Note:  The 25 may see delays and increased ridership during the event.
Reminder: J Church Stop Changes at Balboa Park
Due to construction for the Balboa Park Station Area and Plaza Improvement Project, the J Church Line will continue to serve alternate stops on San Jose Avenue until the fall.
For details, please visit our Green Light Rail Center Track Replacement Project page.
"On Tap" gives you a heads up about the big events in town and what Muni routes and lines will get you to the party. Look for this feature to be posted usually on Wednesdays for a look ahead to the weekend. Check out our Weekend Traffic & Transit Advisory for more details.