This Weekend: Veterans Day Weekend and Diwali Fireworks
Thursday, November 8, 2018
Twin Peaks Tunnel Weekend Overnight Closures
During this weekend and next, there will be temporary overnight closures to the Twin Peaks Tunnel including West Portal and Forest Hill stations. These closures are similar to those on previous weekends and only in effect when ridership is low, late at night and early in the morning. Bus shuttles will be provided for the KLM lines and will run while additional work is done. Neighbors should expect minimal disruptions as most activity will be inside the tunnel. For more details, please visit our project page.
Veterans Day Service Schedule and Holiday Parking Reminder
Muni Service: For the observance of Veterans Day (Monday, November 12), Muni will operate on a regular weekday schedule.
Parking Restrictions Enforced: Seven-day street sweeping restrictions and parking meters (including those meters on Port of San Francisco property) will be enforced.
Parking Restrictions Not Enforced: Restrictions for residential parking permit areas, Monday through Friday street sweeping and rush-hour tow-away zones will not be enforced. For more details, visit the holiday enforcement schedule webpage.
Events: This Veterans Day Weekend will feature plenty of options for getting out of the house and enjoying activities around the City. The Union Square Ice Rink opened Wednesday, November 7 and this weekend will be the first of many free ice skating lessons being offered there. There is also the opportunity to take part in the annual Walk to End Alzheimer's, watch the Diwali Festival Fireworks and enjoy an Indian Tea Party. Read more about our feature events below.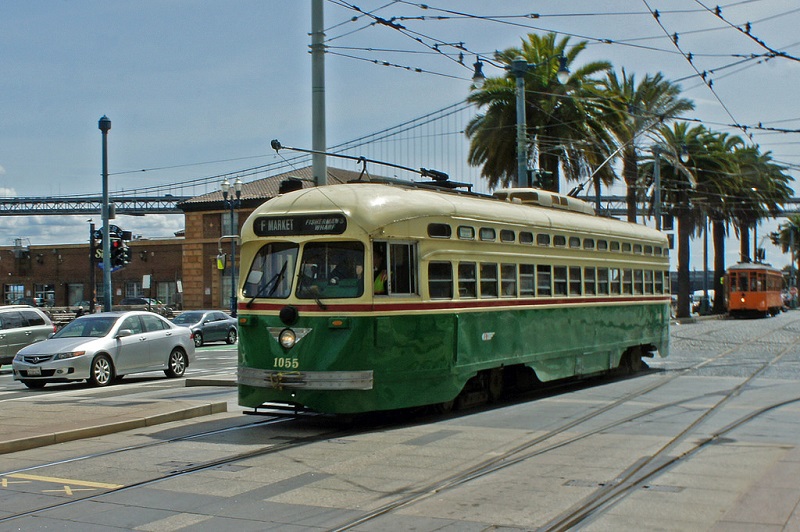 Hop on a historic streetcar on the F Market and Wharves or E Embarcadero lines to travel toward Pier 39 for this weekend's Diwali Festival Fireworks. Photo: mariordo59/Flickr
Veterans Day Parade
Sunday, 11 a.m. to 1 p.m.
Fisherman's Wharf
This Sunday will be a chance for the City to salute America's veterans during the annual Veteran's Day Parade at Fisherman's Wharf. The parade will begin at North Point Street and the Embarcadero, traveling along the Embarcadero before turning west onto Jefferson where the parade will conclude on the last block of Jefferson. This year, the parade will be a historic event because it is the 100th Anniversary of the ending of World War One, which ended on November 11, 1918, on the eleventh hour, of the eleventh day of the eleventh month. Because of the importance of this historic event, the United States has made this a National Centennial Commemoration.
---
How to Get There on Muni: Riders can take the E Embarcadero or F Market and Wharves Lines as well as the 8 Bayshore, 39 Coit, or 47 Van Ness routes close to the start of the parade.
Muni Service Notes: The E, F, 8, 39, and 47 will have reroutes and may see crowding due to possibly increased ridership.
Diwali Festival Fireworks
Sunday, 12 to 9 p.m.
Pier 39
Diwali is the Hindu festival of lights which is celebrated every autumn in the northern hemisphere. One of the most popular festivals of Hinduism, Diwali symbolizes the spiritual victory of light over darkness, good over evil and knowledge over ignorance. During the celebration, temples, homes, shops and office buildings are brightly illuminated. What better way to celebrate the festival of lights than with family and friends at a fireworks show that'll illuminate the sky over the bay? Head over to Pier 39 this Sunday for the Diwali Festival Fireworks featuring rickshaw rides, teacup rides, henna tattooing with the fireworks show beginning at 7 p.m.. 
How to Get There on Muni: Head towards the pier via the F Market and Wharves or E Embarcadero streetcar lines, the 8 Bayshore, 19 Polk, 28 19th Avenue, 30 Stockton, 39 Coit, 47 Van Ness or the 49 Van Ness/Mission routes.
Muni Service Notes: There are no planned service changes for this event, however, routes in the area may experience minor delays or heavier than usual ridership, especially near the event location.
Remember that you can take Muni the entire day for a single $5 fare. The new $5 Day Pass, available on MuniMobile®, is part of Muni's recent fare changes. The pass is intended to encourage a safe, convenient way to pay your fare and quickly board Muni vehicles, which reduces overall travel time for everyone. The $5 Day Pass is Muni bus, rail and historic streetcars only.
"On Tap" gives you a heads up about the big events in town and what Muni routes and lines will get you to the party. Look for this feature to be posted usually on Thursdays for a look ahead to the weekend. Check out our Weekend Traffic & Transit Advisory for more details.