Welcome Back to the Westside, K Ingleside Trains!
The K Ingleside exiting the subway at West Portal
On April 16, the SFMTA, along with Mayor Breed and District 7 Supervisor Myrna Melgar, announced that Muni's K Ingleside trains will return to the westside starting May 15.
The return of these trains is happening much earlier than anticipated thanks to the hard work of SFMTA staff to find creative solutions to ramp up Muni service to riders and support the city's economic recovery. 
"This addition of Muni service is a true testament to the collaboration between Muni staff, our labor unions and community partners," said Julie Kirschbaum, SFMTA Director of Transit. "We know that key transit connections are critical to the city's economic recovery, and we're thrilled to re-open the subway and ramp up service." 
The K Ingleside will join the previously-announced N Judah as part of Muni Metro's reopening, highlighting the agency's commitment to maximizing transit access citywide. Recent subway repairs enable the K Ingleside to be interlined with the T Third line and run through a much more reliable subway system.
The pandemic enabled us to accelerate other upgrades and necessary maintenance work, provided by a rare, extended subway shutdown. These are part of the Subway Renewal Program, a systematic approach to upgrades over the next 10 years that addresses both longstanding issues predating the pandemic and other issues uncovered since the shelter-in-place began.
Key improvements include:
Wi-Fi availability for customers from routers installed in stations and cellular antennas installed in the tunnels
Installation of new wayfinding and directional signs at Castro and Church stations
Quicker and smoother trips as a result of overhead line enhancements and rail grinding
The return of K Ingleside rail service is only one part of a larger roll out of Muni Metro rail updates happening May 15 (see map)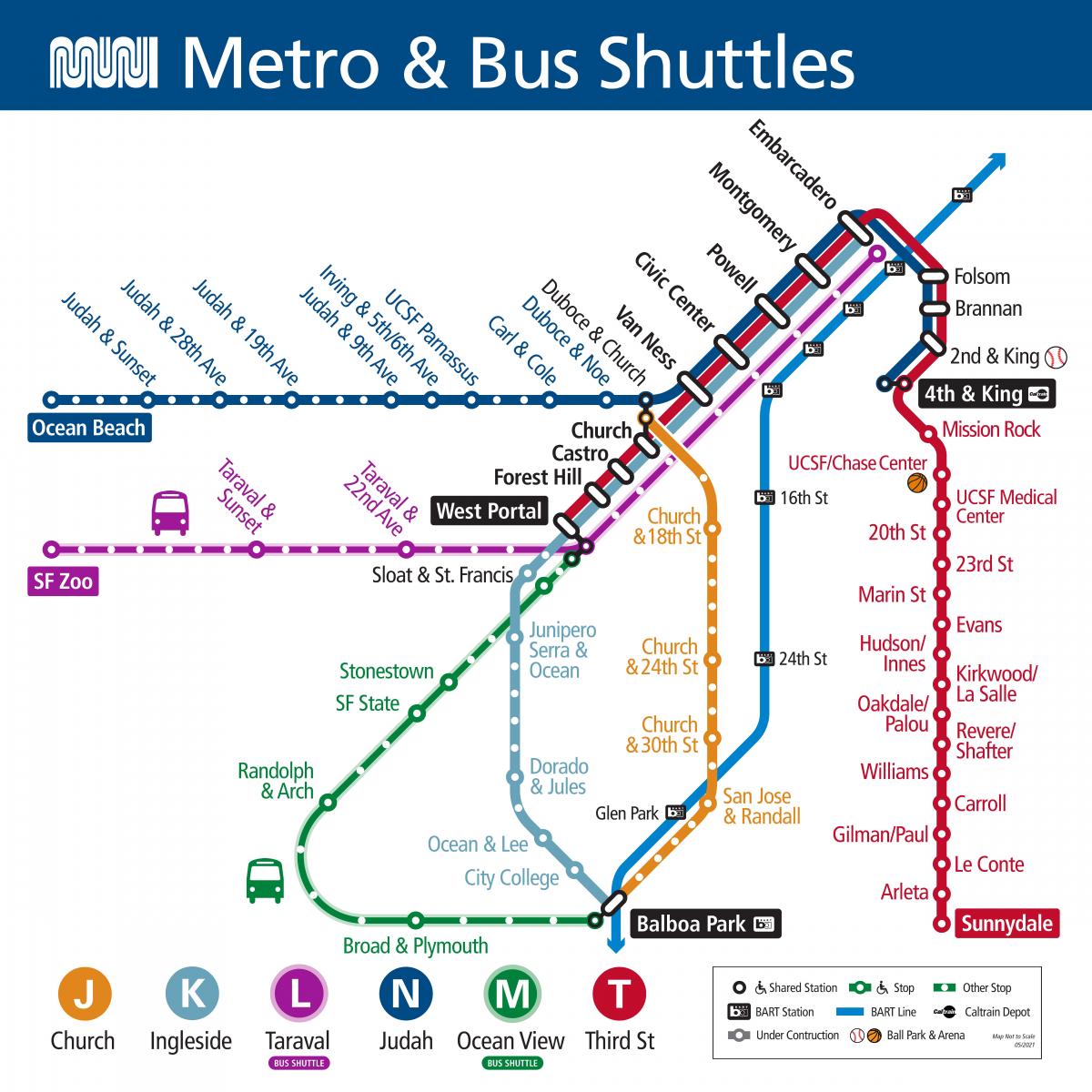 K Ingleside/T Third 
K Ingleside and the T Third will once again be "interlined." This means that the two routes will operate as one route, from Balboa Park to Sunnydale, providing subway service at all stations from Embarcadero to West Portal. 
 N Judah 
The N Judah is also returning to rail service. Riders will have more room and fewer pass ups, as the two-car train increases the N Judah's capacity.
J Church, L Taraval and M Oceanview
These lines will all continue to operate as they currently do, though the increased capacity on the K/T trains will soon provide even better connections for those traveling downtown or to the western neighborhoods.  
The J Church will remain as a surface-only route from Duboce Avenue to Balboa Park
The L Taraval will operate with buses from the Zoo to Downtown 
The M Ocean View will operate with buses from Balboa Park to West Portal Station.