Dyke March: June 29, 2019
Service Affected
Accessibility
Driving
Transit
Weekend Traffic and Transit Advisory
The annual Dyke March will take place in the Castro on Saturday. Following the rally at Dolores Park, the march will begin its route on 18th, Valencia, 16th, Market and Castro streets then turn back on 18th Street to return to Dolores Park. The march will begin at 5 p.m. Streets will be closed to automobiles and Muni will reroute for the Dyke March. Read below for more detailed information.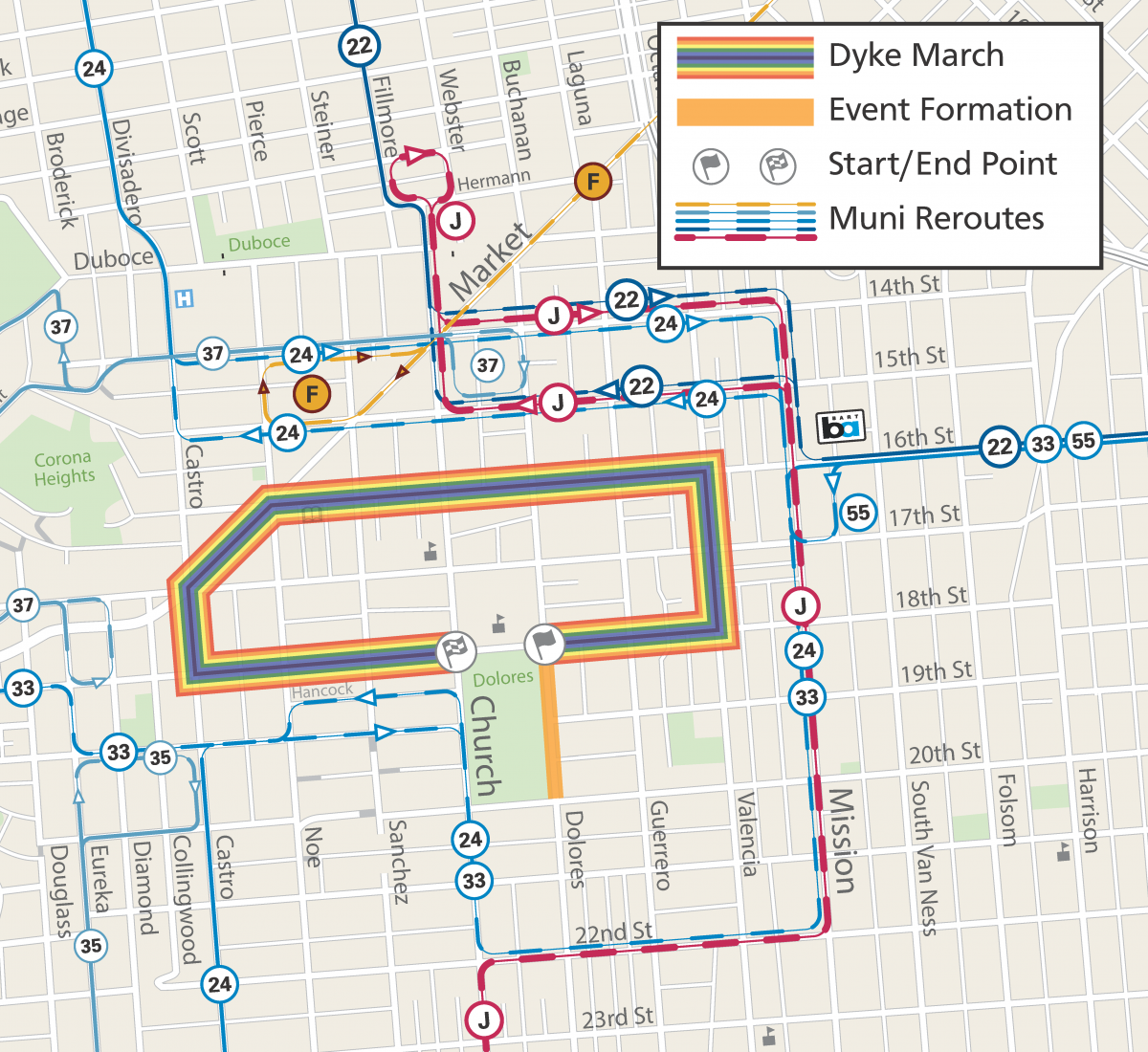 On This Page
Street Closures
The following streets will be closed from 9 a.m. to 10 p.m.
Dolores, between 17th and 20th streets
Intersections: Dolores & 18th, Dorland, Dolores Terrace and Cumberland
Muni Reroutes
Two Muni lines will not be able to operate on their tracks during the march. Buses will operate to fill the gap in rail service. The table below provides the details of these substitutions. Service will return to normal once the streets are clear.
Temporary Bus Substitutions by Line and Direction

Line
Start
Substitution
Transfer Points
F Market & Wharves
4 p.m.
Market Street stops will be served by the F Market Shuttle bus:

Inbound to Ferry Plaza
Outbound to Castro

Don Chee Way & Steuart Street
J Church

3 p.m.

There will be no J train during the march. Take any train and transfer at Church Station (K, L or M) or Duboce & Church (N). All J Church surface street stops on Church, 30th, and San Jose Avenue will be served by the J Church Bus Bridge:

Inbound to Duboce Ave
Outbound to Balboa Park

Church Street Station and
Church & 14th
Several Muni lines and routes will be rerouted for the Dyke March. The table below provides a summary of the reroutes. Service will return to normal once the streets are clear of the event. Please allow extra travel time for delays.
Temporary Service Changes by Line/Route and Direction

Line/Route
Start Time
Reroute Summary
Nearest Stop
to Dyke March
F Market & Wharves
Streetcar
1 p.m.
Switchback from outbound to inbound will begin at Noe.
Market & Church
F Market Shuttle
4 p.m.
Switchback from outbound to inbound will begin at 15th.
Transfer to Streetcar at Don Chee Way.
Market & Church
J Church Bus Bridge
2:30 p.m.

Bus bridge will reroute onto Mission between 14th (outbound) or 15th (inbound) and 22nd streets.

Temporary J Church bus stops

22nd St & Dolores

22 Fillmore
3 p.m.
Reroute will be along 14th St and 15th St between Church and Mission.

14th St & Dolores
15th St & Dolores

24 Divisadero
3 p.m.
Reroute will be along 19th St, Church, 22nd St, Mission and 15th St (inbound) or 14th St (outbound).

22nd St & Dolores

33 Ashbury/18th
3 p.m.
Reroute will be along Mission, 22nd St, Church, Hancock, Noe,19th St, Eureka before turning back on to 18th St.

22nd St & Dolores

35 Eureka

4 p.m
Switchback will begin at 19th St.

Castro & 20th St

37 Corbett

4 p.m.

Route is split into two sections with switchbacks before they reach Market street.

South section switchback begins at Eureka.
North section switchback begins at Church.

 

South section:

North section:

 

 

55 16th Street
4 p.m.
Switchback will begin at Capp.

Use 33 stop for 16th St & Mission
Contact
Call 311 within San Francisco; TTY 415.701.2323