SFMTA Board of Directors Approves Geary Rapid Project
Tuesday, August 21, 2018 - 10:03am
The Board of Directors of the San Francisco Municipal Transportation Agency (SFMTA) has approved the proposed street changes for the Geary Rapid Project on August 21, 2018. 
The approved changes, on Geary and O'Farrell between Stanyan and Market streets, include a series of improvements aimed to make bus service more reliable and attractive for the 54,000 daily customers who rely on the 38 Geary and 38R Geary Rapid, as well as much-needed pedestrian safety improvements to address the Geary corridor's designation as a high-injury corridor.   
The changes also include eliminating Rapid service at Spruce Street, which will go into effect later this fall. However, the SFMTA Board asked staff to engage further with bus riders and merchants to explore whether there is an agreed upon location to change parking and loading spaces to accommodate an efficient and accessible Rapid stop in the future. The project team will facilitate a discussion between transit customers and local neighbors to try to identify a feasible location. If a feasible location is identified, staff will seek its approval at a future SFMTA Board meeting.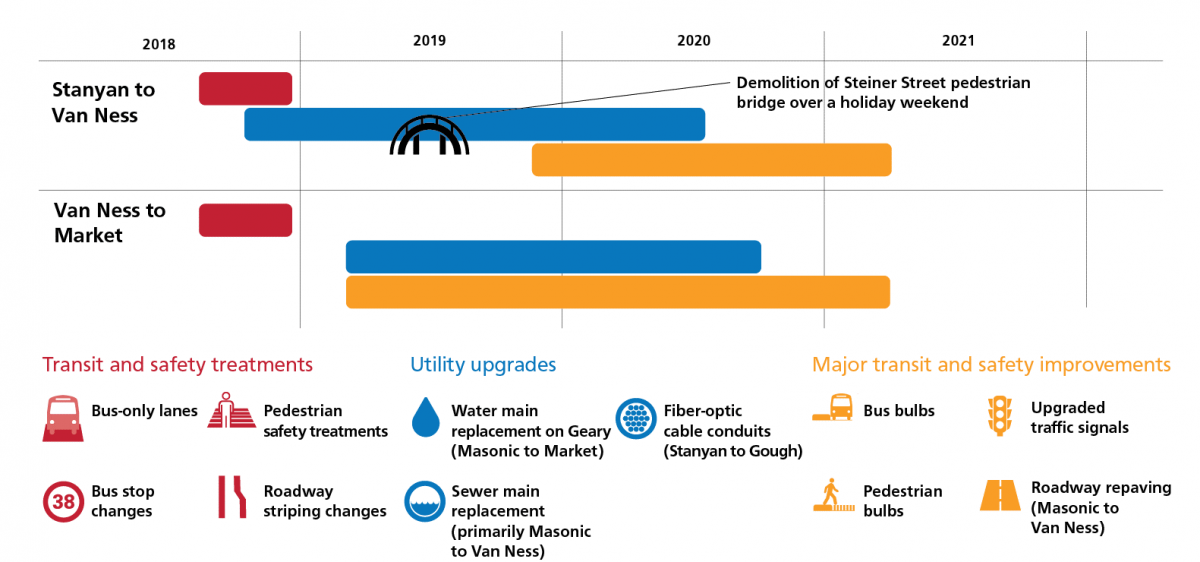 Tentative construction timeline for Geary Rapid Project.
The first set of safety and transit improvements, including transit-only lanes, will begin this fall and is expected to be completed by the end of 2018. Major construction of the Geary Rapid Project, including coordinated sewer and water upgrades, will follow and is expected to continue until spring 2021. 
Thank you to everyone who participated and provided valuable input through one of our open houses, surveys, stakeholder meetings, door-to-door outreach, or by email or phone.