24 Divisadero Safety and Transit Project
Project Introduction
Thanks to the hundreds of visitors to our Online Open House and Public Hearing, from May 17-28, 2021. After reviewing all feedback, the results were sent to the San Francisco City Traffic Engineer and approved for implementation.
You can still view our materials at the Open House website.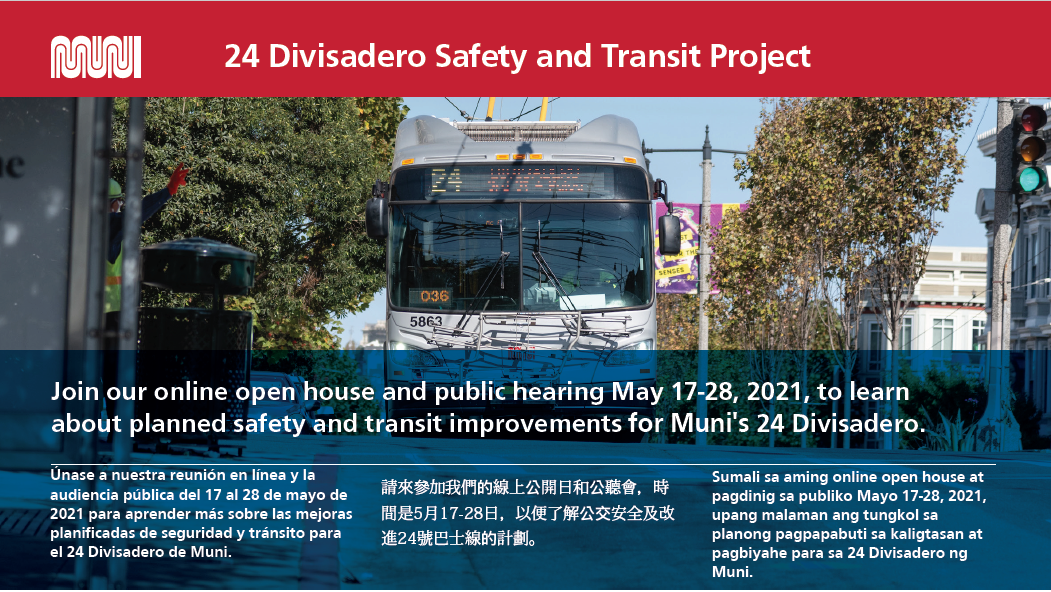 The 24 Divisadero provides critical north-south transit service for essential workers, seniors, the disabled and others without access to private vehicles for essential trips. It also serves neighborhoods with high percentages of people of color and low-income households. During the early weeks of Shelter in Place in 2020, the 24 Divisadero traveled up to 30% faster than previously on a key segment of the route from Geary Boulevard to Page Street. Relieving that existing bottleneck demonstrated how much congestion normally affects this key transit line spanning neighborhoods from Bayview-Hunters Point to Pacific Heights.As San Francisco moves out of the COVID-19 pandemic, the return of traffic congestion threatens to paralyze the city's economic recovery. Without action, transit-dependent San Franciscans will bear the costs of this congestion, on slower, more crowded buses. 
To assist customers who depend on the 24 Divisadero, we are proposing to implement left turn restrictions at most intersections from O'Farrell to Waller streets in both directions. This will reduce congestion without removing travel lanes or parking.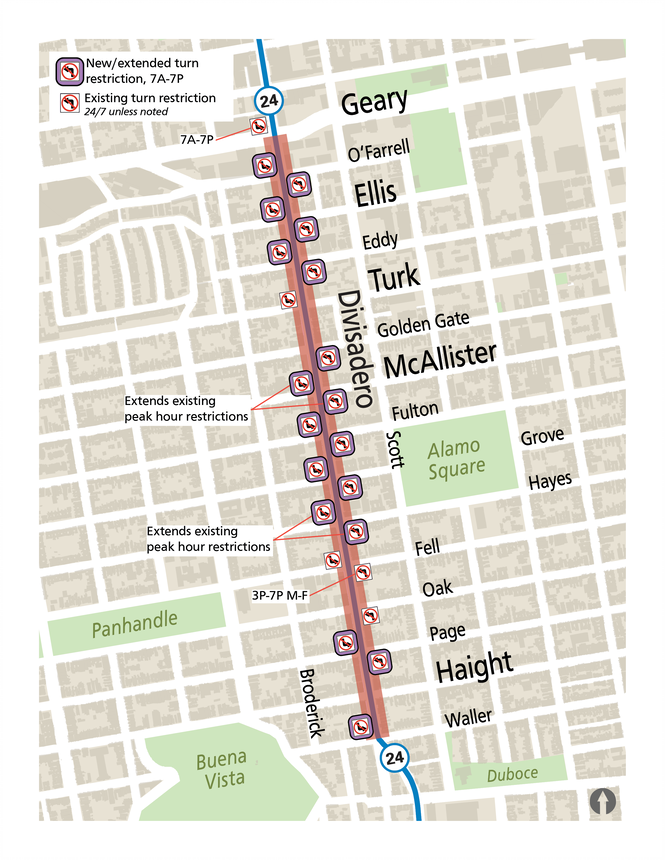 Left turn restrictions will be implemented on Divisadero Street at select intersections; several intersections already have rush hour restrictions in place
Page Street -- 
Please note that our proposed 7am-7pm left turn restrictions from Divisadero onto Page Street will be superceded by full-time turn restrictions for the 
Slow Streets program
 if approved for permanent installation in August 2021.
Benefits
Left turns on Divisadero cause delays when turning vehicles obstruct the travel lane while waiting to turn. By reducing delay from this congestion, the 24 Divisadero can save up to 10% of travel time along the project corridor, helping to improve reliability throughout the line. Better reliability helps maximize the use of available buses and operators throughout the city while getting passengers where they need to go.
The entire project area is also part of the San Francisco Vision Zero High-Injury Network, where just 13% of streets account for 75% of collisions. Left turns are one of the top three crash factors in severe injuries and fatal collisions for people walking and biking. At the proposed left turn restriction locations, 10 injury collisions between 2015-2019 involved an improper left turn. Left turn restrictions in this heavily-utilized corridor will make the street safer and more appealing for all residents and visitors. Left turn restrictions will also reduce the risk of sideswipe collisions caused by vehicles changing lanes to avoid left turn queues.
The travel lanes on Divisadero Street are narrow and much of the corridor features a median, which makes it difficult to widen lanes or implement standard-width transit lanes without major construction. By greatly reducing the number of left turns in the project area, we can improve Muni travel times and reliability without costly and more impactful infrastructure changes.
Implementation
The proposed left turn restrictions were open to public comment at an online hearing during the last two weeks of May 2021. Following the hearing, the information collected was analyzed and forward to the City Traffic Engineer. If approved, the left turn restrictions will be installed in summer 2021.
Outreach and Evaluation  
Community-based organizations, stakeholders and neighbors helped shape the process for evaluating the impact of this project by providing input on evaluation methods during the public hearing. Moving forward, on-the-ground data monitoring will allow us to modify the project to best meet the needs of both the community and Muni customers.
Bus Routes and Rail Lines