On November 19, special weekend-only service will begin between Chinatown-Rose Pak Station and 4th & Brannan. Trains will stop along the way at Union Square/Market Street Station and Yerba Buena/Moscone Station. For access to Central Subway special weekend service from BART and Muni routes along the Market Street subway tunnel, customers can transfer underground from Powell Station to Union Square/Market Street Station.
On January 7, T Third Metro service will begin from Sunnydale to Chinatown via Central Subway, seven days a week, giving customers a direct connection from Bayview, Visitacion Valley and nearby neighborhoods to SoMa, Union Square and Chinatown.
Project Introduction
The Central Subway Project will improve public transportation in San Francisco by extending the Muni Metro T Third Line through SoMa, Union Square and Chinatown. By providing a direct, rapid transit link between downtown and the existing T Third Line route on 3rd Street, the Central Subway will vastly improve transportation to and from some of the city's busiest, most densely populated areas.
When the Central Subway opens on November 19, a weekend-only service plan will be implemented between Chinatown-Rose Pak and 4th/Brannan stations. It will stop along the way at Yerba Buena and Union Square, where passengers can make transfers to BART and Muni's Market Street subway. In January 2023, service will increase to seven days a week, connecting directly to the T-Third Line. Trains will travel mostly underground from the 4th Street Caltrain Station to Chinatown, bypassing heavy traffic on congested 4th and Stockton streets. Four new stations were built along the 1.7-mile alignment:
4th and Brannan Station at 4th and Brannan streets (street level)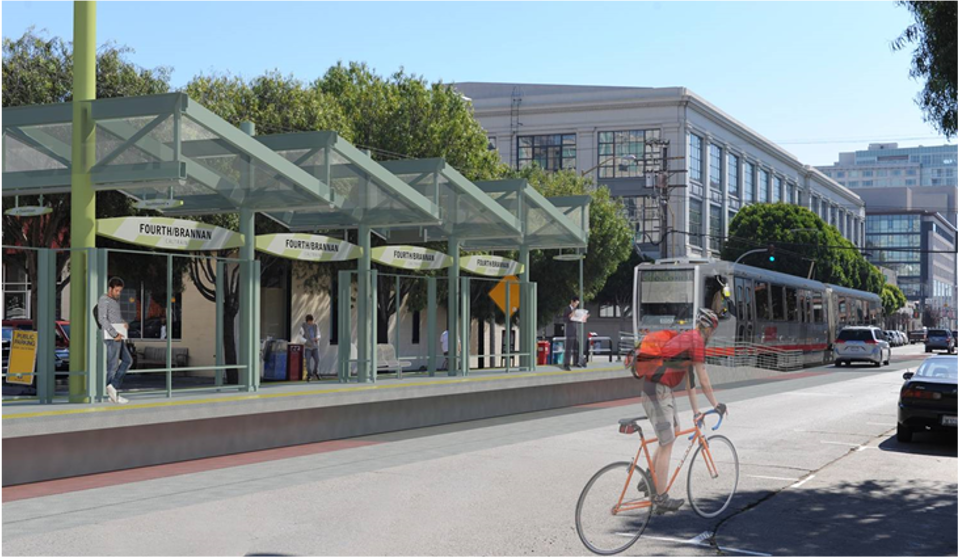 Yerba Buena/Moscone Station at 4th and Folsom streets (subway)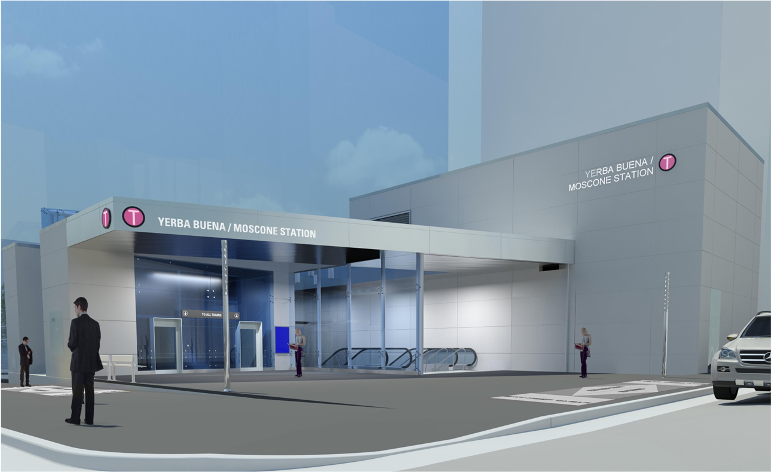 Union Square/Market Street Station on Stockton Street at Union Square (subway)
Chinatown/Rose Pak Station at Stockton and Washington streets (subway)
Check out our video tour of the project alignment.
 
Project Implementation
Construction Phase
Building launch box for tunnel boring machines on 4th between Harrison and Bryant

Excavating tunnels by tunnel boring machines beneath SF

Building stations, surface tracks, and systems

Installing new track interchange at 4th and King and 4th Street surface tracks

Completing major excavation for Yerba Buena/Moscone Station and Union Square/Market Street Station and pivoting work toward interior construction
Testing Phase
Inspecting fire sprinklers installed in tunnels to ensure they respond to fire alarm activation

Testing emergency ventilation fans for adequate tunnel air supply and extraction

Conducting safety drills and developing contingency plans in the event of a passenger evacuation or first responders needing access to an incident in the tunnel

Verifying automatic train control system guides the automatic movement of light rail vehicles properly through tunnels

Assessing radio and data communication systems for effective delivery of audio and visual announcements to customers and automatic vehicle location data to the Transportation Management Center

Inspecting customer information system and certifying Metro audio announcements and displays are working correctly.
Revenue Service
Revenue service for the Central Subway will begin with weekend-only service between Chinatown-Rose Pak and 4th/Brannan stations, followed by service seven days a week between Sunnydale and Chinatown. During the final phase, project staff will continue to engage our community partners in Bayview, SOMA, Union Square and Chinatown and inform customers about the service changes to Muni's Metro system.
Additional Resources
 
Project Status
Implementation / Construction
Bus Routes and Rail Lines
Streets
Stockton Street, 4th Street
Office Hours
Have a question about the Central Subway Project?  Stop by our construction office to get assistance from project staff during our Community Drop-In Office Hours:
Central Subway Project Office
530 Bush St. Suite 400 (4th Floor)
M-F 9am to 5pm
Funding
The Central Subway Project is funded by the Federal Transit Administration (FTA), the State of California, the Metropolitan Transportation Commission, the San Francisco County Transportation Authority and the City and County of San Francisco.
The majority of funding for the Central Subway Project is provided by the FTA's New Starts program, with a total commitment over the life of the project of $948.4 million. An additional $41 million in federal funds is designated to the project as part of the U.S. Department of Transportation's Congestion Mitigation and Air Quality Improvement Program, which supports environmental efforts for surface transportation and related projects. The federal funds allocated for the Central Subway Project cannot be redirected for investment in any other San Francisco projects.
The San Francisco Municipal Transportation Agency's (SFMTA) baseline budget for the Central Subway Project remains at $1.578 billion. There has been no increase in the local funding commitment since original voter approval in 2003 of $126 million in Proposition B/K sales tax funds.
In total, about half of the funding for the entire Third Street Light Rail Transit Project is from federal sources, with the remaining half from state and local sources.  The Central Subway Project is one of the nation's highest-rated projects in the FTA's New Starts program.