J Church Surface-only Route
The J Church has been back in service, and we're evaluating its shortened, non-subway pilot route and considering whether to keep it in 2022 or return the J to the subway.
For information about upgrades we have installed to help customers with mobility concerns, visit the J Church Transfer Improvements Project.
Project Introduction
At the beginning of the COVID-19 pandemic, the J Church was suspended along with all Muni Metro service. In August 2020, the J returned as a shortened bus route from Balboa Park Station to Duboce Avenue. And in December 2020, the J Church became the first Muni rail line to be returned to service as a surface-only line.
Based on extensive data analysis and community feedback, we'll be making a recommendation on this shortened route to the SFMTA Board for their consideration in December 2021. Initial results have shown a 15% improvement in reliability on the J Church and an 75% reduction in delays in the subway, and ridership has returned at similar rates to the rest of the Muni system. At the same time, we've also heard concerns from J Church riders that we're seeking to address with near term and longer-term improvements to frequency and the transfer experience.
As Muni Metro service was restored, we limited the number of trains in the subway to reduce congestion and improve reliability for the entire Muni Metro system. To do so, we did not reintroduce the J Church into the subway. This change has reduced congestion in the subway compared to pre-COVID Muni subway service and maximized its capacity by only running lines that can operate two-car trains. In addition, the shortened, aboveground route allows for more frequent and reliable service on the J Church.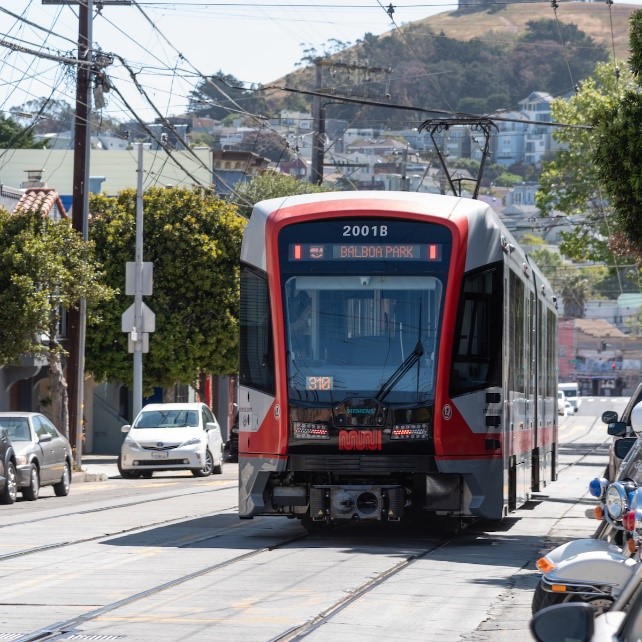 Congestion in the Muni Metro Subway
Since the early days of the Muni Metro system, the J Church has been subject to gaps in service due to congestion in the subway. When we surveyed J Church riders in 2019, 63% said the wait for a train was too long. Nearly four out of five people (78%) said they would walk farther to a stop for more reliable service or a shorter trip overall, including 52% of people with disabilities and 58% of seniors. While we made improvements including transit lanes and signal changes that sped up service, overall reliability on the route continued to suffer due to congestion in the subway.
Analysis of crowding and delays in the subway revealed that there were simply too many trains attempting to use it at once. Muni Metro's Market Street-centered design combined all our rail lines in one tunnel. As a result, trains were scheduled to arrive every 1-2 minutes, which exceeds the tunnel's capacity. This inefficient design created numerous service problems, which riders experienced as long delays..
In addition, compared to urban metro systems in other American cities, Muni operates very short trains (only one or two cars) for such a high ridership volume. To meet demand, Muni must run its trains very frequently, which strains the aging train control system and infrastructure, leading to more delays when these systems break down.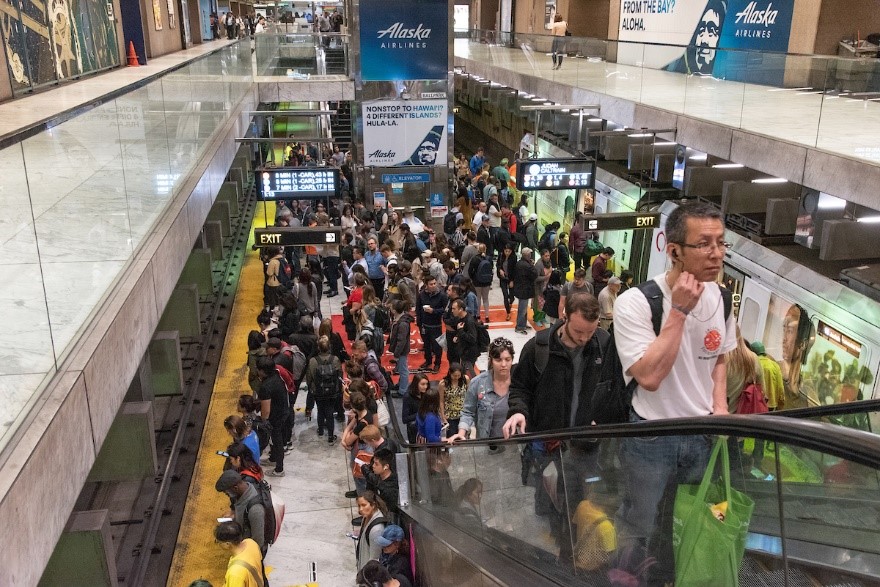 Below is a chart comparing the number of scheduled trains (in gray) to the number of actual trains (in blue) per hour passing through Embarcadero Station in the eastbound direction on a typical day in 2019. The gaps between the gray and blue lines demonstrate that before the pandemic, we were scheduling 40 trains per hour in the AM peak and 42 trains per hour in the PM peak but were only able to achieve a maximum throughput of about 35-37 trains per hour at best. This gap arises when trains are forced to queue in and outside the tunnel due to subway congestion. As a result, trains crawled through the subway in the peak hours, creating cascading delays and slow travel times that exacerbated rush hour crowding.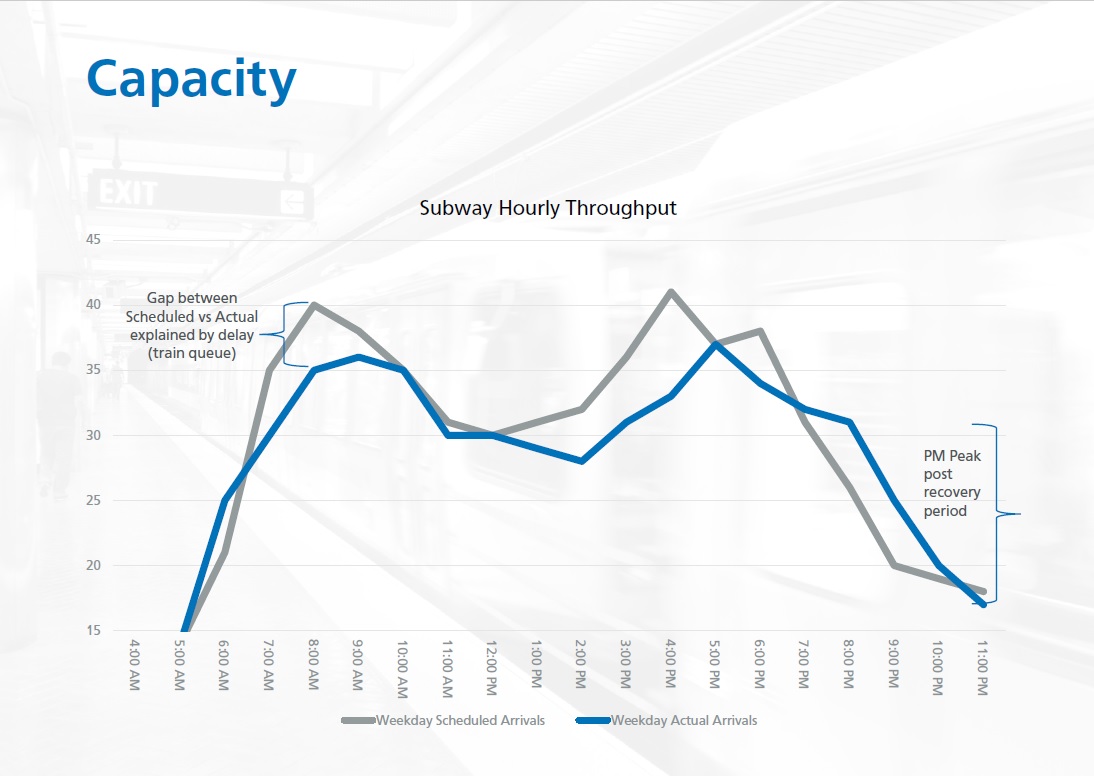 For a direct comparison, BART, which runs 10 car trains, is undertaking a major train control upgrade simply to get their maximum trains per hour up to 30 by 2032. The aging Muni Metro train control system is working hard to move more trains per hour today than BART's 2032 target. But because of train length, we are still ultimately movingfewer people than BART. This tells us that we need to find ways to run fewer – but longer -- trains, which will result in fewer frustrating delays, less crowding and a more reliable subway trip for our customers.
In 2019 and early 2020, a group of transportation and governance experts sponsored by Mayor Breed and Supervisors Mandelman and Peskin studied our subway performance extensively. In the Muni Reliability Working Group final report, they recommended that we consider "any and all service changes that could improve subway performance," including fewer trains entering the subway.
Keeping the J Church on the Surface
The J Church can only operate one-car trains, so when it operated in the subway, it added to congestion but didn't add as much capacity as other lines. Additionally, J Church trains heading into the tunnel at Duboce Avenue must merge in coordination with the N Judah and with trains already in the subway, which often causes delays. The J Church also has fewer riders than the other Muni Metro lines. Considering these factors, we identified the J Church as one of three lines to remove from the subway during the pandemic. Due to construction on Taraval Street, we're not yet able to operate a surface-only LK Taraval-Ingleside line as originally proposed, but we plan to revisit this later to further reduce subway crowding.
Another important consideration is that many J Church riders before the pandemic weren't traveling between downtown and surface stops. Nearly two-thirds (65%) of pre-pandemic J Church trips would not have been affected by the new transfer: 33% of trips were entirely aboveground, 20% were entirely in the subway, and 12% involved aboveground stops where there is an alternative route to get a one-seat ride downtown. All these riders would now benefit from the improved reliability and frequency of the J Church without adding a transfer to their ride. 
Transfer Experience Improvements
To assist Muni customers transferring between the J Church and Market Street transportation, in August 2020 we implemented temporary transfer improvements on Church Street from 15th Street to Duboce Avenue. These allow passengers to travel from Balboa Park to either the Church Street platform just south of Market Street or the platform just south of Duboce Avenue. At Duboce, trains then reverse out of the platform, cross over to the west side of Church Street, and then proceed on the return trip to Balboa Park.
To support this, we made several temporary upgrades:
A new temporary accessible platform was added to the boarding island on Church Street south of Duboce Avenue next to Safeway (passengers may board here for southbound service toward Balboa Park).

A new temporary boarding zone and accessible platform were added on Church Street south of Market to serve as a southbound stop (replacing the stop at 14th Street, whose dimensions cannot accommodate wheelchair-accessible improvements).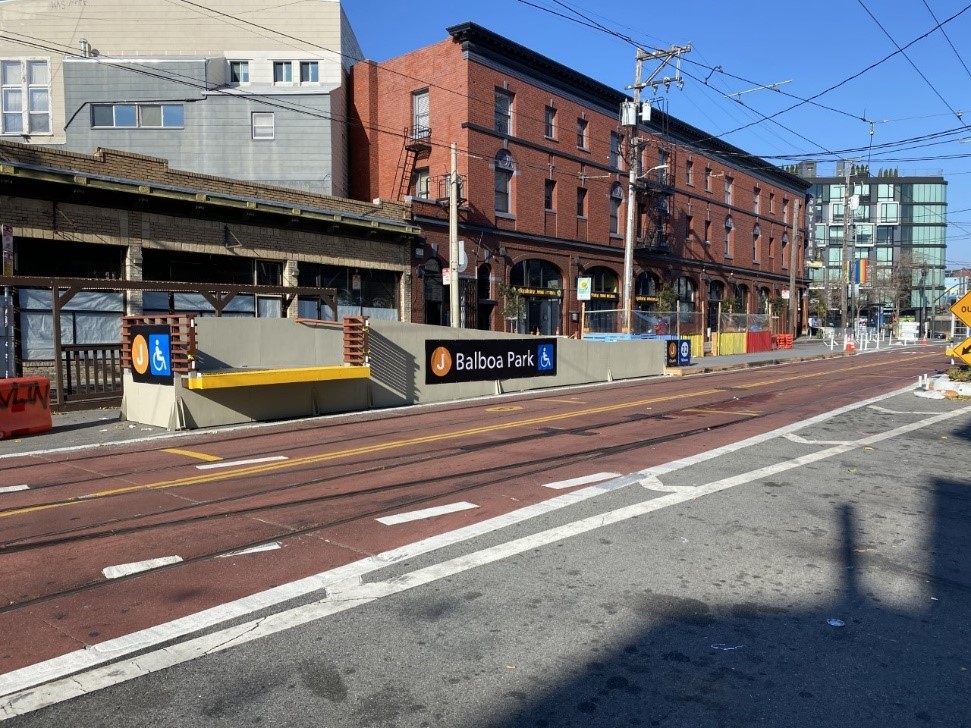 Customers with limited mobility can transfer from the J Church either at Market Street to access the elevator at that location or proceed to Duboce Avenue and use the N Judah accessible ramps.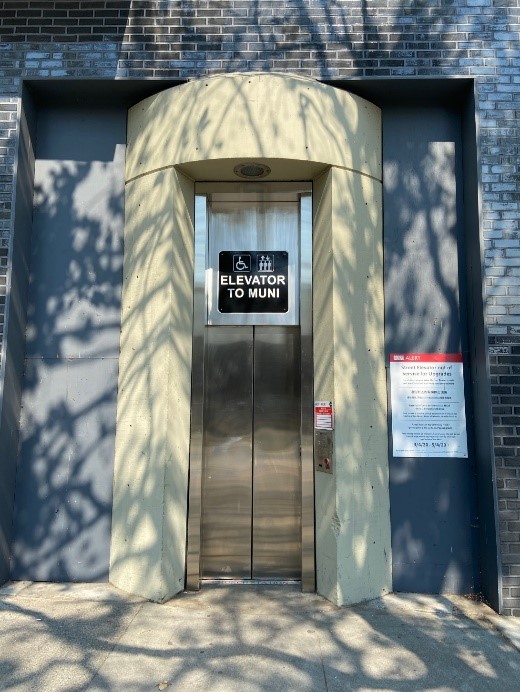 The elevator at Church Station was refurbished and has been in operation consistently since the subway reopened.
Initial Results
Starting in October, frequency on the J Church is greater than ever, with 10-minute service in place from 5 am to midnight on weekdays. Prior to 2020, evening frequency was 15-20 minutes.
Initial data has also shown improved reliability for both the J and the other lines in the subway due to the J Church operating as a surface-only line. Compared to 2019, subway delays (measured as the time trains spend stopped, other than loading and unloading passengers) have been reduced by over 75%. As a result, median travel times between West Portal and Embarcadero are down by about 28% and just as importantly, trip variability (the difference between a "bad" trip and the median trip) decreased by 55%.
The average time it takes to travel on the J Church from Noe Valley to downtown destinations has remained unchanged, even when accounting for the added time to transfer to the subway and wait for the next train. Headway adherence (the percentage of trains arriving without long gaps) improved from about 75% to 90%. Travel time variability on the J Church's surface route hasn't changed significantly, which suggests the J is more reliable because it avoids unpredictable subway congestion.
Even with the transfer, ridership on the J Church has returned at a similar rate to the overall Muni system and has returned at more than twice the rate of BART ridership at stations parallel to the J Church route.
Changes Based on Community Feedback
We've received extensive feedback from riders about the J Church shortened route over the past year. Some of the specific issues that riders have identified include:
Long wait times when transferring

Challenges with traveling between the J Church stop and Church Street Station, especially for people with disabilities

A need for improved signage 

The environment at the new transfer stop 

Some trains not serving the Duboce stop
Based on this initial feedback, we've made several changes to improve the experience for J Church riders:
Increased frequency in the subway and on the J Church to reduce wait times

Updated and improved wayfinding signs at the transfer point
Worked with transit operations to ensure the Church and Duboce stop is always served
As we consider keeping the J Church shortened route in 2022, we are planning for additional improvements to address these concerns. We expect to add more frequent service to the subway in 2022 and plan to make major accessibility upgrades to the Church and Market intersection to enhance the transfer experience as part of the J Church Transfer Improvements project. Our goal will be to improve the experience at what has long-been a high-volume transfer and transit location with a design that is safer and more comfortable.
Next Steps for Outreach and Approval
Full outreach and evaluation is underway on the shortened J Church route in conjunction with the 2022 Muni Service Network process. J Church riders have had opportunities to provide feedback through several channels, including open houses in September and October of 2021. In addition, a 2022 network survey will provide an opportunity for the public to weigh in on their experience with the shortened route.
Later in October and into November, SFMTA staff will present an updated proposal for the 2022 Muni Service Network, including the shortened J Church route. Once the proposal is refined during this stage, it will be brought to the SFMTA Board for its consideration for approval, expected December 2021.
We Want Your Feedback
If you would like to stay informed of upcoming plans, please sign up to receive project updates. You may also provide feedback by contacting us using the information listed below.
Bus Routes and Rail Lines