Mission Traction Power Improvement Project
Project Introduction
Starting in early 2023, the San Francisco Municipal Transportation Agency (SFMTA) will begin an underground cable upgrade project on Mission Street that will make the traction power system more reliable, robust and safer. The Mission Traction Power Improvement Project is aimed to improve the 14 Mission and 14R Mission trolley services as well as other Muni trolley lines on lower Mission and Market streets, and at Salesforce Transbay Transit Center.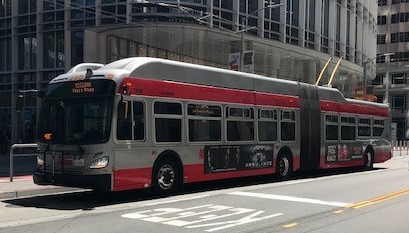 Bus Routes and Rail Lines
Project Details, History or Features
The eight-month construction will include trenching in the middle of Mission Street from Anthony Street to between 4th and 5th streets, upgrading underground cables, feeder circuits. We are also taking the advantage of the construction window to upgrade six curb ramps to meet ADA (Americans with Disabilities Act) requirements.
To minimize construction impacts to local businesses, neighbors and street users, all civil work that may create construction noise, including trenching, roadway restoration and ADA ramp upgrading, will be done during daytime hours. The electrical work that entails pulling in and out cables through the manholes will be done at night from 9 p.m. to 7 a.m., Monday through Friday and to 8 a.m. on weekends.
Measures will be taken to mitigate construction impacts:
Muni bus service on Mission or cross Mission will not be impacted, although bus stops in the construction zone may be temporarily relocated.

Street will remain open to traffic during construction. At least one traffic lane will be open in each direction on Mission Street.

Traffic control will be in place during the day to ease traffic.

Sidewalks and bike lanes will not be closed, but pedestrians and cyclists should use caution traveling through the construction area.

Loading zones (yellow and white) next to construction work may be temporarily inaccessible. To schedule a delivery, contact contractor's foreman.

City policies on spare space to accommodate construction do not apply since there are no such structures build within construction limits.

Parking may be temporarily unavailable in or near the construction zone. 

Materials and equipment will be staged with barricades in the middle of Mission Street with no impacts to traffic.

Cable replacement work at night will create no noise disruption.
Construction timeline:
Notice to Proceed –December 2022

Start of Construction - Early 2023

Substantial Completion – Fall 2023

Construction Contract Closeout- End of 2023
Thank you for your support and understanding while we work hard to improve Muni system.