Operator Convenience Facility Project
Project Introduction
The Operator Convenience Facility Project aims to provide accessible restroom facilities that meet the health and safety needs of our Muni Operators throughout the City, and reduce unplanned schedule interruptions.
Improvements
Improve service reliability
Project Details, History or Features
BENEFITS
The Operator Convenience Facility Project will support the health and safety needs of Muni operators, improve Muni on-time service performance and reduce unplanned service disruptions.
PROJECT BACKGROUND
Muni is the largest transit agency in the Bay Area with 702,000 daily transit boardings. Transit service is provided by 2,512 Muni operators that operate 74 Muni routes and 102 transit terminals in San Francisco and into Daly City. Routes such as the 33 Ashbury-18th and 29 Sunset are estimated to take 43 to 85 minutes one way. The lack of available restrooms at a terminal force operators to leave their routes to find a clean and safe restroom, which creates unplanned service disruptions.
In order to secure reliable Muni operator facilities, the SFMTA negotiates licenses, leases, permits and utilitzes free/public restrooms whenever possible.
Yet, there are a number of reasons that prevent using more of these options:
Availability of businesses with available facilities within 50 to 150 feet of a transit terminal
Extended hours of operation of bus routes, such as late night and 24-hour routes
Personal safety and security concerns
Cleanliness of facilities
Accessibility requirements
Wait time for use of a restroom
In 2015, the SFMTA received City approvals for new modular Operator Convenience Stations for Phase 1 and Phase 2 installations at 14 route terminals throughout the City, including two locations in Daly City (Daly City BART and Top of the Hill). 
APPROVAL PROCESS
There is a lengthy approval process before construction of an Operator Convenience Station can begin.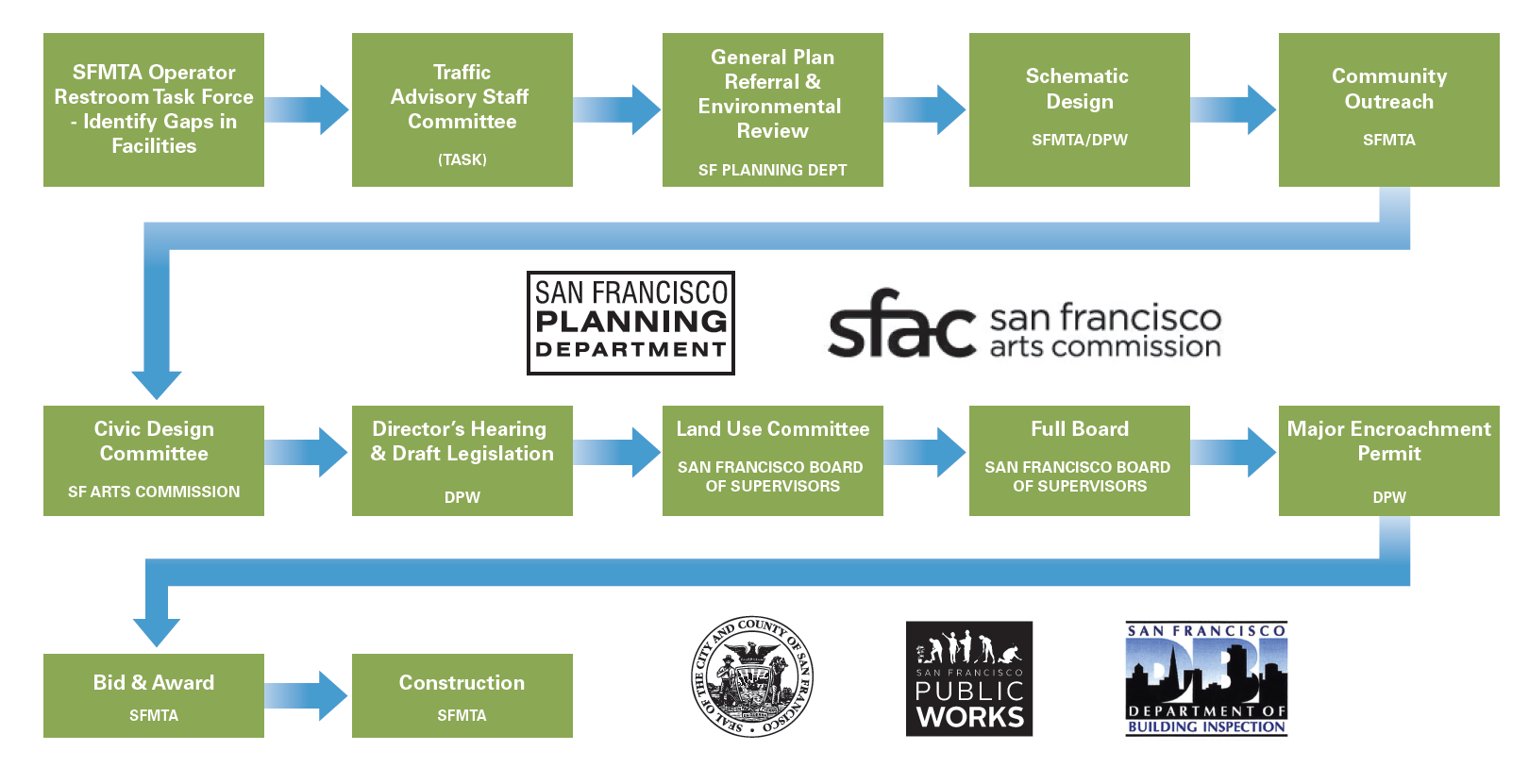 PHASE 1 (completed June, 2016) 
1. Bowley Street at Lincoln Boulevard located inside the Presidio 
29 Sunset route takes 85 minutes one way, peak frequency is every 9 minutes, unplanned schedule interruptions occur 4 percent of the time

Status: Construction completed and the facility is in use
2. Ortega Street and 48th Avenue
The 7 Haight/Noriega and 7x routes take 58 minutes one way, peak frequency is every 10 minutes, unplanned schedule interruptions occur 2 percent of the time

Status: Approved by the City

Construction completed and the facility is in use
3. 25th Street and Potrero Avenue
33 Stanyan route takes 51 minutes one way, peak frequency is every 15 minutes, unplanned schedule interruptions occur 2 percent of the time

Status: Construction completed and the facility is in use
4. Hudson Avenue and 3rd Street
54 Felton route takes 76 minutes one way, peak frequency is every 20 minutes, unplanned schedule interruptions occur 14 percent of the time

Status: Construction completed and the facility is in use
5. 3rd Street and Fitzgerald Avenue
29 Sunset route takes 76 minutes one way, peak frequency is every 20 minutes, unplanned schedule interruptions occur 14 percent of the time

Status:  Construction completed and the facility is in use
6. Geary Boulevard and 32nd Avenue
1 California route takes 43 minutes one way, peak frequency is every 3 minutes

1 California A Express takes 30 minutes one way, peak period service only, frequency is every 10 to 15 minutes

Status:  Construction completed and the facility is in use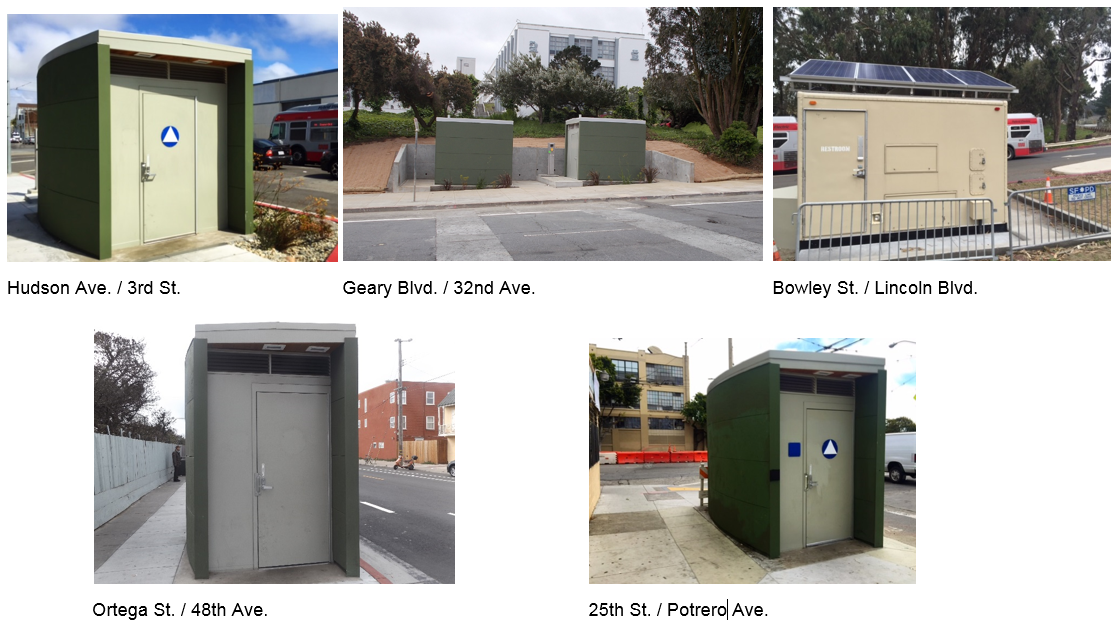 PHASE 2 (completed May 13, 2019)
Phase 2A 
1. Top of the Hill, Daly City (6232 Mission Street)
14/14R Mission route(s) takes 55 minutes one way, peak frequency is every 8 to 9 minutes

Status: Construction completed and the facility is in use
2. Daly City BART
28 19th Avenue route takes 60 minutes one way, peak frequency is every 10 to 12 minutes

54 Felton route takes 76 minutes one way, peak frequency is every 20 minutes, unplanned schedule interruptions occur 14 percent of the time

14R Mission Rapid route takes 55 minutes one way, peak frequency is every 9 minutes

Status: Construction completed and the facility is in use
Phase 2B
1. Parkridge Drive and Burnett Avenue
37 Corbett route takes 30 minutes one way, frequency is every 15 to 20 minutes

Status: Construction completed and the facility is in use
2. 20th Avenue and Buckingham Way
91 Owl 19th Avenue & Holloway route takes 1 hour and 22 minutes one way, frequency is every 30 minutes

18 46th Avenue route takes 40 minutes one way, peak frequency is every 20 minutes

Status: Construction completed and the facility is in use
3. Sunnydale Avenue and McLaren Way
9 San Bruno route takes 67 minutes one way, peak frequency is every 12 minutes

Status: Construction completed and the facility is in use
Phase 2C
1. 48th Avenue and Lower Great Highway
48 Quintara route takes 60 minutes one way, peak frequency is every 10 to 12 minutes

Status: Construction completed and the facility is in use
2.  Fulton Street between 7th and 8th avenues
5/5R Fulton Corbett route take 37 to 46 minutes one way, peak frequency is every 4 to 5 minutes

Status: Construction completed and the facility is in use
3. 4th Street and Townsend Street
10 Townsend, 30 Stockton, 45 Union/Stockton, 47 Van Ness routes take 40 to 60 minutes one way, peak frequency is every 4 to 20 minutes

81X Caltrain Express, 82X Levi Plaza Express, 83X Mid-Market Express 15 to 20 minutes one way, peak frequency is every 15 to 20 minutes (Caltrain service is scheduled to Caltrain arrivals)

N Owl and 91 Owl routes take 1 hour and 22 minutes one way, frequency is every 30 minutes

Status: Muni operators can access the Caltrain restroom daytime and evening hours, but SFMTA staff is currenlty seeking additional restroom access
4. Van Ness Avenue and North Point Street
28 19th Avenue route takes 57 minutes one way, peak frequency is every 10 minutes

30 Stockton route takes 32 minutes one way, peak frequency is every 6 minutes

47 Van Ness route takes 42 minutes one way, peak frequency is every 10 minutes

49 Van Ness/Mission route takes 65 minutes one way, peak frequency is every 8 minutes

90 Owl San Bruno & Arleta route takes 32 minutes one way, frequency is every 30 minutes

 91 Owl 19th Avenue & Holloway route takes 1 hour and 22 minutes one way, frequency is every 30 minutes

Status: Construction completed and the facility is in use
FUTURE PLANS FOR PHASE 3 (TBD)
The SFMTA is currently rehabilitating 21 older operator restrooms
The SFMTA will continue to secure operator restroom licenses, leases, and use permits where possible 
SFMTA staff is securing additional project funding to continue through Phase 3