Tenderloin COVID-19 Emergency Streets
Project Introduction
In May 2020,  Mayor Breed announced the release of the Tenderloin Neighborhood Safety Assessment and Plan for COVID-19 -- a report of the current conditions in the Tenderloin and a block-by-block plan for addressing those challenges.  The Tenderloin Plan is part of the City's broader efforts to address the public health crisis in San Francisco and among people who are experiencing homelessness.  The disproportionate impacts from COVID-19 to the Tenderloin are part of the broader intersectional public health issues that the Tenderloin faces, and the SFMTA is working with the community to be part of the solution.
The SFMTA is currently supporting this emergency response plan, which identified creating more walking space in the neighborhood as a priority.  Since May 2020, the SFMTA has been working closely with City departments, Supervisor Matt Haney's Office, and community members on two main priorities:
1. Expanding walking space to alleviate the public health concerns of overcrowding.
The SFMTA will work on a network of expanded walking space (parking or travel lane closures) that will enable community members to practice physical distancing while traveling to work and essential services.
2. Supporting emerging needs as part of the COVID-19 recovery, such a curb changes to support neighborhood services, and temporary street closures to open for people and businesses.
Completed as of October 2020
Fulton Street between Larkin and Hyde – parking prohibited to support Safe Sleeping Site between Larkin and Hyde Street.

O'Farrell between Taylor & Mason - parking prohibited to support physical distancing

Taylor between O'Farrell & Ellis – parking prohibited to support physical distancing

Ellis between Jones & Taylor - parking prohibited on half of the north block and part-time street closure to facilitate meal services

Golden Gate between Jones & Leavenworth - parking prohibited on half of the north block and lane closure to support physical distancing and queueing for essential services on block 

Jones Street between O'Farrell Street to Golden Gate Avenue - SFMTA added temporary walking space to allow people to practice physical distancing for essential travel and services. This change converted one car travel lane and parking lane to a pedestrian walking space. These changes were installed in August 2020. 

Turk Street between Taylor and Larkin – SFMTA installed a number of physical distancing zones at key intersections on Turk Street. Installation was completed in mid-October 2020.
The following map details ongoing improvements happening in the Tenderloin, many of them in response to COVID-19. This map will be updated as more improvements are installed in the Tenderloin.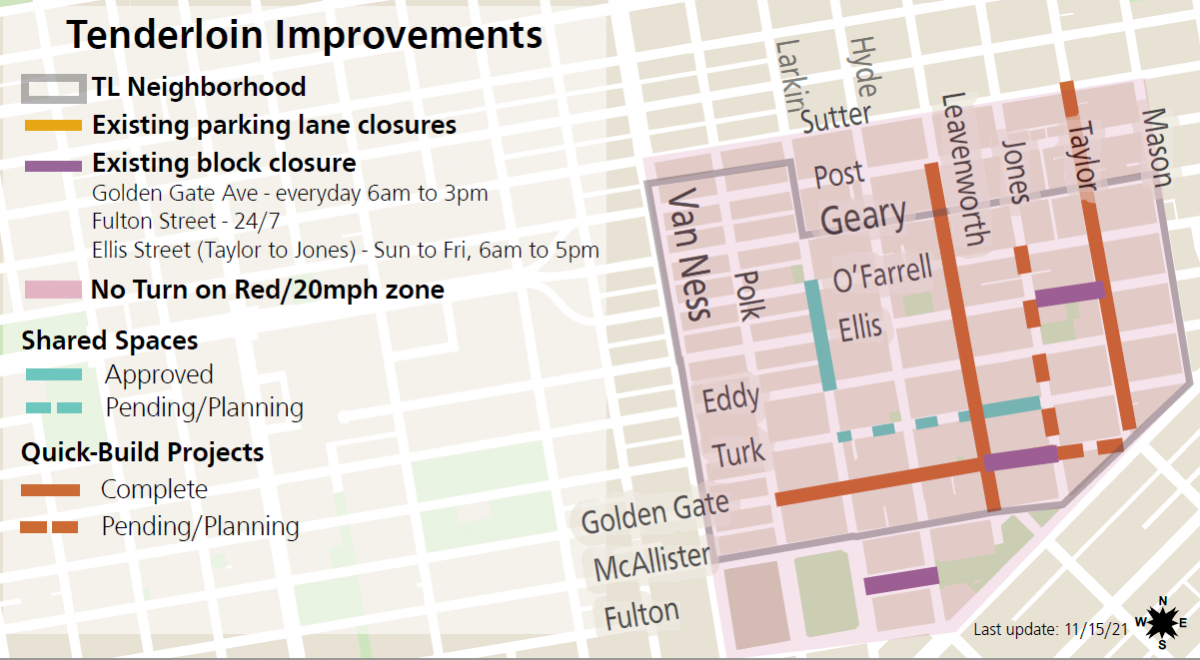 ---
Tenderloin Emergency Streets to Quick Build Projects
The Tenderloin COVID emergency streets were implemented in 2020 and 2021 to expand walking space to enable physical distancing and respond to emerging needs, such as temporary street closures to support small businesses & neighborhood services. Over the next several months, the SFMTA will assess the feasibility of transitioning these temporary COVID-19 response projects into quick-build projects. These projects will need to go through a City approval process, including outreach, legislation, and public hearing.
What is a Quick-Build Project?
Quick-build projects are adjustable and reversible traffic safety improvements that can be installed relatively quickly. Unlike major capital projects that may take years to plan, design, bid and construct, quick-build projects are buildable within months and are intended to be evaluated and reviewed within 24 months of construction.
Typical quick-build improvements include:
Road diet (i.e. remove one or two travel lanes)

Paint, traffic delineators, and street signs

Parking and loading adjustments

Traffic signal timing

Transit boarding islands
Other quick-build improvements may also include concrete barriers (k-rail), planters, and /or other street elements to be determined during the outreach/design phase. The project team is also interested in partnering with sister agencies and community and resident-based organizations to include additional elements to these projects that embody the art, culture, and vision of the Tenderloin community. Please contact the project team to discuss more at TLStreets@sfmta.com
The list of Tenderloin COVID emergency streets that have the potential to transition to quick-build projects include
1. Jones Street Physical Distancing Lane 

In August 2020, SFMTA implemented physical distancing lanes on Jones street from O'Farrell Street to Golden Gate Avenue to expand walking space to alleviate overcrowding and promote safe passage.

This project converted one car travel lane and parking on the east side of the roadway to add the additional walking space. The walkway and vehicle lanes are separated by concrete barriers or "k-rail" and delineator posts

.

Since the project launch, TLCBD & Downtown Streets Team continues to provide daily sidewalk sweeping and pressure washing. These efforts also included a dedicated Jones Street CARE Team during the height of the pandemic – CARE outreach included relationship building and sharing neighborhood resources, such as safe sleep guidelines and COVID-19 information. 

Mural paintings by local artists were completed in the spring of 2021 on several k-rails along the corridor.  This work was led by TLCBD's Inviting Spaces Program with funding support from SPIN Inc.

In fall 2021, the SFMTA removed the concrete barriers on Jones Street from O'Farrell to Golden Gate to address quality-of-life concerns on the corridor. This was done in collaboration with HSOC and Tenderloin community partners. 
2. Golden Gate Avenue 100 Block Closure 
As of summer 2020, all vehicles are required to turn left at Leavenworth between the hours of 6am and 3pm, except for emergency access and loading. Delineators were installed on the 200 block approaching the 100 block to merge the street from two to one travel lane.

Essential community services (e.g. food pantry, social/health services) are provided during the daily block closure.

The block closure is operated and monitored by Saint Anthony's staff in close coordination with the 100/200 Golden Gate Block Safety Group.
3. Turk Street Safe Passage 
In October 2020, the SFMTA installed several physical distancing zones at key intersections on Turk Street between Taylor and Larkin Street. This also included COVID signage to promote mask compliance and 6-foot distancing.

In April 2021, paint and sign changes were implemented on Turk between Taylor and Larkin to provide more pedestrian space on the south side of the roadway. Changes also included installing k-rails on the Turk 200 block for a physical distancing lane.

The 2021 street transformation was in response to the community's request for safe passage and open space for children as schools and neighborhood services started to reopen in spring 2021.

This work was led by TLCBD and community advocates with support from City agencies including the CCC, SFMTA, D6 Office, SFFD, DCYF, and SFPW.

TLCBD recently submitted a

Places for People

application to build a parklet with seating on the 200 block of Turk. The permit was approved by Public Works in June 2021.
4. Ellis Street 300 Block Closure 
As of October 2020, essential community services are provided on the 300 block from Sunday to Friday, 6am-5pm. These services include a food pantry, COVID testing/vaccination site, and other health services.

GLIDE has been an active stakeholder in maintaining no parking signs and keeping the area clear for the food pantry and other essential services.
The project team is currently in the outreach and early design phase for these COVID to Quick-Build efforts. Information about Jones Street Quick-Build project.