Italian Heritage Parade: Sunday, October 8, 2023
Service Affected
Accessibility
Driving
Transit
Weekend Traffic and Transit Advisory
Event Summary
The Italian Heritage Parade will take place in the North Beach and Russian Hill neighborhoods. The parade will begin at 12:30 p.m. SFPD will will close streets as early as 8 a.m. and Muni will reroute around the formation areas and the parade route. Service will return to normal after the streets are clear. Read below for more information.
Street Closures
Parade Formation Areas
These streets will be closed for parade formation, starting around 8 a.m.:
Powell, between Chestnut and Beach
Stockton, between Bay and Beach
Beach, between Mason and Grant
North Point, between Mason and Embarcadero
Francisco, between Stockton and Mason
Parade Route
These streets define the parade route and will have a rolling closure, starting around 12 noon:
From Jefferson & Powell,
West on Jefferson
South on Leavenworth
South on Columbus
South on Stockton
East on Vallejo
North on Columbus
North on Stockton
West on Filbert
North on Powell to disbanding area in Washington Square
Muni Service Changes
Muni buses and cable cars will be rerouted at different times, as early as 8 a.m. Some reroutes will switchback--changing directions before the end of the line--and others will use alternate roads. Service will return to normal once streets are clear. The information below provides more detail.
Note: Be sure to receive real-time Muni service alerts via email or text by signing up through our Email and Text Subscriptions page.
Muni Service Changes for Italian Heritage Parade 2023
Route & Direction
Duration
Summary
Missed Stops
Alternate Stop Locations
F Market & Wharves

8 a.m. to 4 p.m.

Inbound to Fisherman's Wharf:
Streetcar and bus switchback will be at Pier 39.

Outbound to The Castro:
Regular route from The Embarcadero & Bay St

8 Bayshore
(Morning)
8 to 11:30 a.m.

Inbound to Fisherman's Wharf:
Before the parade starts, the reroute will be along Powell, Chestnut, Mason and Bay to Kearny & North Point.terminal

Outbound to City College:
Before the parade starts, the reroute will be from the Kearny & North Point terminal along The Embarcadero, Bay, Mason, Chestnut, and Powell

Inbound:

Outbound:

Inbound:

Outbound:

8 Bayshore
(Afternoon)
11:30 a.m. to 3:30 p.m.

Inbound to Fisherman's Wharf:
After the parade starts, the northbound reroute will be along Kearny, Broadway, Sansome, The Embarcadero and Bay to Kearny & North Point

Outbound to City College:
The southbound reroute will be along The Embarcadero, Broadway and Stockton to the regular route

Inbound:

Outbound:

On North Point:
On Powell:

Inbound:

Outbound:

28 19th Avenue
11:30 a.m. to 2:30 p.m.

Inbound to Fisherman's Wharf:
Route will be shortened with a temporary layover on Polk, just north of Bay

Note: Stops along North Point will be missed

Outbound to Daly City BART:
Regular outbound route starting from Polk St & Bay St temporary terminal

Note: Stops along North Point will be missed

Inbound:

Outbound:

Inbound:

No alternate stops along North Point

Outbound:

 

Polk & Bay (north side; temporary terminal)

30 Stockton
(Long Route from Sports Basement Parking Lot)
10:30 a.m. to 3:30 p.m.

Inbound to Caltrain:
Reroute will be from Chestnut & Van Ness via Van Ness, Broadway, Stockton to regular route

Note: Stops on Columbus and North Point will be missed

Outbound to The Presidio:
Reroute will be from Stockton & Broadway via Broadway, Van Ness, and Chestnut

Note: Stops on Columbus and North Point will be missed

Inbound:

On North Point:
On Columbus:

Outbound: 

On Columbus:
On North Point:
On Van Ness:

Inbound:

Outbound:

30 Stockton
(Short Route from North Point St & Van Ness Ave)
10:30 a.m. to 3:30 p.m.

Inbound to Caltrain:
Reroute will be from North Point & Van Ness terminal via North Point, Polk, Francisco, Van Ness, Broadway, and Stockton to regular route

Note: Stops on Columbus and North Point will be missed

Outbound to Van Ness & North Point:
Reroute will be from Stockton & Broadway via Broadway, Van Ness, North Point to the terminal

Note: Stops on Columbus and North Point will be missed

Inbound:

On North Point:
On Columbus:

Outbound:

On Columbus:
On North Point:

Inbound:

Outbound:

39 Coit
9 a.m. to 5 p.m.

Inbound to Fisherman's Wharf:
Regular route to Stockton & Lombard via Stockton, Bay, Mason, North Point to temporary terminal at existing 49 Van Ness/Mission stop at North Point & Mason

Temporary layover at North Point & Mason with a loop around Bay, Mason, North Point and Taylor
Note: Stops along Union, Stockton, and Powell will be missed

Outbound to Coit Tower:
From temporary terminal on North Point & Mason via North Point, Taylor, Bay, Stockton, Lombard to regular route

Note: Stops along Union and Stockton will be missed

Inbound:

On Stockton:
On Union:
On Powell:

Outbound:

On Powell:
On Union:
On Stockton:

Inbound & Outbound:

No alternate stops along Union, Stockton and Powell

45 Union/Stockton
8 a.m. to 5 p.m.

Inbound to Caltrain:
Reroute will be from Union & Powell via Powell, Broadway, Stockton to regular route

Outbound to Lyon & Greenwich:
Reroute will be from Stockton & Pacific via Pacific, Powell, Union to regular route

Inbound:

Outbound:

Inbound:

Outbound:

Powell/Mason Cable Car
(Bus Substitution)
11:00 a.m. to 4 p.m.

Inbound to Powell & Market:
No service on Mason. Use the Powell/Hyde Line

Outbound to Fisherman's Wharf:
No service on Mason. Use the Powell/Hyde Line

Note: Regular cable car service from 6 to 11 a.m.

Inbound:

Outbound:

Inbound & Outbound:
Event Service Map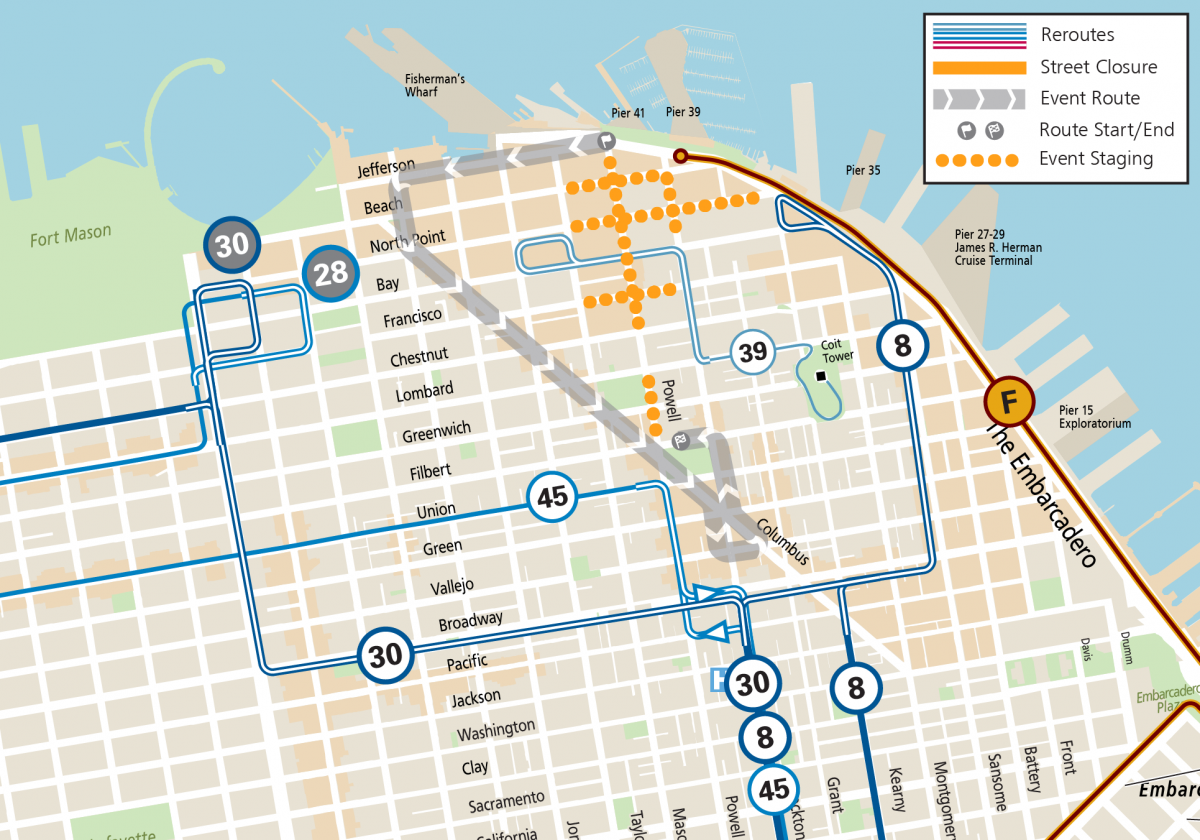 Contact
Call 311 within San Francisco; TTY 415.701.2323