May 22 - 25, 2020: Pedestrian Bridge Removal at Geary and Steiner
Service Affected
Bicycle
Parking
Driving
Transit
Walking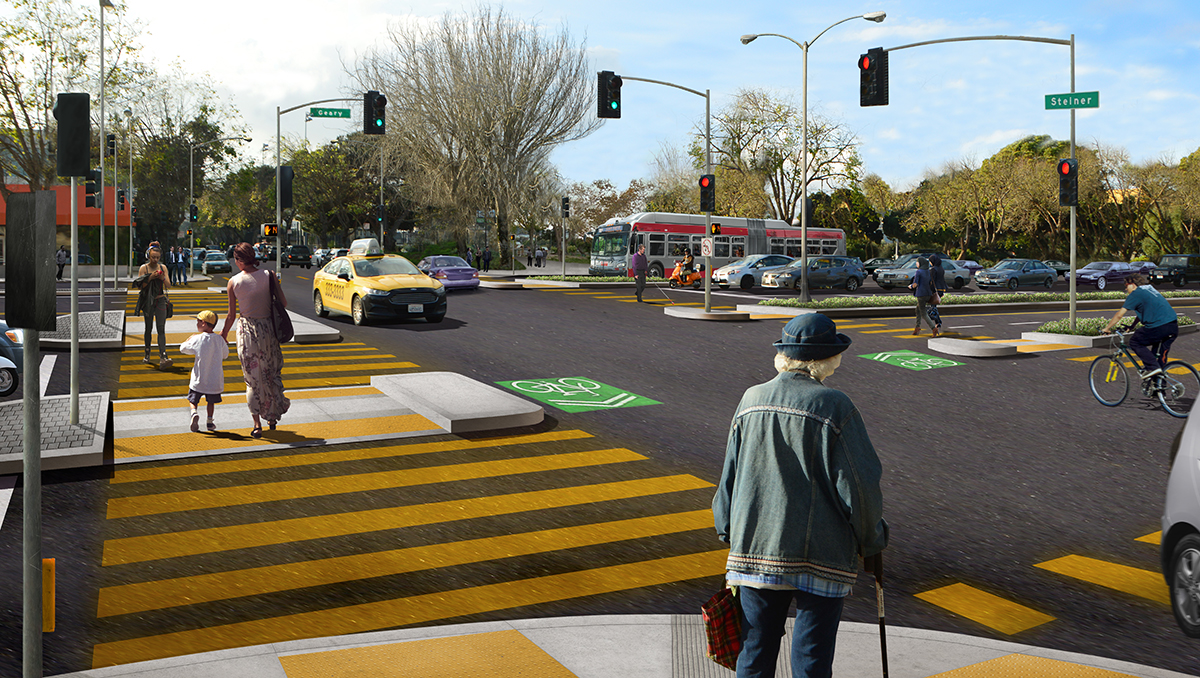 Rendering depicts the future Geary and Steiner intersection, looking south from the northeast corner, with the Steiner Bridge removed and improved crosswalks and medians.
Over Memorial Day weekend, the pedestrian bridge at Geary Boulevard and Steiner Street will be permanently removed. Beginning 8:00 p.m. Friday evening on May 22 through Monday, May 25, the area around Geary Boulevard and Steiner Street will be closed to through traffic while crews work to remove the bridge. During that time, vehicles in the area will be rerouted and bus stops will be relocated. If you're driving or taking Muni in the area, please allow extra travel time to get to your destination.
The Steiner bridge demolition is part of the Geary Rapid Project, which aims to improve 38 Geary bus service and bring much-needed safety improvements to the Geary corridor. Work is being done by Silicon Valley Demolition and is overseen by San Francisco Public Works.
What to Expect While the Bridge is Being Removed
Traveling by Car
Streets will be temporarily closed to vehicles on Geary Boulevard between Scott and Fillmore, on Steiner between Post and O'Farrell, and on Fillmore between Geary and Post streets with local access only. Vehicles traveling westbound on Geary will be rerouted to Sutter Street, while eastbound traffic will be diverted to Post Street. North- and southbound traffic can use Divisadero or Webster streets to cross Geary. Some parking will be restricted in the area. 
Accessing Local Businesses and Residences
All local residences and businesses will remain accessible to vehicles throughout the weekend. If you need to enter a closed street to get to your home or business, please inform construction personnel which destination you are accessing:
Locations on the 1800 block of Geary Boulevard (southside)

and on the 1500 block of Steiner Street (south of Geary):

Access from the intersection of Steiner Street and O'Farrell Street.

Locations on the 1600 block of Steiner Street (north of Geary Boulevard)

:

Access via Boswell Street from the westbound Geary frontage road.

Hamilton Recreation Center (1900 Geary):

Access via Post Street entrance.

Raymond Kimbell Playground (1901 Geary):

Access via the entrance at the intersection of O'Farrell and Pierce streets.
Businesses will operate with their normal hours. Additional information about which businesses are open and how to support them is provided on the local merchant associations' websites: JapantownSF and Fillmore.
Parking
On-street parking in the neighborhood will generally remain available to the public. However, some parking spaces will be restricted, including those within the street closure areas (on Geary between Scott and Steiner, and on Steiner between Post and O'Farrell); those within the temporarily relocated bus zones (on northside Geary east of Fillmore and west of Scott, and on eastside Scott north of Geary); and those at intersection corners along the detour route to facilitate vehicle turning movements. Vehicles will not be permitted to double park or stop in active travel lanes at any time. Please allow more time for finding parking.
Off-street parking facilities in the area will remain accessible; check current operating hours. The main Japan Center Garage is open with modified hours, currently: 10:00 a.m. - 8:00 p.m. Saturday - Sunday, and 6:00 a.m. - 8:00 p.m. Monday - Friday. Some garages, such as the Japan Center Annex off of Fillmore Street, are closed to non-monthly pass holders in response to COVID-19.
Traveling by Bus
Some bus stops will be temporarily relocated during work while the 38 Geary and 38R Geary Rapid are rerouted to Post Street. Look for "Board Here" signs nearby.
The outbound 38/38R stop at Fillmore will be relocated across the intersection towards Webster Street.

The outbound 38 stop at Scott will move across the intersection towards Divisadero Street. 

The inbound 38 stop at Scott will move to the northeast corner of the intersection on Scott Street.
Traveling on Foot
Pedestrian detours will be provided around the work zone. Pedestrians will not be able to cross Geary Boulevard at Steiner Street and will need to cross at Fillmore or Scott streets. After work is completed, the crosswalk will be accessible again and the former bridge landing areas will be fenced off until they are later upgraded.  
Traveling on a Bicycle
Cyclists can use Webster Street. The Bay Wheels bike share station at Raymond Kimbell Playground will be closed.
---
Frequently Asked Questions
1. Why is the Steiner bridge being removed?
The Steiner pedestrian bridge was built in 1962, before the Americans with Disabilities Act (ADA) set standards to ensure that public spaces are accessible to people of all abilities. The ramps to access the bridge have slopes between 11-17%, which far exceeds the 5% limit. In place of the overpass, we'll be improving conditions for how people already prefer to travel: currently, over 80% of people crossing Geary at Steiner on foot or wheelchair do so at street level. Safer and more accessible street level crosswalks will be installed, as well as new streetlights and upgrades to the adjacent San Francisco Recreation and Parks facilities. See FAQ #5 below for more details.
2. How long will it take to prepare for demolition and complete the work?
Before work to remove the bridge can begin, some preparations must take place. The bridge railings will be removed first, at which point the bridge will be closed off to pedestrians for safety reasons. This is planned during the week before the demolition and will not require any street closures.
The majority of the work will be done over the three-day weekend, during which time adjacent streets will closed to through traffic. While the entire weekend from late Friday through Monday may be required to finish safely dismantling and removing the bridge, work could potentially be completed and the streets reopened before Monday.
Work is planned to begin at 8:00 p.m. on Friday night, starting with setup and protecting existing infrastructure, such as fire hydrants and traffic signal poles. The demolition equipment will arrive and final preparations done early Saturday morning, with demolition activities beginning afterwards and continuing until the bridge spans, support piers and both access ramps are removed. Once the structure is removed and the area is safe for public access, the site will be cleaned and reopened to vehicles, buses, pedestrians and bicycles.
3. Will work be conducted at night?
Yes. Crews will begin preparation for the demolition Friday evening at 8:00 p.m. and are expected to work at all hours through the entire weekend, as late as Monday evening. While some night noise is expected, the loudest work will be scheduled between 7:00 a.m. and 8:00 p.m. to reduce disruptions to neighbors.
4. How will the bridge be removed?
The bridge will be carefully dismantled and removed by utilizing a combination of methods.  The three bridge spans over the roadway – one long center span and two shorter north and south spans – will, one at a time, be disconnected from their supports, lifted by cranes and loaded onto transport trailers to be delivered to offsite disposal facilities. The spiral and folded ramps and the support piers will be demolished in-place using hydraulic concrete processors to break up the structures, with the debris loaded into dump trucks for transport offsite. The site will be cleaned as demolition proceeds, as well as a final cleanup at the end before opening the area to the public.
5. What will replace the bridge?
Later this year after the bridge is removed, the two bridge landing spaces will be renovated for the adjacent SF Recreation and Parks sites. Hamilton Recreation Center will have a new stairway added at the northwest corner of Steiner and Geary, along with an expanded patio and new landscaping. The Raymond Kimbell Playground grassy area will also be expanded into the former spiral ramp area with the paved pathway realigned to the corner of Geary and Steiner.
Once Geary Rapid Project utility upgrades and street repaving are completed in early 2021, a new surface crosswalk will be added on the east side of the intersection. The existing crosswalk on the west side of the intersection will also be improved with larger medians, and green-backed sharrows will be painted in the intersection to signal the best path for cyclists to cross Geary. The removal of the bridge support piers in the roadway will also free up space for new bus lanes.
6. What if it's raining that weekend—will the work be postponed?
Crews are prepared to complete the demolition over Memorial Day weekend, rain or shine.
7. Will the pedestrian bridge on Geary Boulevard at Webster Street be removed?
No. While removing the Geary/Webster pedestrian bridge was considered during the project's planning phase, a final decision was made to retain the bridge. Many Japantown stakeholders wanted it because school groups in the area use it to cross large groups of children and because the bridge is an important part of Japantown's cultural identity. New surface-level pedestrian crosswalks will be installed on both sides of the intersection to improve safety for people of all abilities who are crossing Geary Boulevard.