27 Bryant Returns to Serve Communities in Mission, SOMA and Tenderloin
Tuesday, December 15, 2020
Beginning on Saturday, January 23, the 27 Bryant will return to service with a route realignment that will improve service reliability by using temporary emergency transit lanes.  
The 27 Bryant makes critical connections for three of San Francisco's Muni Service Equity Strategy neighborhoods that have been hit especially hard by the pandemic. The Tenderloin is one of most diverse and dense neighborhoods in San Francisco with many seniors, families, lower income households and persons with disabilities relying on transit. The 27 Bryant will soon travel directly to FoodsCo and Costco in SoMa to provide a connection to other food options. It will also stop just a couple of blocks away from the Mission Food Hub on Alabama Street in the Mission, an organization that provides free groceries to Latinx families.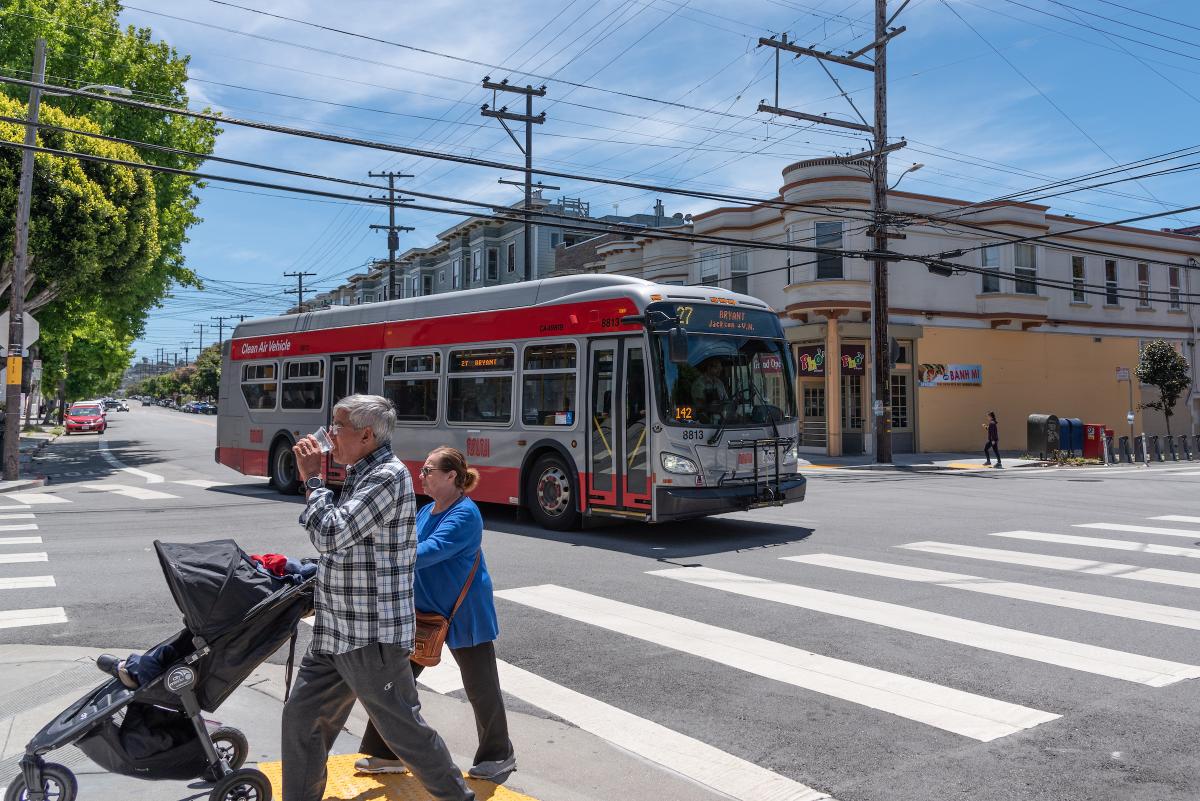 27 Bryant on Bryant Street at 20th St in the Mission  
With the anticipated return of rail in August, SFMTA had initially planned to prioritize the return of the 27 Bryant to service in fall 2020. The unexpected Muni Metro motorization, however, meant that the buses that would have gone to the 27 were put on rail lines instead. The upcoming phased return of rail service in early 2021 allows us to free up buses for the 27 Bryant so customers can again take this line to go grocery shopping, attend medical appointments, and access social services.  
Thank you to the community groups, especially in the Tenderloin, for continued advocacy for this essential lifeline throughout the last few months. To engage with community groups representing the neighborhoods served by the 27, staff provided updates at biweeky meetings and hosted a virtual open house in September, inviting key community stakeholders for feedback on proposed changes. 
During this emergency period, the 27 Bryant will be on a temporary modified route through SoMa that will travel southbound on Jones connecting to 8th Street between Market and Harrison streets and northbound on 7th Street between Market and Folsom Streets continuing on Leavenworth. The 27 route will not serve Ellis, Eddy, and 5th Streets.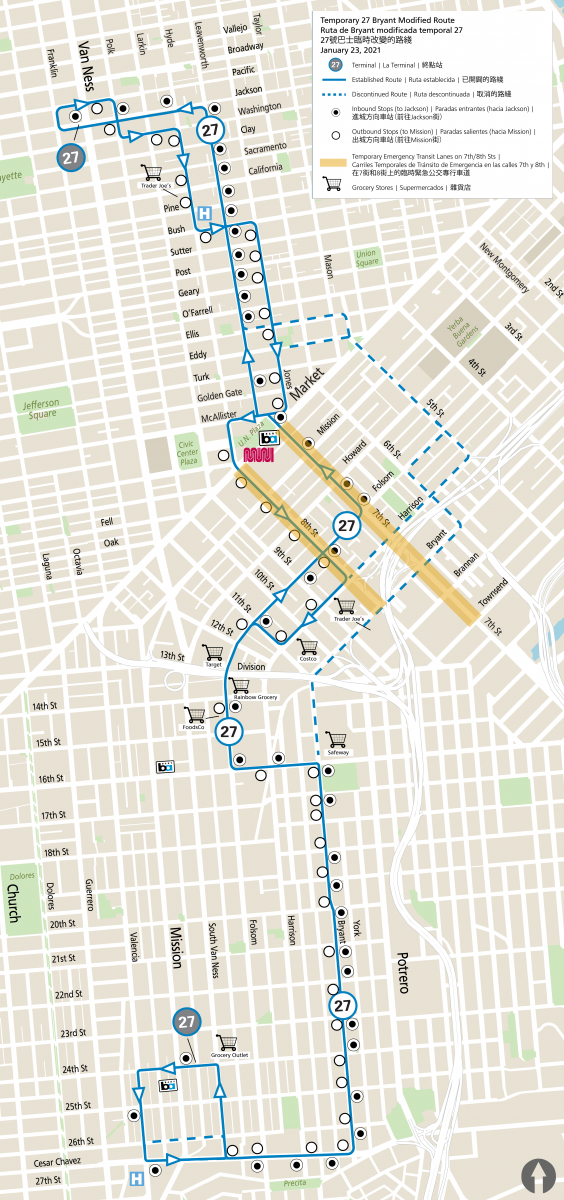 Temporary 27 Bryant Reroute Effective January 23, 2021
Map of temporary 27 Bryant modified route, the solid blue line indicates active route and dashed blue line indicates discontinued route. Muni and BART icons placed near Powell Station to display option to connect.
The temporary emergency transit lanes that are currently on 7th and 8th Streets restrict private automobiles so Muni service can keep moving. Prior to the pandemic, traffic congestion on 5th Street caused unreliable travel times that can cause long wait times during peak hours. By rerouting the 27 to use the transit lanes, it can help improve the reliability of the route by providing more consistent travel time in that segment and reduce the bunching and gapping that we often see on the 5th Street corridor. This is especially important during the pandemic when avoiding crowded buses is a priority for the SFMTA and riders alike.  
Over the next few months, feedback from the Tenderloin, SoMa, and Mission communities will help inform the proposal developed for the permanent route of the 27 Bryant. As for the 31 Balboa, we do not yet have a timeline for the return of this line. Please review the route map for more details including terminal changes and let us know if you'd like to receive updates or have questions or comments by contacting staff: 
Jean Long, Transit Planner, Jean.Long@SFMTA.com 
Enrique Aguilar, Public Information Officer, Enrique.Aguilar@SFMTA.com