4th & King Construction - Disruptive? Yes. Worth It? Absolutely.
Starting next month, our Central Subway project will ramp up construction at 4th and King again – and it's going to be noisy. There will be inconveniences across the Muni system for about a week in early November. If you can avoid the Mission Bay area during that time, you should. We know it's going to be tough, but an upcoming flurry of construction at 4th and King streets is going to make a world of difference in the future.
The work starting the night of Friday, Nov. 6 will install the track where we will connect existing Muni rail lines to the agency's under-construction Central Subway.
This is the linchpin that will ultimately knit our city's transit system together.
The Central Subway, the second phase of the T Third Line, will connect the fastest-growing part of our city, its eastern side, in a straight shot to the Moscone Center, Union Square and Chinatown. That's going to make the transit system work better for everyone. But first we have to build the tracks to get there. That's what we're doing now.
The SFMTA, which runs Muni, started this work over Labor Day weekend. This is the best time to finish it. It's after the Giants' season is done and before the holiday rush.
We're working through Veteran's Day to make transit better for everyone, and this work will keep the subway on track to open in 2019.
Construction is scheduled to start at 10 p.m. on Friday, Nov. 6 and run through Saturday, Nov. 14. During construction Muni service will experience delays and service changes. The E Embarcadero, F Market & Wharves, K Ingleside, N Judah and T Third Street lines will be affected the most. The transit effects will be felt most in neighborhoods like the Bayview, Visitacion Valley, The Embarcadero, the Northern Waterfront, SoMa, Mission Bay and Dogpatch.
Driving and parking in Mission Bay is going to require extra patience. There will be delays and detours. 
Here are some of the details on service changes during construction. More specifics will be coming soon:
I-280 on-ramp and off-ramp will be open but drivers will face major detours. They should avoid the area or exit I-280 at 6th Street or earlier.
Buses will replace trains on the T Third Line and run from Sunnydale Station to downtown.
The E Line, which runs on weekends, will be shut down during construction.
The N Judah Line will stop at a temporary platform on King Street between 3rd and 4th streets and will likely face some delays.
Bus shuttles will replace subway service every night after 9:30 p.m. because of an ongoing construction project installing a new radio and emergency phone system in the subway.
The K Ingleside line will operate between Balboa Park and Embarcadero only. It will not continue on to become the T Line at Embarcadero Station. Customers will need to transfer to the N Judah to continue to the King Street platform or the T bus shuttle for destinations south of 4th and King.
Caltrain customers heading downtown are encouraged to take the 10, 30, 45, 81X, or 82X bus lines. The 81X and 82X will board at a temporary stop on Townsend Street between 3rd and 4th streets. Another option is to take the N Judah, which will board at a temporary station on King Street between 3rd and 4th streets.
​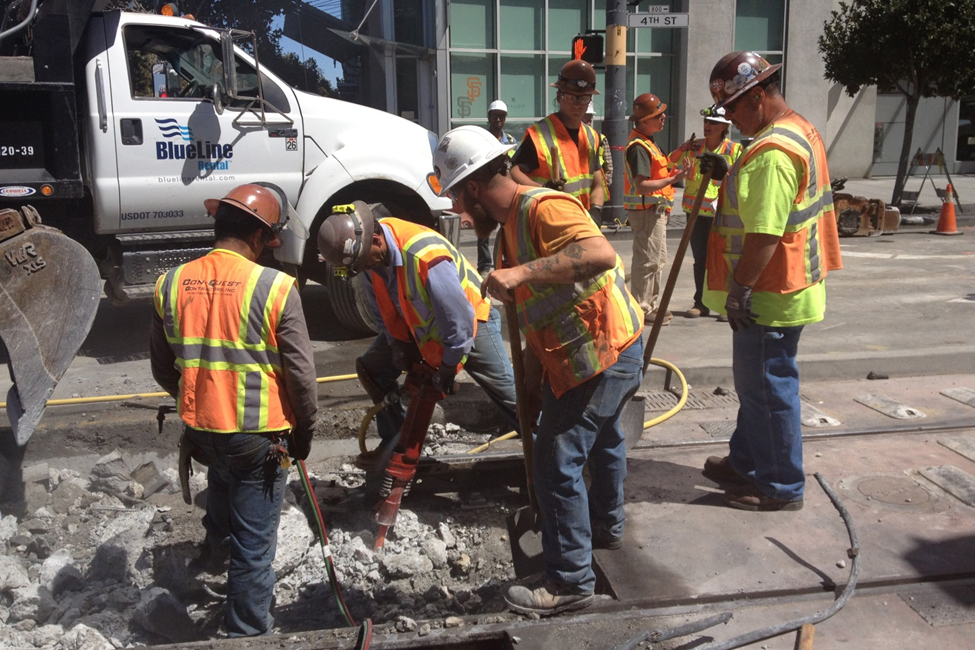 Workers prepared track work at the 4th and King intersection over Labor Day weekend as part of the Central Subway project. The project will construct a modern, efficient light-rail line that will improve public transportation in San Francisco. This new 1.7-mile extension of Muni's T Third Line will provide direct connections to major retail, sporting and cultural venues while efficiently transporting people to jobs, educational opportunities and other amenities throughout the city.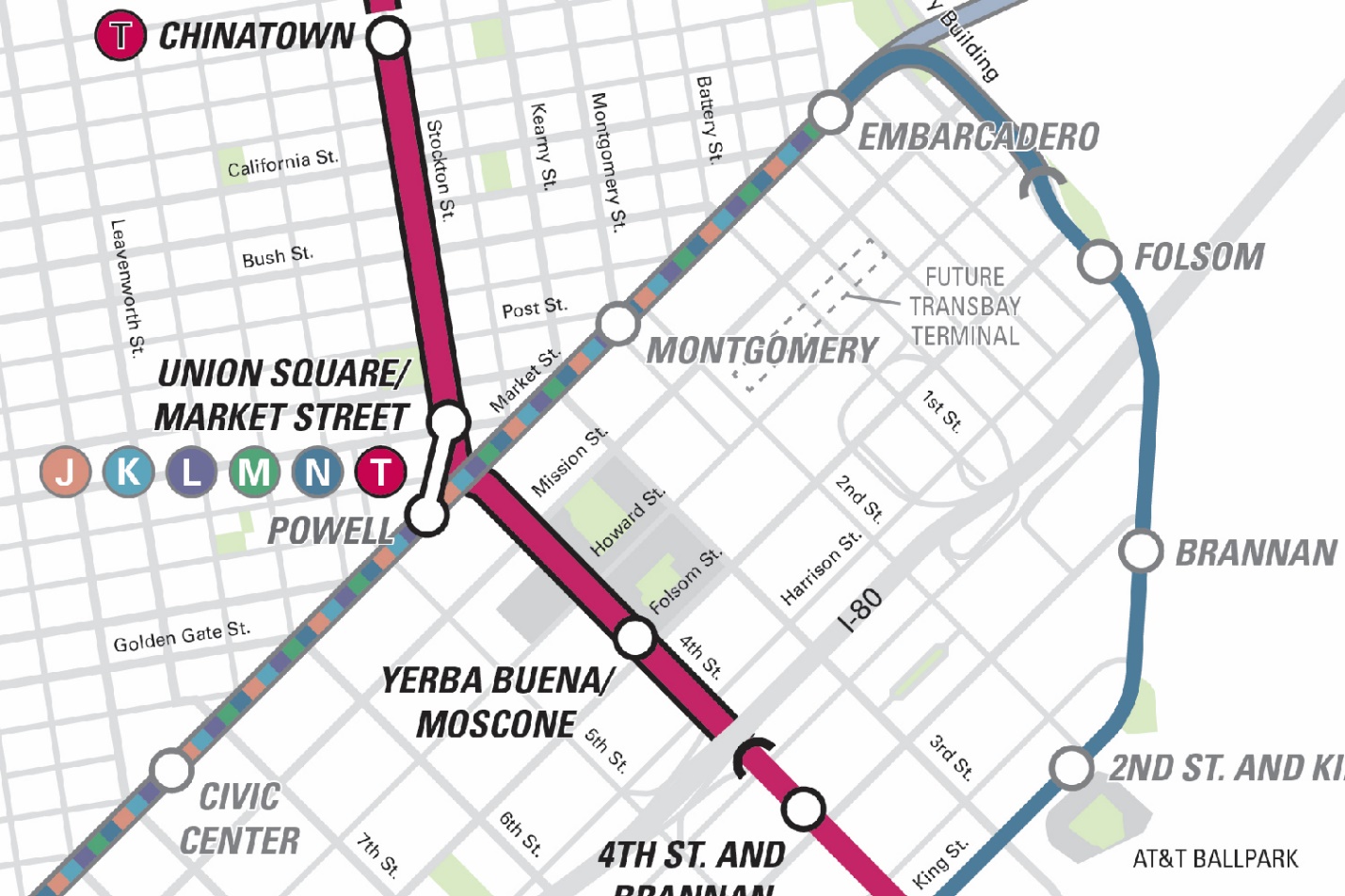 Heavy construction along the alignment, which features stops in SoMa, Union Square and Chinatown began in 2012. With 54 percent of the work done, and two tunnels for the trains completed, the project is currently focused on building stations and installing track and signal equipment.
When open to the public in 2019, the Central Subway will vastly improve transit options for the residents of one of the most densely populated neighborhoods in the country, provide a rapid transit link to a burgeoning technology and digital-media hub, and improve access to a premier commercial district and tourist attractions.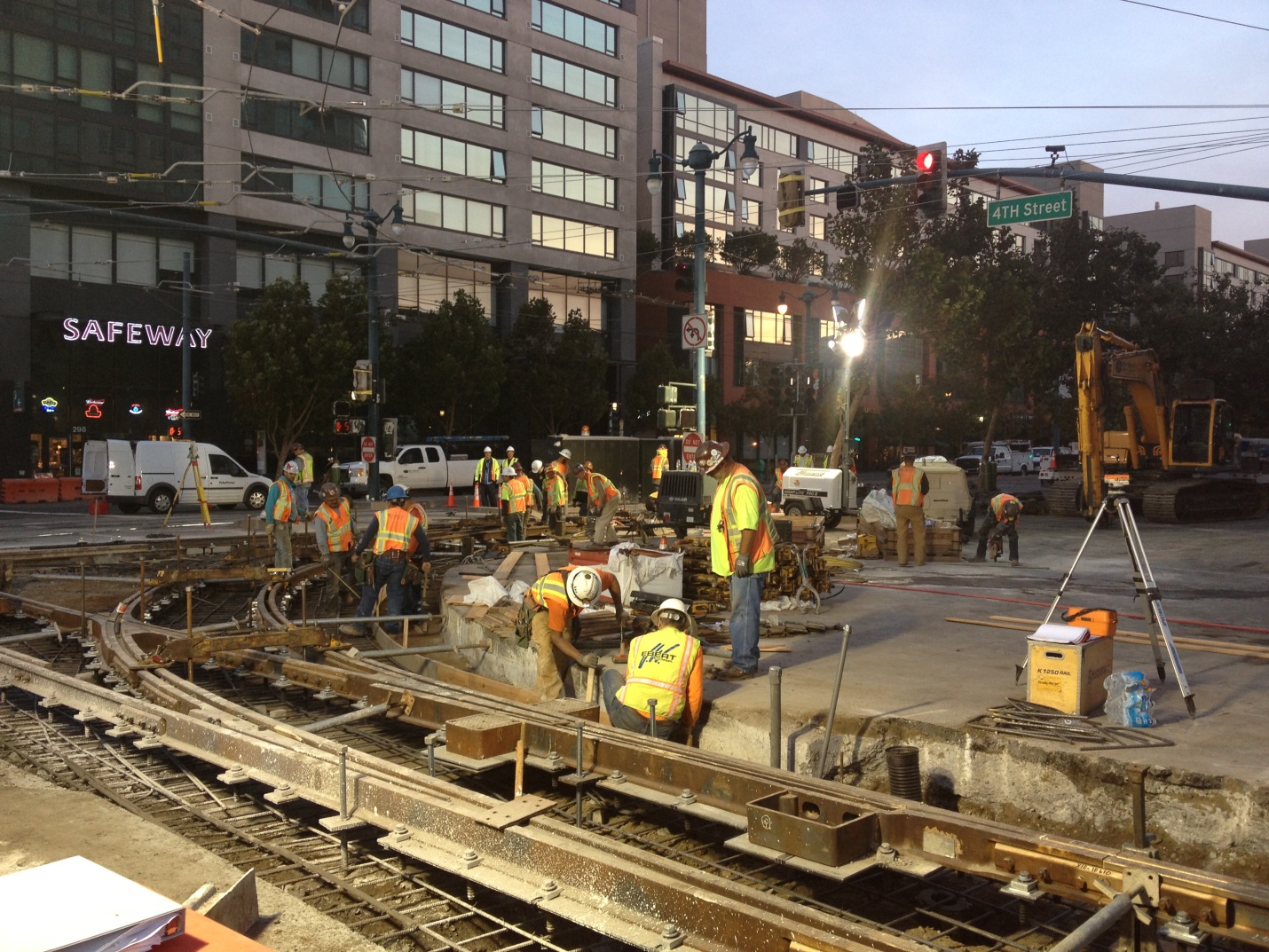 Phase one of the Central Subway Trackway Project took place over the Labor Day weekend. Crews performed initial work for installation of track and infrastructure upgrades at the intersection of 4th & King streets.
 
These upgrades allow for the T Third Metro Line to link to the Central Subway, and will make transit safer and more reliable in the interim.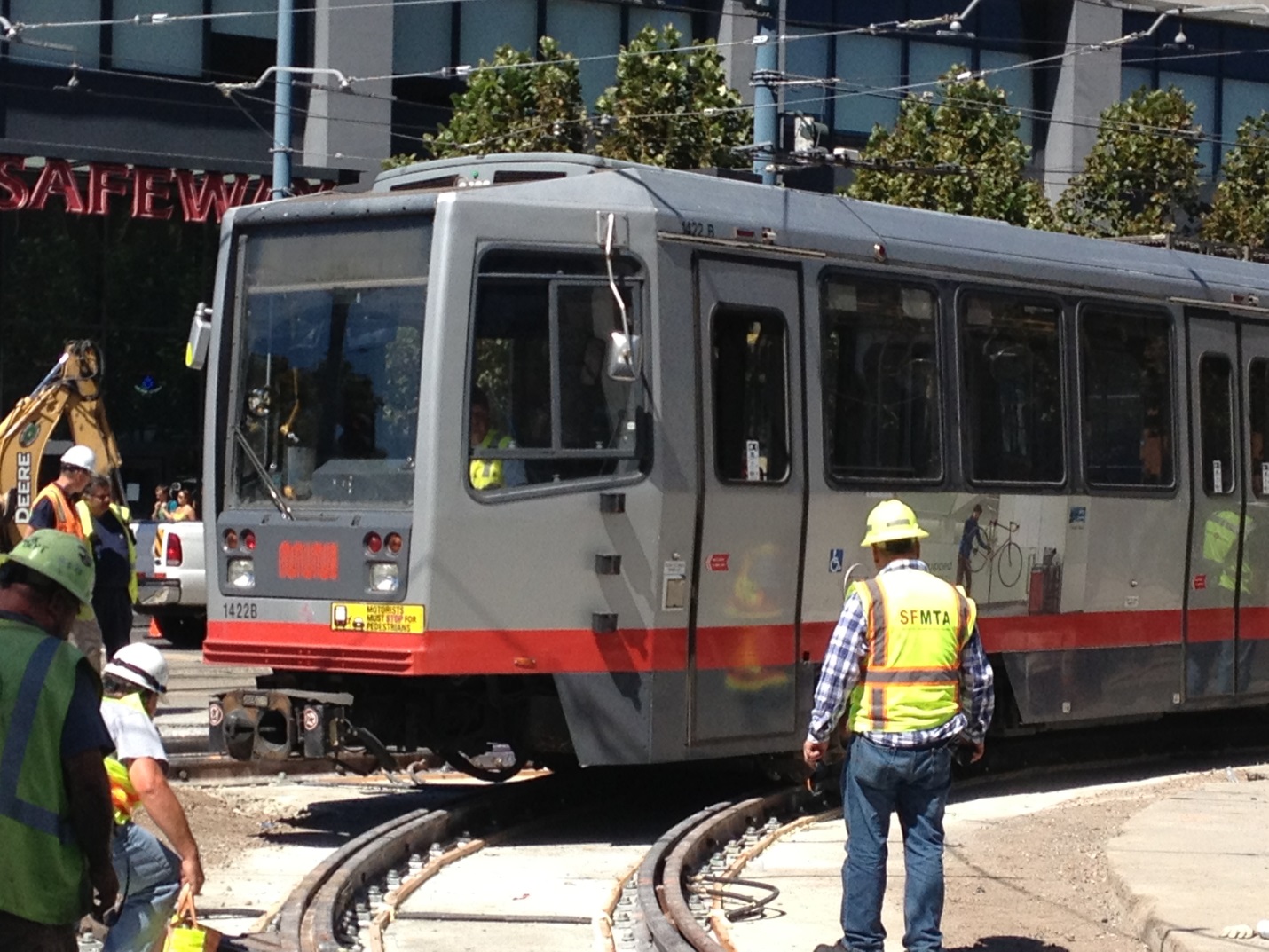 Crews check trains on the track as Labor Day work at the intersection comes to a close.
 
The next round of construction is set to run from the night of Friday, Nov. 6 to Saturday, Nov. 14. It entails a longer and more extensive shutdown of the area. Crews will be working through Veteran's Day to keep this crucial project on track.
Editor's note: This post was updated on Monday, Oct. 26, 2015.