A Busy Weekend Ahead: Climate March, Ghirardelli Chocolate Festival, Sunday Streets, and Overnight Weekend Shutdown of the Twin Peaks Tunnel
Thursday, September 6, 2018
Twin Peaks Tunnel Early Weekend Shutdowns:
The first of two planned overnight weekend closures of the Twin Peaks Tunnel will take place this Friday and Saturday. West Portal, Forest Hill, Castro and Church stations will close at 11:59 p.m. each night. Bus shuttles will provide KLM service beginning at 11 p.m. Regular KLM train service will resume on Saturday and Sunday mornings at 9 a.m. Complete service and project details can be found on our website.
Events: This weekend will be a flurry of exciting events around the city, including the Ghirardelli Chocolate Festival, the Autumn Moon Festival on Clement Street in the Richmond District and a Climate March downtown on Saturday, Sunday Streets in the Western Addition and the San Francisco Giant Race also on Sunday. Read more about our featured events below.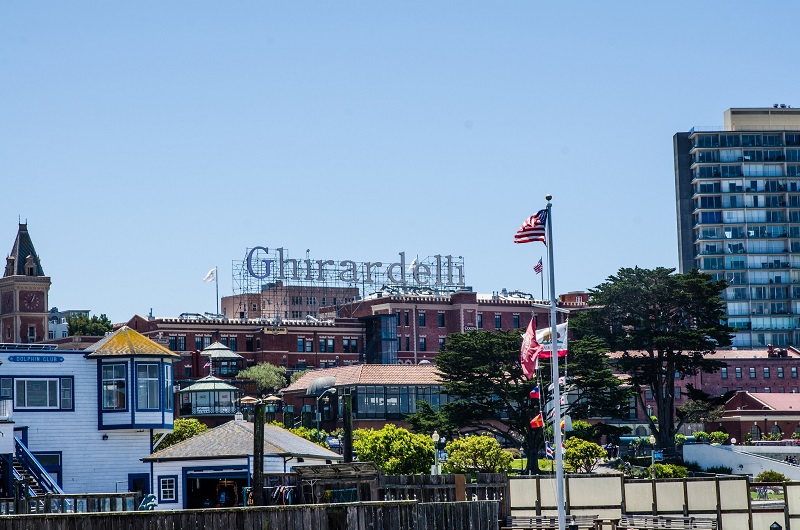 It will be a chocolate paradise at Ghirardelli Square this weekend during the Ghirardelli Chocolate Festival. Photo: Ashwin Kumar/Flickr
Rise for Climate, Jobs and Justice March
Saturday, 10 a.m. until approximately 5:30 p.m.
Downtown/Civic Center
Thousands are expected to gather at the Embarcadero Plaza this Saturday for the largest climate march in the history of the West Coast during the Rise for Climate, Jobs and Justice March. Interested in moving society away from fossil-fuel use and toward a transition to renewable energy, the march will gather at 10 a.m. before proceeding down Market Street towards the Civic Center where live music and a resource fair will take place.
---
How to Get There on Muni: To reach the Embarcadero Plaza, riders may take any Muni Metro line, any Market Street bus route, the F Market and Wharves Line as well as the 1 California, 2 Clement, 14 Mission, or 14R Mission Rapid routes.
Muni Service Notes: There will be several reroutes due to Market Street being closed to vehicle traffic during the march. The F Market and Wharves Line will be served by motor coaches west of the Embarcadero, while the 1 California, 2 Clement, 5 Fulton, 6 Haight/Parnassus, 7 Haight/Noriega, 8 Bayshore, 9 San Bruno, 10 Townsend, 12 Folsom/Pacific, 14, 14R, 19 Polk, 21 Hayes, 27 Bryant, 30 Stockton, 31 Balboa, 38 Geary, 38R Geary Rapid, and 45 Union/Stockton will have reroutes in effect during the event. It is recommended that riders use the Muni Metro subway system for travel along Market Street.
Ghirardelli Chocolate Festival
Saturday and Sunday, Noon to 5 p.m.
Ghirardelli Square
Chocolate lovers rejoice! This weekend is the 23rd annual Ghirardelli Chocolate Festival at Ghirardelli Square, where over 50 vendors will be on hand to provide tasty treats and refreshing drinks to all in attendance. There will also be live culinary demonstrations, chocolate tastings, the new Personalized Ghirardelli Chocolate Bars Booth --where you can create a message on a chocolate bar-- and much more. 
How to Get There on Muni: Chocolate fiends may take the 19 Polk, 29 19th Avenue, 30 Stockton, 47 Van Ness or the 49 Van Ness/Mission routes to the event.
Muni Service Notes: The 19 will have a reroute.
Sunday Streets: Western Addition
Sunday, 11 a.m. to 4 p.m.
Western Addition
It's time for another car-free Sunday in the city and this time the Sunday Streets action comes to the Western Addition. Whether you break out your best walking shoes, hop on your bike, grab your roller skates or however you prefer to get around town, there will be lots of fun to be had along the Sunday Streets route that begins at Fell and Baker streets before turning down Fulton to Fillmore where the activity continues north up to Geary Boulevard. Each area will feature its own unique experiences while connecting the neighborhood community through live music, family fun, shopping and more.
How to Get There on Muni: Riders may take the 5 Fulton, 21 Hayes, 22 Fillmore, 24 Divisadero, 38 Geary or 38R Geary Rapid routes to the event.
Muni Service Notes: The 22 will have a reroute during the event while there may be minor delays or increased ridership on routes near the area of the event.
"On Tap" gives you a heads up about the big events in town and what Muni routes and lines will get you to the party. Look for this feature to be posted usually on Thursdays for a look ahead to the weekend. Check out our Weekend Traffic & Transit Advisory for more details.