Cable Car 19 to Make Historic Debut for Muni Heritage
Thursday, September 5, 2019
This year's Muni Heritage Weekend is slated to be perhaps the most historic year ever. As a special treat, Muni's largest and oldest cable car, former Sacramento-Clay Line Car 19, will hit the street for revenue service for the first time in 77 years!
Car 19, or "Big 19" to distinguish it from Powell Cable Car 19, is a true survivor and thanks to the hard work of the Cable Car shop and operations crews, it will be in service on the California Street Cable Car Line on both Saturday, September 7th and Sunday, September 8th. This rare opportunity to ride the oldest operating Cable Car in the world is not to be missed!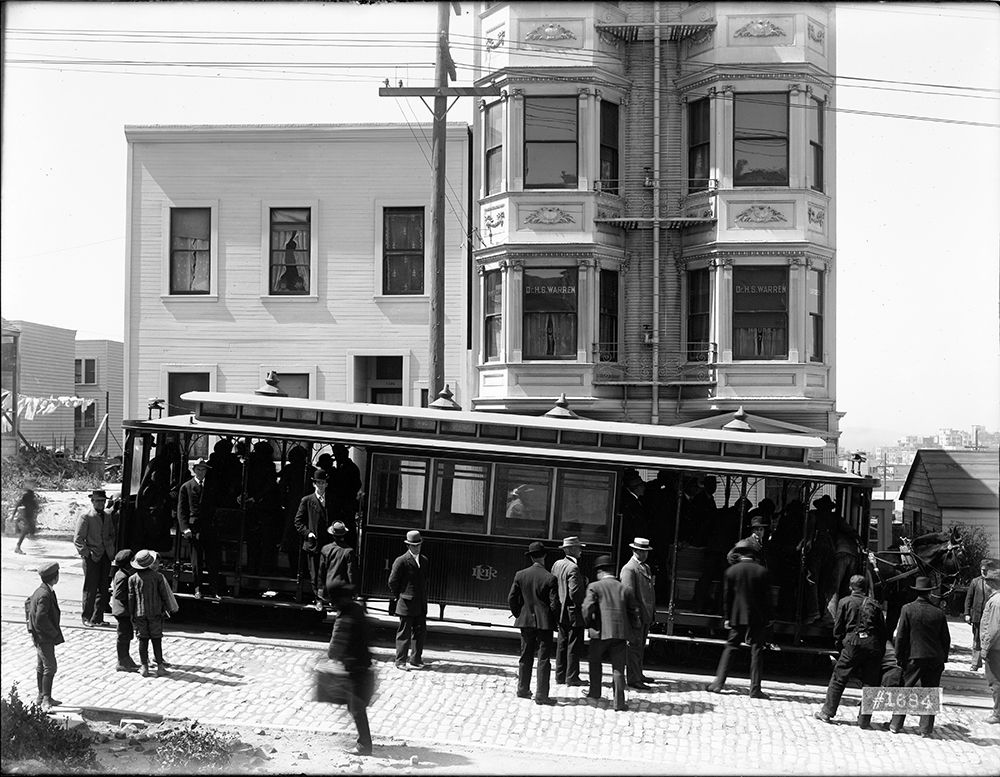 This shot shows Cable Car 19 on Washington Street in 1908, possibly a posed photo to show the rebuilt car in service on the Sacramento Clay Line.
Built in 1883 by the Central Pacific Railroad Company in Sacramento, Car 19 began its life running on Market Street under the Market Street Cable Railway Company. This company was consolidated into the United Railroads of San Francisco (URR) in 1903 and Big 19 continued running on Market until the 1906 Earthquake and Fires. Following the '06 disaster, all cable lines were removed from Market Street and the fleet of cars including 19 were drafted into service on other surviving cable lines.
In 1907, URR rebuilt the car for service on the Sacramento-Clay Line, a route quite similar to today's 1 California bus which ran from downtown to Fillmore Street via Sacramento and Clay Streets. For the next 35 years it plied the streets over Nob Hill until the Sacramento-Clay Line was replaced by bus service in 1942, marking the last year it carried passengers in regular service.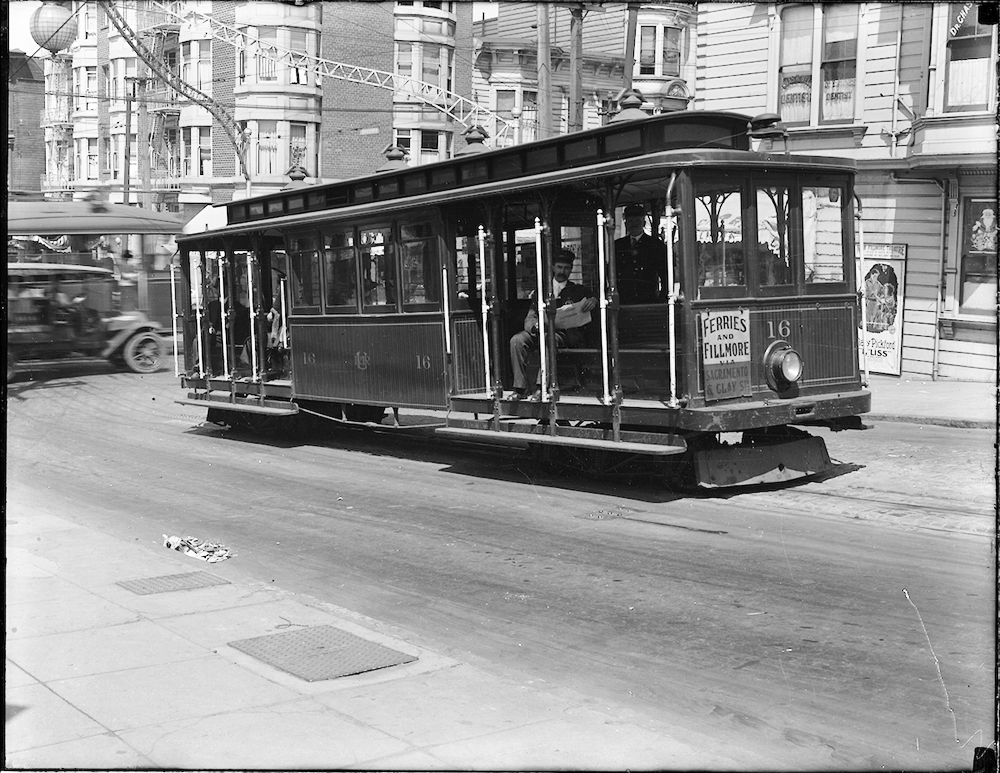 Car 16, an identical sibling of Big 19, is at the end of the line at Fillmore and Sacramento Streets in this 1918 photo.
Acquired by Muni in 1944 during the merger with Market Street Railway Co. (URR's successor), Car 19 was too large for the Powell Street Cable Lines and as such it was sold at auction in 1948. Since then, it has survived as a relic of the golden era of cable cars, mostly held in storage while plans to make it a proper museum piece never quite materialized.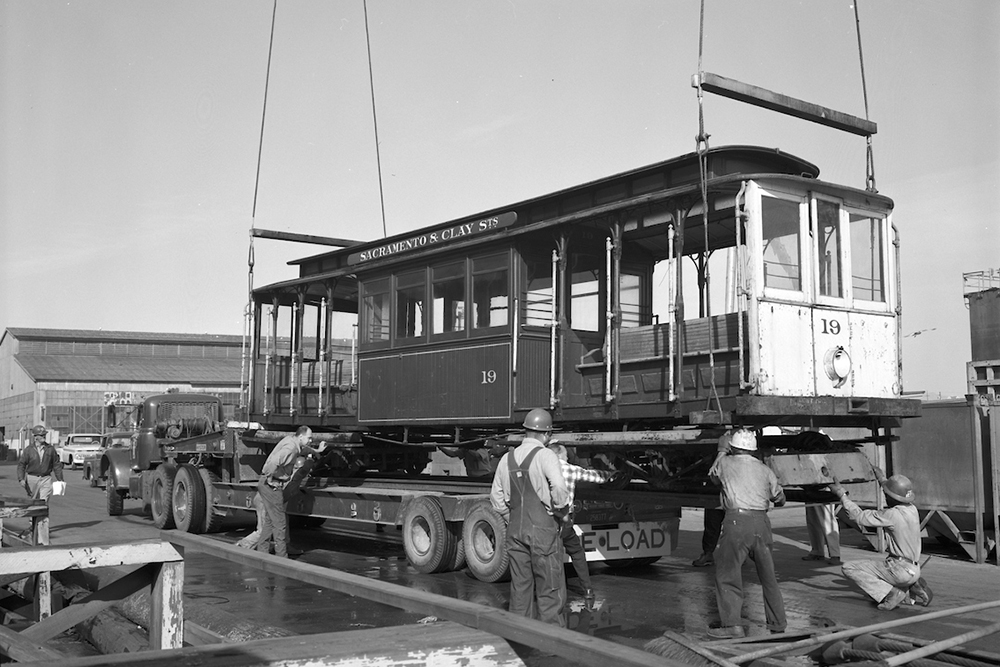 Car 19 is being loaded for transport to the Cable Car Barn in this 1966 photo. The car was meant to go on display in the new Cable Car Museum but those plans never came to fruition.
Early this year, a small group of keen folks at Cable Car Division looked into getting the 136-year-old Car 19 up and running, initially just to see what the car needed to become operational. The preparations and testing went perfectly due to the work of the shop and operations teams and thanks to their dedication, Car 19 will hit the streets to carry passengers for the first time in 77 years.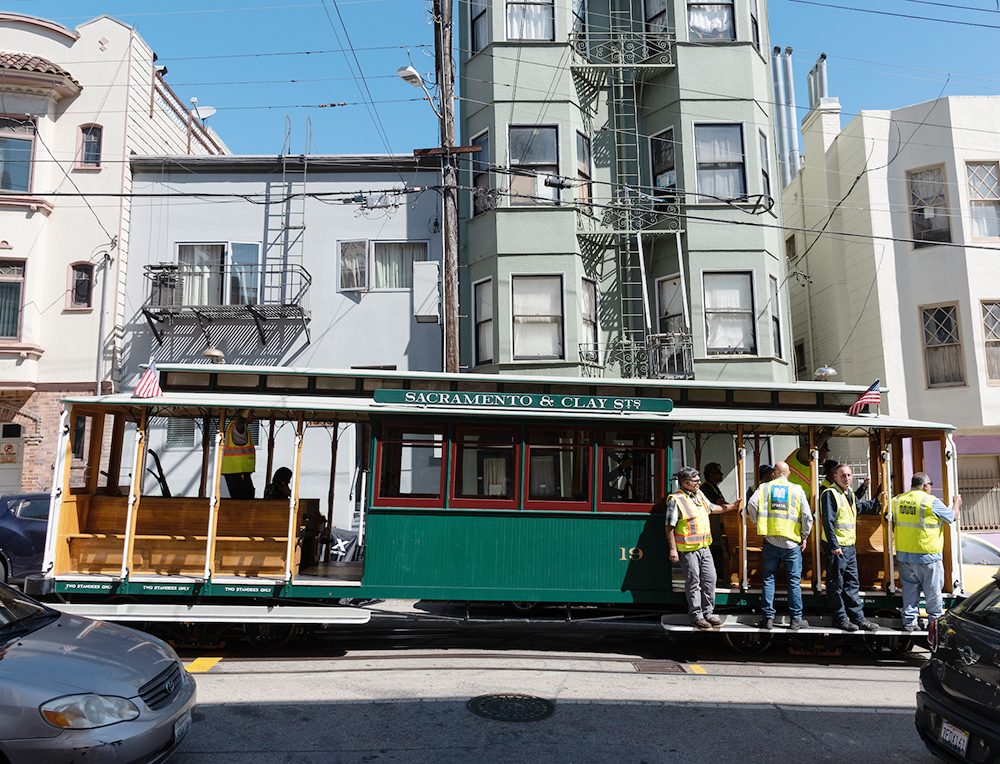 Car 19 on a test run in 2019 passes by the same location on Washington Street as the 1908 photo seen above.
Don't miss this rare opportunity to ride a special piece of San Francisco history. For you hardcore Cable Car fans- Car 19 is slated to take its first revenue service run on Saturday, leaving at 10am from the barn at Washington and Mason Streets. It is expected to travel over the Hyde Street Hill to Aquatic Park and then return along Hyde to begin service on California Street. Lots of excellent photos opportunities on this route as well as a chance to be one of the first passengers in 77 years!
The San Francisco Railway Museum, on Steuart Street between Market and Mission, is the epicenter of all other Muni Heritage Weekend activities. Saturday and Sunday, September 7-8 will be chocked full of rides on Muni's fleet of vintage buses and special rail vehicles plus kids activities and special exhibits about our vintage vehicles.
Want to learn more about Car 19? Check out this great blog by the Railway Museum and read about it on their vintage vehicle roster. Check out more of our historic transit photos at the SFMTA Photo Archive online and follow us on Instagram!