Maximize Your Rides at Muni Heritage Weekend!
Thursday, September 6, 2018
This Saturday and Sunday, September 8th and 9th from noon to 5 p.m., Muni Heritage Weekend is bringing vintage vehicles onto the streets of San Francisco for an annual celebration of Muni history and SF transit. There's a lot of action this year, so here are some tips and strategies on how to see it all and maximize your vintage vehicle rides.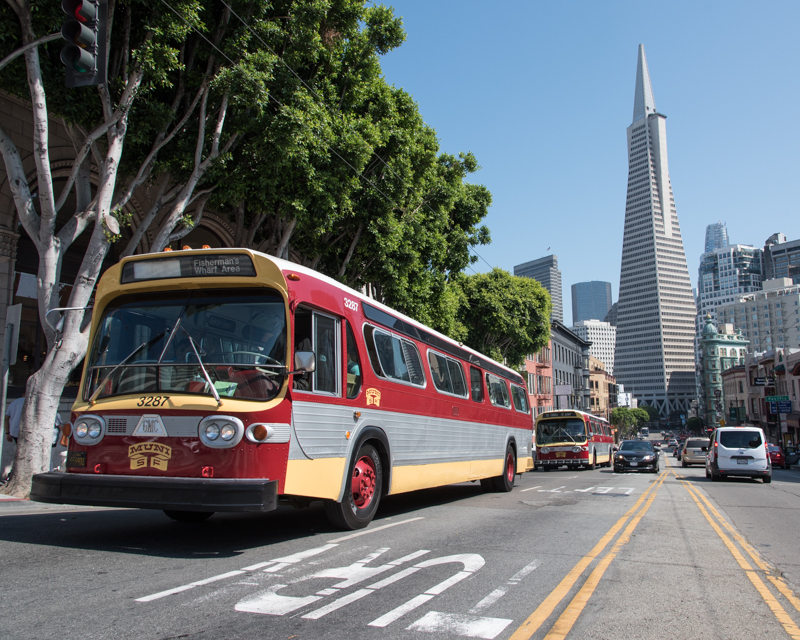 1969 GMC Coach 3287 on Columbus Avenue on a trip to Washington Square Park during Muni Heritage 2017.
For early birds, Muni Heritage activities will kick off at noon on the plaza across from the SF Railway Museum, with a demonstration of cable car bell ringing technique from the illustrious, ten-time Bell Ringing Contest Champion Carl Payne. Carl will begin his demo at high noon, and then there will be opportunities for kids— and kids at heart— to take a turn on an authentic cable car bell. Additionally, from noon to 5 p.m., the plaza will have exhibits on sustainability and transit in San Francisco. This will include games and interactive activities for kids, as well as a chance to check out one of the newest members of our green fleet-- a 40' New Flyer electric trolley coach fresh from the factory.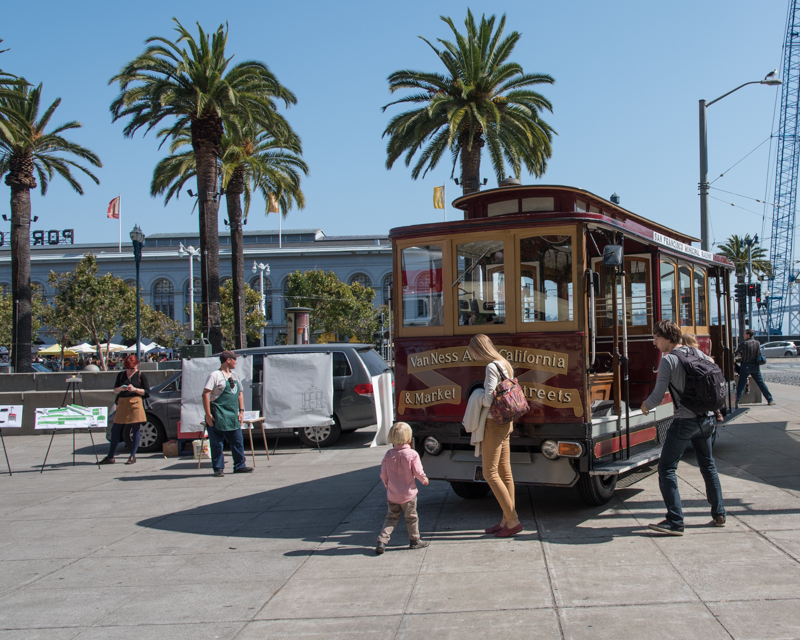 Kid-friendly activities, including a bell-ringing demonstration, will take place on the plaza across from the SF Railway Museum from noon to 5pm on Saturday and Sunday.
Free excursion loops on several vintage motor and trolley buses, as well as rarely seen streetcars, starts at 1 p.m. on both days. All free rides begin and end at the Museum, with last trips leaving at 5 p.m.
So how can an event-goer maximize their vintage rides at Muni Heritage Weekend? Here are some tips we've gathered over the years:
There are two popular strategies for getting the most out of the weekend: some riders prefer to prioritize their absolute favorite vehicle, making sure they get on board their top ride first. Others go for the "quantity over quality" and just hop on whatever is available at the moment they are ready to ride. "Love the one you're with," as the old song goes.

If Streetcar 578, Muni's Streetcar #1, or the Boat Tram is at the top of your list, try to prioritize the streetcars when you first arrive. Note that streetcars tend to move slower later on in the afternoon, as the crowds come out to soak up Embarcadero sunshine and normal traffic on the F and E Lines increases.

The streetcar excursion loop takes about an hour, while vintage bus rides are about 40 minutes out and back. This means that if you plan to ride four vehicles you should plan to spend at least four hours at Muni Heritage Weekend, about one hour per vehicle.

Of special note this year is that both Saturday and Sunday have large morning events that will disrupt all Muni service on Market Street and the Embarcadero. 

The Rise for Climate, Jobs & Justice march happens on Saturday starting at 10 a.m. and the San Francisco Giant Race starts at 7 a.m. Sunday. Muni Heritage service is slated to commence after both of these events clear the area but riders may see some delays due to unforeseen impacts from these disruptions.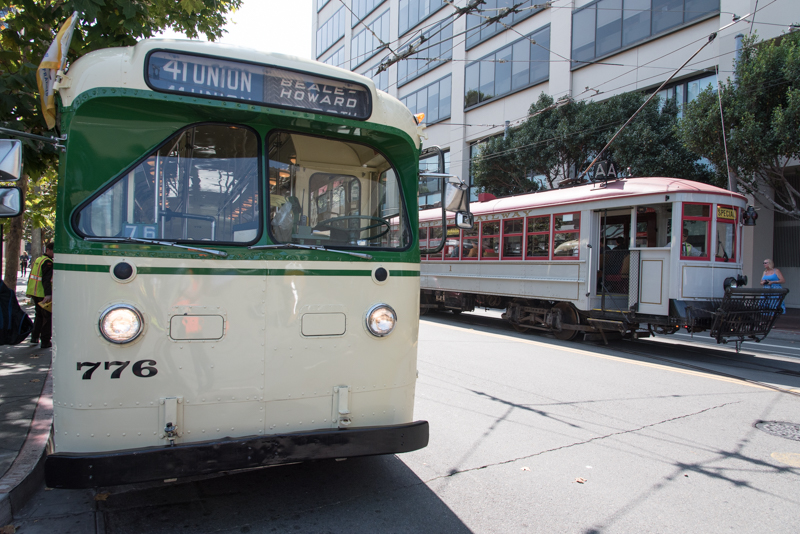 Muni's Streetcar 1 passes 1948 Marmon-Herrington Trolley Coach 776 on an excursion run during Muni Heritage 2017.
Come on out for the free rides and don't forget to check out the SF Railway Museum and the exhibits on the plaza, which are right on theme with a focus on our sustainable city and iconic transit.