Celebrating Women in Muni History
Wednesday, March 27, 2019
For Women's History Month, we're taking a look back into Muni's past to highlight just a few of the countless women who have made a difference to our system.
Women's Wartime Contributions
During World War II, transit demand reached an all time high. But with many male workers off to support the war, transit systems nationwide faced a labor shortage. Both the Municipal Railway and the Market Street Railway Company (which ran many streetcar lines in the city) recruited women to fill vacant positions to keep the city moving. Pictured below is Dolores Piluso, who worked as a Muni "Motorman", the person in charge of driving the streetcar. Women were hired to serve in both this position and as Conductors, who were responsible for collecting fares and ensuring passenger safety. While not pioneers in the field, women like Piluso who took up these jobs, contributed to the long-term cause of breaking traditional workplace roles.

Dolores Piluso poses for a photo at the controls of an H Potrero/Van Ness Line streetcar in this 1943 photo.
A Shining Star
In the late 1940s, Muni started an employee recognition program to honor the hard work of those operating transit vehicles on the streets. Called the Muni "Man of the Month", operators were awarded based on customer commendations and work performance like good attendance and professionalism. Just a short time after the program began, Ethyl Rutland challenged the definition of a "Muni Man" by becoming the first woman to be honored through the program in April 1951. Hired first in 1942 by the Market Street Railway Company (likely a wartime hire), Rutland joined Muni during the 1944 MSRy/Muni merger and worked as a conductor on the L Taraval line. Rutland received customer compliments for her kindness, patience and for greeting passengers with a smile, propelling her to the top honor above her peers.

Ethyl Rutland posed for a formal portrait in the Muni Photo Lab in 1951 just prior to being honored as the first female Muni "Man of the Month".
Breaking the Ranks
Despite being employed as streetcar and bus operators since the '40s, it wasn't until the late 1970s when a woman finally broke the ranks and moved into a higher seniority position in Muni's transit operations field. Evelyn J. Wells holds the honor of being the first woman to be appointed as a Muni Inspector (badge #54), responsible for supervising service, helping investigate collisions and clearing up delays on bus and rail lines. Working previously as an N-Judah streetcar Operator, Wells began as an Inspector in May 1979 at age 28.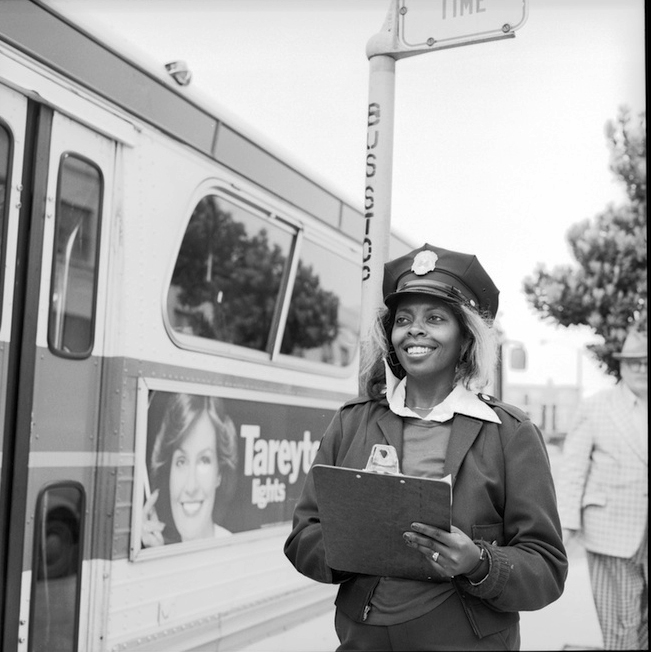 Evelyn Wells, Muni's first female Inspector poses while at work in the field in this 1979 shot.
Her Own Hands
In 1998, Fannie Mae Barnes took her career in her own hands when she muscled her way into what is arguably the most physically demanding operator job at Muni: being a cable car Grip. Historically called a "gripman", Barnes proved that the over 120-year-old position was no longer a "men only" job when she successfully completed her training to run the city's most famous moving icons. No easy task, the Grip is responsible for driving the cable car; combining all the skills of a typical rail operator with the serious physical stamina needed to control a 1860s-era vehicle on the city's steepest grades. Through her determination and rigorous personal training, Barnes truly broke tradition when she took the controls running cars on the California and Powell lines over 20 years ago.

Fannie Mae Barnes at the helm of Cable Car 27 on the Powell-Mason Line in June 1998. Barnes broke into one of the last holdouts of a male-dominated position.
These brief highlights barely begin to tell the full story of either the contributions or struggles of women in San Francisco's public transit world both in the past and today. However, hopefully they give some insight into a few of the milestones achieved by women throughout Muni's 107-year history.
Check out more Muni history at the SFMTA Photo Archive website and follow us on Instagram for a daily dose of photo fun.