Chinese New Year: The Year of the Dog
Wednesday, February 21, 2018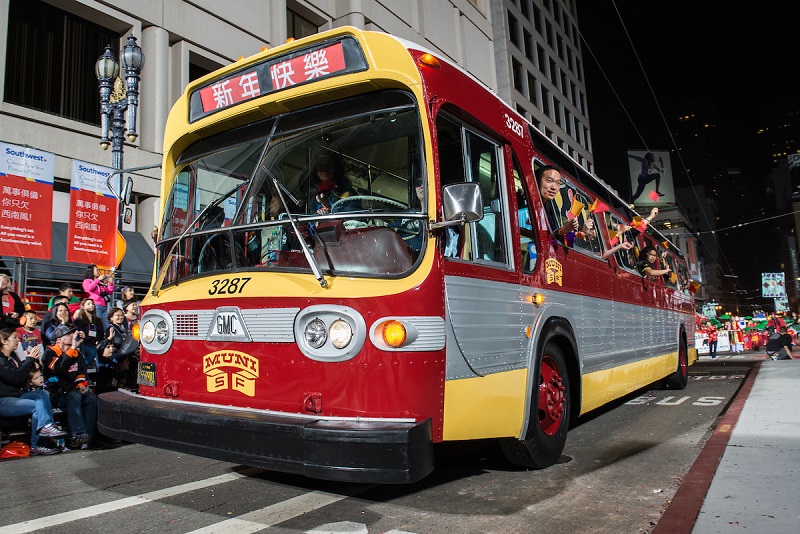 A special vintage coach decorated for the occasion during the 2015 Chinese New Year Parade. Photo: SFMTA Archive
Chinese New Year Parade and Festival
Saturday, 10 AM to 10:30 pm
Chinatown
Chinese New Year, a centuries-old event, is one of the most prominent and celebrated festivals in the world; a time to honor deities and ancestors alike. Also called the Spring Festival, the origin myth of Chinese New Year started with a  beast called the Nian. The Nian would eat villagers, especially children, and destroy the villages. One year, all the villagers decided to hide from the beast when an old man appeared and said that he would stay the night and get revenge on the Nian. The old man put red papers up and set off firecrackers to frighten away the beast. The day after, the villagers came back to their town to find that nothing was destroyed. The villagers then understood that the Nian was afraid of the color red and loud noises. From then on, as the New Year approached, the villagers would wear red clothes, hang red lanterns, and red spring scrolls on windows and doors. People also used firecrackers to frighten away the Nian. From then on, the beast never came to the village again.
The myths and traditions of this ancient festival will be on full display in Chinatown this Saturday evening during the annual Chinese New Year Parade. To celebrate the Year of the Dog, don your brightest red clothes to help keep the Nian from ever returning while enjoying the festive atmosphere, unique shops, and delicious food Chinatown has to offer, along with, of course, the explosion of lights and sounds that is the festival itself.
How to Get There on Muni:  Riders may take any Muni Metro Line to Montgomery Station, any Cable Car Line, the F Market and Wharves Line as well as the following bus routes close to the parade route: the 1 California, 2 Clement, 3 Jackson, 5 Fulton, 6 Haight/Parnassus, 7 Haight/Noriega, 8 Bayshore, 9 San Bruno, 10 Townsend, 12 Folsom/Pacific, 14 Mission/14R Mission Rapid, 21 Hayes, 30 Stockton, 31 Balboa, 38 Geary/38R Geary Rapid, 41 Union, 45 Union/Stockton, or the 76X Marin Headlands Express routes.
Muni Service Notes: The Powell Cable Car lines, F Market and Wharves Line, 1, 2, 3, 5, 6, 7, 8, 9, 10, 12, 14/14R, 21, 25 Treasure Island, 30, 31, 38/38R, 45, and 76X will have reroutes. Additionally, California Cable Car Line service will be provided by bus shuttles.
"On Tap" gives you a heads up about the big events in town and what Muni routes and lines will get you to the party. Look for this feature to be posted usually on Wednesdays for a look ahead to the weekend. Check out our Weekend Traffic & Transit Advisory for more details.