Crucial Improvements for a Safer Upper Market Street Are Up for Approval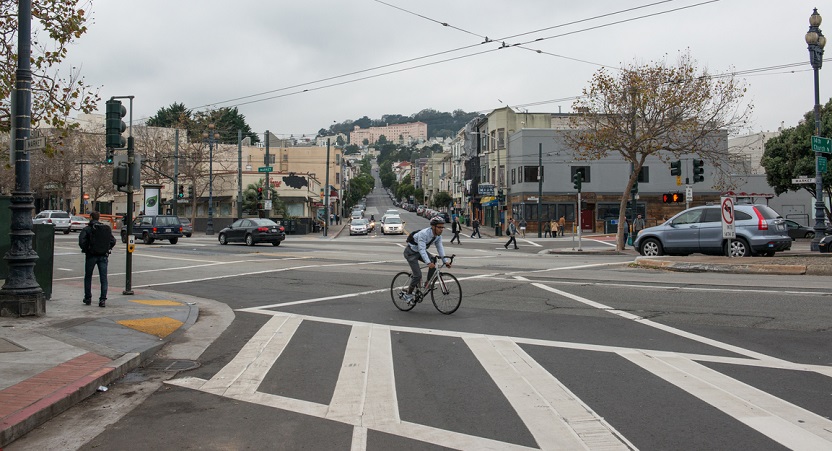 Market at 14th and Church streets.
Our plans to make Upper Market Street safer with improvements including parking-protected bike lanes will be considered for approval by our SFMTA Board of Directors tomorrow.
This is a huge milestone for our Upper Market Street Safety Project, an effort to make Market, between Octavia Boulevard and Castro Street, safer and more comfortable for everyone. We've come to this point after more than two years of reaching out to the public, working with local businesses, coordinating with other city agencies and getting started with initial safety upgrades.
The Upper Market Street Project is an example of us putting Vision Zero, our city's goal to eliminate all traffic deaths, into action. Data-driven street redesigns like this are crucial for the city to follow through on that ambitious but attainable commitment.
This mile-long stretch of Market is used by thousands of people biking, walking, riding transit and driving every day, and it has an overwhelming need for street safety improvements. From 2011 to 2016, there were 174 collisions, 22 involving someone walking and 51 involving someone biking.


Improvements proposed include parking-protected bike lanes on Market between Octavia Boulevard and Duboce Avenue / Guerrero Street.
The improvements proposed for Upper Market (PDF) will be a significant investment in a safer street for everyone getting around:
Fourteen sidewalk bulb-outs to make pedestrians more visible, slow vehicle turns and shorten crossing distances.
Parking-protected bike lanes on the busiest 1/3-mile segment for bicycling on Market, westbound from Octavia Boulevard to Duboce Avenue, and eastbound from Guerrero Street to Octavia.
Nearly two miles of other bike lane striping upgrades, including green paint to make people bicycling more visible, better organize the street and discourage double parking.
One Muni boarding island at Market and Laguna streets updated to make it more accessible for people with disabilities.
Four pedestrian islands to make crosswalks safer.
Eight green bike boxes to better separate bikes and cars at red lights.
Three expanded medians to improve pedestrian and bicyclist safety.
Upgraded curb ramps at 16 sidewalk corners.
Lane narrowing and advanced stop lines help calm traffic and ensure that drivers stop before the crosswalk.
A new bike lane for southbound Sanchez Street approaching Market Street to close a gap in the city's bike network.
Guide markings through complex intersections to tell people driving where to expect bicycle travel and guide people on bikes on a safe path through intersections.
If approved, initial improvements that can be made with paint, such as the parking-protected bike lanes, will be completed in 2017. Construction on larger improvements is expected to start in 2019.
Projects like these are examples of how the SFMTA's Sustainable Streets Division works every day to reshape our streets so that you, your family and your neighbors can get around our city safely.
---
Street Talk is an SFMTA blog series by Sustainable Streets Director Tom Maguire where he shares the agency's thinking on the big picture questions and concerns facing our streets today.
ABOUT TOM MAGUIRE
Tom Maguire is Director of the Sustainable Streets Division at the SFMTA, where he directs the agency's ambitious efforts to achieve Vision Zero and to create world-class streets for all San Franciscans. The 1,035 employees of Sustainable Streets operate, engineer, design, and plan the city's traffic, parking, pedestrian and bicycle infrastructure and provide transit security and parking enforcement.
Tom joined the SFMTA in October 2014 after serving as Assistant Commissioner at the New York City Department of Transportation, where he managed bus rapid transit, freight mobility, peak-rate parking, congestion pricing and sustainability, and resiliency programs. He has also worked for the engineering and design firm Arup. Tom holds a Master's degree in City and Regional Planning from UC Berkeley and a B.A. from Rutgers.