Destination San Francisco: Muni Gets You to All the Sights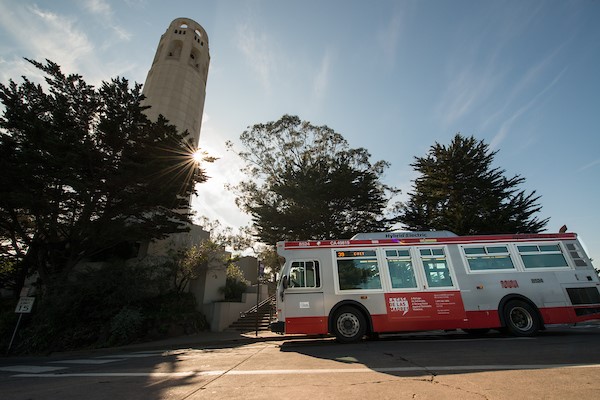 39 Coit servicing Coit Tower at Telegraph Hill – one of the routes that will be returning in August 2021 as part of Muni's next service changes.
San Francisco is reopening and the SFMTA is supporting economic recovery by providing Muni access to 98% of the city. By August 2021, a majority of our pre-COVID routes will be back in service connecting residents and visitors with world-class shopping and dining experiences, off-the-beaten-path local flare, diverse neighborhoods and almost boundless outdoor activities. 
Shops, Markets & Dining in Diverse Neighborhoods 
Virtually every neighborhood in San Francisco has its own boutique shopping and dining experiences, as well as unique farmers markets showcasing local shops and amenities.  
With service to 24th Street in the city's Latino Cultural District, the 67 Bernal Heights (restored August 2020) will take you to Alemany's Saturday Farmers Market and Sunday Flea Market.  
Or groove on the 22 Fillmore (original Core Service route) through the Fillmore District – once known as the Harlem of the West – through the heart of the Mission for one of San Francisco's world-famous burritos. Beginning August 14, 2021, late-night service will be extended to midnight on the 22 Fillmore and several other routes. 
Take the 1 California (original Core Service route) from Embarcadero Center to the Richmond District, where you'll find boutiques, quaint cafes, cozy restaurants, bakeries and a vibrant weekend farmers market. Then ride the 38 Geary or 38R Geary Rapid (original Core Service routes) to Japantown for a crepe and take home a bonsai tree to cultivate your COVID-19 green thumb. 
The KT Ingleside-Third Street (restored May 2021) connects Ingleside to Mission Bay and several Hunter's Point-Bayview markets, passing through the Dogpatch where customers can find classic beignets and new sports bars. With proximity to the ballpark, Chase Center and waterfront, experience food, culture and local artistry in San Francisco's historic African American neighborhoods.  
Want to explore the culinary heart of Chinatown? Catch the 45 Union (restored August 2020) or 8 Bayshore (modified May 2021) to Chinatown's fresh produce and seafood markets. 
You can get an authentic taste of Italy in North Beach – one of San Francisco's oldest neighborhoods and historic home of the city's Italian American and Greek communities. Catch the 30 Stockton (modified August 2020) to Joe DiMaggio Park, or all the way to the restored Crissy Field marshlands.  
Get Outdoors 
Choose one of eight routes – soon to be nine on August 14 – to Golden Gate Park. See the list below. 
Take the 24 Divisadero to Sanchez Street, or the 55 Dogpatch to Arkansas Street, and enjoy the city's most popular Slow Streets for some fun in the fog (or sun). Ride the 5 Fulton (original COVID-19 Core Service route) to a picnic in historic Alamo Square. 
The 9 San Bruno or 9R San Bruno Rapid (restored June 2020) will take you to Portola –known for its plentiful community gardens. Transfer to the 29 Sunset (original Core Service route) to visit McLaren Park, or the 44 O'Shaughnessy (original Core Service route) to explore picturesque Forest Hill.  
For a swing on Billy Goat Hill, take the 24 Divisadero (original Core Service route) then ride to the Castro and catch the F Market & Wharves (restored May 2021) historic streetcar to the bocce courts at Justin Herman Plaza. 
If a day by the ocean is what you seek, the N Judah (restored May 2021) takes customers out to La Playa for a stroll on the Great Highway temporary promenade. Stop by the Sunset Farmers Market and Mercantile first or grab a bite along Judah Street. 
More Connections Coming in August  
In August, with the return of the 39 Coit and the 35 Eureka, you can almost touch the stars from one of San Francisco's renowned hills and connect to neighborhoods like West Portal, the Outer Sunset, Bernal Heights and Merced Manor. Read our blog post on August 2021 service changes to learn more. 
Looking for help with homework as schools reopen? Every San Francisco public library is within steps of a Muni stop. Plan your tips to school with our Back-to-School resources and sign up for the Free Muni for Youth Program! 
We also plan to ring in the fall by reintroducing the historic Powell-Hyde Cable Car line in September. Enjoy the night lights of Union Square to the hot chocolate of Ghirardelli's. 
Whether you're coming from out of town, getting kids back to school or planning your "staycation," let Muni be your guide on one of our many great routes! 
Muni routes to Golden Gate Park: 
N Judah - serves Tenderloin, Chinatown and SoMa 

5 Fulton - serves Western Addition, Tenderloin, Chinatown and SoMa 

7 Haight 
18 46th Avenue - returning August 14 

28 19th Avenue 

29 Sunset - serving Oceanview/Ingleside, Excelsior/Outer Mission and Visitacion Valley 

33 Ashbury - serving the Mission 

43 Masonic - serving Oceanview/Ingleside 
44 O'Shaughnessy -  serving Excelsior/Outer Mission and the Bayview