Fourth of July Weekend: Opera, Jazz and Fireworks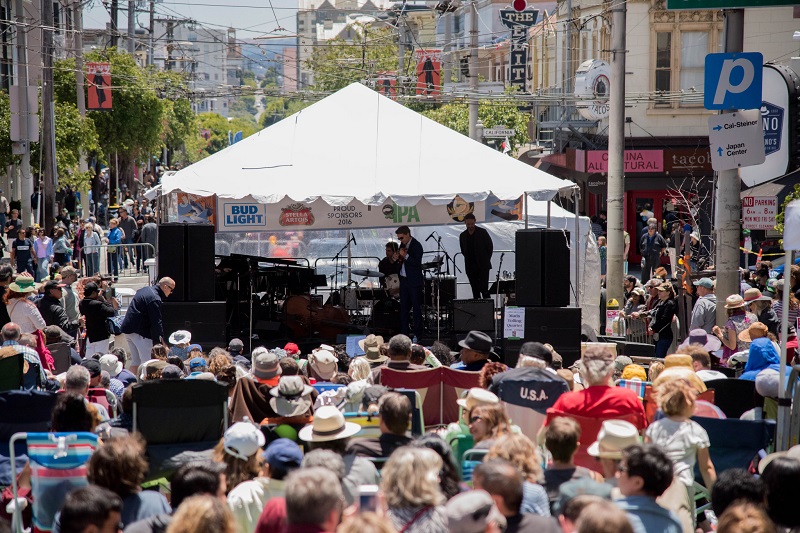 Spectators enjoy live music at the 2016 Fillmore Jazz Festival. Photo: Stephen/Flickr
Fourth of July: Extra Muni Service, Parking Will Be Enforced
This Tuesday, the 4th of July holiday, Muni will operate on a Sunday schedule, and extra Muni service will be provided to and from the fireworks display on The Embarcadero.
Parking Restrictions Enforced: Seven-day street sweeping restrictions and parking meters (including those meters on Port of San Francisco property) will be enforced.
Parking Restrictions Not Enforced: Residential parking permit, Monday through Friday street sweeping, and commuter tow-away restrictions will not be enforced. For complete details, visit the holiday enforcement schedule webpage.
Read more about getting to the July 4th fireworks and this weekend's featured events below.
Fourth of July Fireworks
Tuesday, 9:30 p.m.
The Embarcadero
Celebrate America's 241st birthday on the city's famed waterfront by watching a dazzling display of red, white and blue pyrotechnics paint the night skies over the bay (fingers crossed for a clear sky). Don't forget: Even though it is summer, nights along The Embarcadero can be chilly, so dress warm.
Buy Muni Fares in Advance: Don't wait until the last minute – you can purchase your Muni fare in advance with our MuniMobile app or at the Ferry Building from 2:30 to 8:30 p.m.
Muni Service Note: Due to street closures and an influx of foot traffic, Muni is your best option to see the fireworks show. See below for some service details.
Extra Muni Service: See our July 4th Express Service page for details.
Muni Reroutes: See our July 4th Muni Service page for details.
The 8 Bayshore, 19 Polk, 28 19th Avenue, 30 Stockton, 39 Coit, 47 Van Ness and 49 Van Ness/Mission will have reroutes.
The F Market & Wharves Line will be served by bus shuttles all day.
Cable car line service will be provided by bus shuttles on the Powell/Hyde Line starting at 5 p.m., on the Powell/Mason Line at 6 p.m. and on the California Line at 8 p.m.
Opera at AT&T Park
Friday, 7:30 to 11 p.m.
AT&T Park
The SF Giants and SF Opera are hosting a free simulcasted performance of Mozart's "Don Giovanni" this Friday evening at the ballpark. Enjoy classic ballpark fare such as garlic fries while taking in some opera, which will be broadcasted on the park's outfield scoreboard big screen live from the War Memorial Opera House. Whether you're sitting in the stands or on the field, it's sure to be a unique evening under the stars.
How to Get There on Muni: The E Embarcadero, T Third and N Judah lines, as well as Ballpark Shuttle trains and the 10 Townsend, 30 Stockton, 45 Union/Stockton and 47 Van Ness routes will take riders close to the ballpark.
Muni Service Note: The E, T, N, 10, 30 and 45 may see increased ridership and possible delays.
Fillmore Jazz Festival
Saturday and Sunday, 10 a.m. to 6 p.m.
Western Addition
Over 100,000 people will kick off the Independence Day weekend in the Fillmore neighborhood during the Fillmore Jazz Festival, the largest free jazz festival on the West Coast. Stretching along Fillmore Street from Eddy to Jackson, multiple stages will provide live music and entertainment while attendees explore over 12 blocks of arts and crafts or enjoy a wide variety of gourmet food and beverages. 
How to Get There on Muni: The 1 California, 2 Clement, 3 Jackson, 22 Fillmore, 24 Divisadero, 31 Balboa, 38 Geary / 38R Geary Rapid will take riders close to the event.
Muni Service Note: The 3, 22 and 24 will be rerouted while the 1, 2, 31, 38/38R may see increased ridership and possible delays.
Reminder: Muni Fare Increases
Saturday, July 1: A scheduled rate increase for Muni cash fares and monthly passes will take effect. Single-trip adult cash fares and limited-use tickets fares will increase by 25 cents, to $2.75. Adult fares for Clipper card and MuniMobile app users will increase by 25 cents, to $2.50. Monthly adult "A" passes will increase by $3, to $94, and monthly adult "M" passes will increase by $2, to $75.
For complete details on the new fare rates, please see our May blog post. 
Reminder: J Church Stop Changes at Balboa Park
Due to construction for the Balboa Park Station Area and Plaza Improvement Project, the J Church Line will continue to serve alternate stops on San Jose Avenue until the fall.
For details, please visit our Green Light Rail Center Track Replacement Project page.
Reminder: Van Ness Construction
All left turn lanes on Van Ness Avenue have been removed with the exceptions of those at Broadway (southbound), Lombard Street (northbound) and temporarily at Hayes Street (northbound).
Van Ness traffic lanes have been reduced from three to two on these segments:
Northbound from Post to Filbert Street
Southbound from Filbert to Washington Street
For complete details on these changes, please visit our Van Ness Improvement Project page.
"On Tap" gives you a heads up about the big events in town and what Muni routes and lines will get you to the party. Look for this feature to be posted usually on Wednesdays for a look ahead to the weekend. Check out our Weekend Traffic & Transit Advisory for more details.