Halloween Weekend: Scaregrove, Castro Block Party and More
Wednesday, October 23, 2019
Events: Extra fingers will be required to count up the myriad events taking place around the city throughout this coming weekend. Halloween is quickly approaching with this weekend seeing a plethora of themed events in celebration of the holiday. Head down to Stern Grove this Friday for the annual Scaregrove Halloween Festival and consider it a warm-up for Saturday's "Glow in the Streets" Halloween weekend block party in the Castro. Treasure Island's TreasureFest "Halloween Market" will also take advantage of the holiday theme for its penultimate monthly event of the year. Sunday will host Halloween Hoopla, the final day of this year's Yerba Buena Gardens Festival in SoMa. There will also be a multitude of non-Halloween-themed events around the city on Saturday, including the 37th annual Leap Sandcastle Classic at Ocean Beach, the World Veg Festival in Golden Gate Park, and the Fall Harvest Artisan Food Festival in Nob Hill. Read about our featured events below.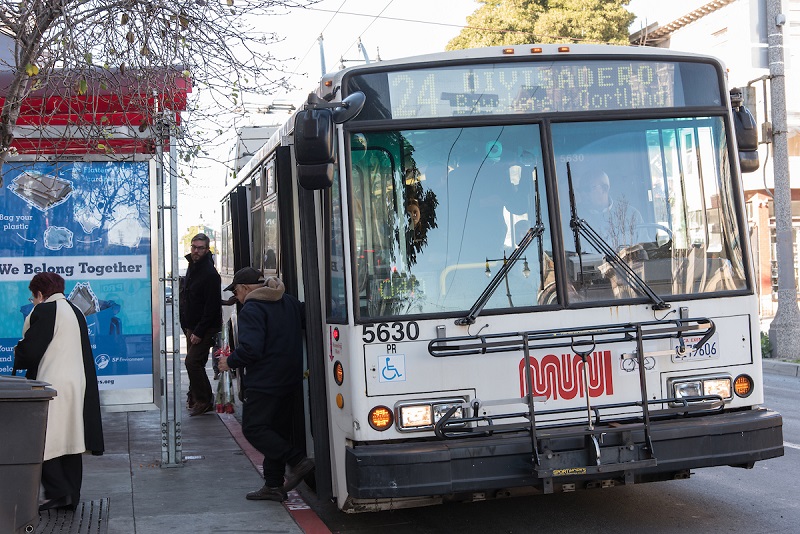 The 24 Divisadero Route will be a great option for anyone looking to attend Saturday's Castro Block Party. Photo: SFMTA Archive.
Scaregrove Festival
Friday, 3 to 9 p.m.
Stern Grove
Kick off the Halloween celebrations this Friday at the annual Scaregrove Festival in Stern Grove. This year's event will feature a costume contest, carnival rides, food, live music, entertainment and more spooky fun for the whole family.
---
How to Get There on Muni: The Muni Metro K Ingleside or M Ocean View lines, as well as the 23 Monterey, 28 19th Avenue, 28R 19th Avenue Rapid, or the 57 Parkmerced routes will take riders close to Stern Grove.
Muni Service Notes: There are no planned service changes for this event.
Castro Block Party: "Glow in the Streets"
Saturday, 4 to 9:30 p.m.
Castro
While not inherently Halloween-themed, the third annual Glow in the Streets Block Party in the Castro should have its fair share of colorful costumes on display, especially during the costume contest portion of the evening. The event will also feature DJs, live dance performances, face and body painting and more. 
How to Get There on Muni: Riders may take the F Market and Wharves Line, the K Ingleside, L Taraval or M Ocean View Muni Metro lines to Castro station, as well as the 24 Divisadero, 33 Ashbury/18th Street, 35 Eureka  or the 37 Corbett routes to near the event.
Muni Service Notes: There are no planned service changes for the event.
Remember that you can take Muni for the entire day for a single $5 fare. The new $5 Day Pass, available on MuniMobile®, is part of Muni's recent fare changes. The pass is intended to encourage a safe, convenient way to pay your fare and quickly board Muni vehicles, which reduces overall travel time for everyone. The $5 Day Pass is Muni bus, rail and historic streetcars only.
"On Tap" gives you a heads up about the big events in town and what Muni routes and lines will get you to the party. Look for this feature to be posted usually on Thursdays for a look ahead to the weekend. Check out our Weekend Traffic & Transit Advisory for more details.