Help Shape Geary's Future on Our New Community Advisory Committee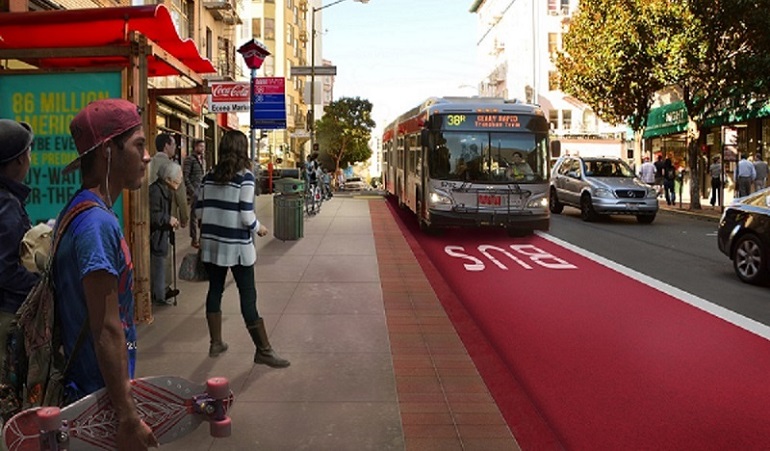 A rendering of Geary at Leavenworth Street with proposed Muni and safety upgrades.
We're looking for members to join our new Geary Community Advisory Committee (CAC), where you can help shape our Geary Rapid plans to make the streets along Muni's 38 Geary route safer, more efficient and more vibrant for everyone.
The Geary CAC will provide input on decisions as we design and implement improvements along Geary Boulevard, Geary and O'Farrell streets. People who live, work, visit and travel on Geary are encouraged to apply.
The project team has proposed improvements on Geary to make streets safer – especially for people walking – and Muni service faster and more reliable to meet rising transportation demands in the years to come.
The Geary CAC will weigh in on upgrades that are broken down into two projects: The Geary Rapid Project, which is focused on early improvements on the segment between Market Street and Stanyan streets coming this year, and the longer-term Geary Boulevard Improvement Project west of Stanyan in the Richmond District.
This new SFMTA Geary CAC will be a successor to the SF County Transportation Authority's former Geary Citizens Advisory Committee, which helped shape the effort through its years of planning and public outreach completed so far.
The SFMTA took on lead management of the Geary projects in January, after both Geary projects received initial approvals, and the Geary Bus Rapid Transit Final Environmental Impact Report was approved by the Transportation Authority's Board (comprised of the Board of Supervisors).
This summer, we expect to complete approvals for local environmental review with a hearing at the SFMTA Board of Directors. Then, we'll reach out for more feedback from the community on the Geary Rapid improvements, which are expected to be implemented starting in 2018.
As these efforts move forward, the Geary CAC will continue to help ensure they're shaped by input from engaged community members who represent a diverse cross-section of people who care about the future of Geary.
Check out our Geary Rapid project page to learn more about the improvements and the Geary CAC page to apply to become a member.