Geary Rapid
Project Overview
The Geary corridor is home to one of the busiest bus corridors west of the Mississippi. SFMTA has been working to improve Geary service with popular initiatives like new low-floor buses and more frequent Rapid service. Yet, the almost 54,000 people who rely on the 38 Geary local, rapid and express routes experience crowded buses and uneven wait times. Additional improvements are needed to meet rising transportation demands.
Geary is also a high-injury corridor, meaning it hosts a disproportionate number of traffic-related crashes. In fact, you're eight times more likely to be hit by traffic when crossing Geary than the citywide average. This is unacceptable.
The Geary Rapid project proposes investments between Market and Stanyan streets to address these issues. By implementing continuous dedicated bus-only lanes and treatments to address the most common causes of pedestrian collisions, the Geary Rapid project will make traveling the corridor a more reliable and safer experience for everyone.
Upcoming meetings
No upcoming meetings have been posted
Latest updates
No updates have been posted for this project
Project Details
The Geary Rapid project is the first set of Geary upgrades scheduled to begin next year between Market and Stanyan streets. Once complete, more long-term upgrades as part of the Geary Boulevard Improvement project would reconfigure Geary Boulevard in the Richmond District for center-running transit-only lanes.
Summary of Geary Rapid Project Proposals
Extension of existing dedicated bus-only lanes to Stanyan Street
Stop spacing adjustments to improve efficiency, including relocating and removing bus stops
Accessible bus stops with boarding islands and sidewalk extensions making it easier for bus operators to stop and easier for people to get on and off the bus
Sidewalk extensions at over 40 street corners increasing the visibility of people crossing, slowing down right-turning vehicles and shortening crossing distances for people walking
Traffic signals at intersections where they do not exist today
Traffic signal upgrades including:

Smart signals that give the green light to buses and emergency vehicles
Signal synchronization to improve traffic flow
New pedestrian signals

New crossings for people walking and accessible waiting areas in the median
New water and sewer infrastructure to ensure reliability
Repaving and pavement repairs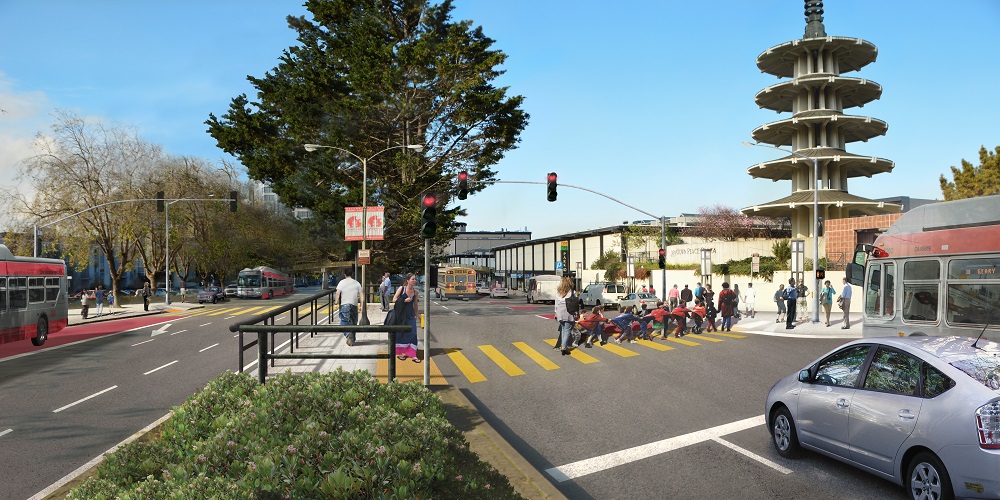 Project Milestones
The SF County Transportation Authority Board, comprised of the SF Board of Supervisors, approved the Geary Bus Rapid Transit project and certified the Final Environmental Impact Report (EIR) January 5, 2017.
To complete local environmental approvals the SFMTA Board will host a public hearing this summer to approve the EIR findings and the preferred design for Geary upgrades. The next step is sign-off by the Federal Transit Administration on the final environmental document.
In the meantime we'll finalize outreach, and then present a package of Geary Rapid transit and safety improvements to the SFMTA Board of Directors for their approval.
We'll be posting more details related to outreach activities and next steps soon. Sign-up to be notified when updates are available or contact project staff directly by emailing GearyRapid@sfmta.com or calling (415) 646-2300
Upcoming Meetings
No upcoming meetings have been posted.
Past Meetings
Tuesday, July 18, 2017, 1:00 pm

Wednesday, July 12, 2017, 6:00 pm
Receive Updates
We will send you e-mail or SMS updates whenever the following are posted for the Geary Rapid project:
Upcoming meetings
Project updates