Hot Times for the Cable Cars After the 1906 Earthquake
This April 18th marks 112 years since the 1906 Earthquake and the devastating fires that followed. Little do many San Franciscans realize, the fate of our beloved cable cars was significantly shaped by that day over one-hundred years ago.

This cable car was queued up in the doorway of the Washington Mason Cable Car House when the earthquake struck at 5:12 in the morning. Falling bricks splintered the car's wooden roof before it could depart. This cable car barn on Nob Hill, at Washington and Mason Streets, is still the cable car hub to this day, as well as the location of the Cable Car Museum. The building survived the shaking of the earthquake but had to be rebuilt after severe damage from the fires.
Around the city, cable car tracks were jarred out of line and cars were crushed in storage or burned in the massive series of superheated fires that swept across town for days following the quake. Prior to the disaster, cable car lines were the prominent way of getting around in San Francisco. There were so many cable cars running before 1906, they even came in a rainbow of hues to demarcate the different lines.
The earthquake struck just before dawn, and as early as mid-morning, it was clear to staff at the barn on Washington and Mason Streets that the growing conflagration could burn from South of Market up to Nob Hill. In a last-ditch attempt to spare the cable cars, staff mobilized to run them out to the end of the Powell-Mason Line at Bay and Taylor Streets in hopes of saving them from the flames.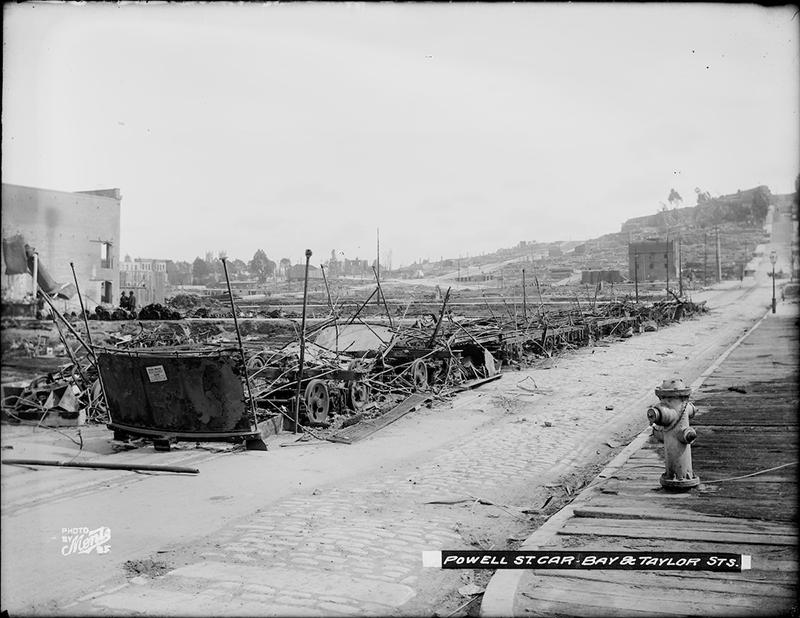 Looking south from Bay and Taylor Streets weeks after the 1906 disaster, a row of burnt cable cars stands amidst the scorched remains of North Beach and Nob Hill.
Unfortunately, even this clever strategy was not enough to spare the quirky little cars. The massive maelstrom eventually burned most of the existing city east of Van Ness and north of Brannan, including all of the cars and transit facilities in that area. The scale of the disaster had lasting effects on city residents who survived, the landscape, and city infrastructure.
Many more images of the 1906 Earthquake and Fires are available online in our digitized historic photo collection. And, there are always more SFMTA Photos to explore on Twitter and Instagram.