Jan. 1 Muni Fare Changes Include Cash-Free Benefits, Extended Youth Discounts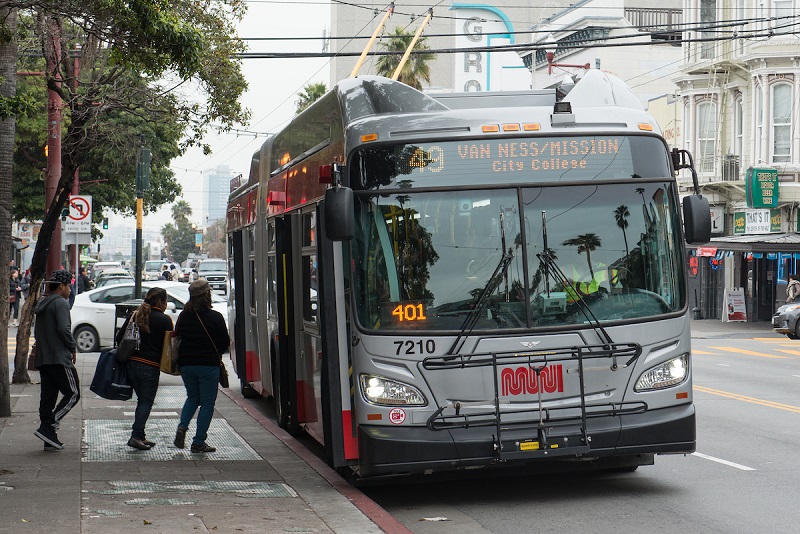 Using quick, cash-free payments for your Muni fare saves everyone time. Starting next year, it'll also save you money.
As part of Muni fare changes on Jan. 1, 2017, single-trip Muni fares paid with a Clipper® Card or the MuniMobile app will cost 25 cents less than on-board cash fares and Limited Use Tickets purchased at Muni Metro stations. Clipper and MuniMobile users who activate their fares after 8:30 p.m. will also get to ride Muni all night.
These rewards are meant to encourage quicker, safer fare payments that allow Muni to spend less time boarding at stops - and more time getting you where you're going.
This is just one part of a set of January fare changes, which also include an extension of the youth fare discount to everyone 18 or younger (previously set at 17 years old).
The most significant fare changes, listed below, will also affect discounted single trip fares and monthly passes, as well as Adult Monthly "A" passes. All fare changes can be found on our Fares and Passes webpage, and more on the reasons for these changes is below.
| | | |
| --- | --- | --- |
| Single Trip Fares | Current | Jan. 2017 |
| Regular Adult Cash Limited Use Ticket (from Metro station machines) | $2.25 | $2.50 |
| Regular Adult Clipper Card / MuniMobile App | $2.25 | $2.25 |
| Discount Cash / Limited Use Ticket | $1.00 | $1.25 |
| Discount Clipper Card / MuniMobile App | $1.00 | $1.00 |
| Discount: Youth (5-18*), Seniors (65+), People with Disabilities, Medicare |   |   |
Monthly Passes

Current

Jan. 2017

Adult Monthly "A" Pass 
Muni + BART within San Francisco

$86.00

$91.00

Adult Monthly "M" Pass
Muni only
$73.00
$73.00

Discount Monthly Pass (Muni only)
Youth (5-18*), Seniors (65+), People with Disabilities, Medicare

$25.00

$36.00
*The youth discount age limit will be extended from 17 to 18 on Jan. 1.
While nobody loves to pay more, Muni fares must keep pace with rising costs and inflation as we work to keep the system working safely and efficiently. Most Muni fare changes, like the previous round in September, are set by our Automatic Fare Indexing Policy. But this set of fare changes, approved in April by the SFMTA Board of Directors as part of this fiscal year's budget, were crafted with broader goals in mind.
Discounts and All-Night Rides for Clipper and MuniMobile
The idea behind the 25-cent discount for single-trip fares paid with a Clipper Card or our MuniMobile smartphone app is to encourage Muni riders to use more efficient, convenient and safer payment systems. Other transit agencies have implemented similar programs to help make service faster and more reliable while cutting costs.
Muni buses and trains spend about 10 to 15 percent of the time stopped to board passengers, and some of that is due to the time it takes to process cash fares. Only 45 percent of single-trip Muni fares are currently paid using Clipper. 
All-Night Rides After 8:30 p.m.: As an additional incentive, Muni customers who tag their Clipper cards after 8:30 p.m. will get to ride until 5 a.m. (except on cable cars) – just like the late-night transfers already available to cash and MuniMobile customers.
So if it's after 8:30 p.m., only tag your Clipper card once on Muni, except on cable cars. (Your card will be charged for additional fares if tagged again after the standard transfer time of 90 minutes, as the Clipper system doesn't enable transfers for longer than that. Muni fare inspectors will treat Clipper cards as valid if their card readers show they were tagged after 8:30 p.m.)
We've planned these changes with equity in mind. A campaign is underway to help ensure that Clipper Cards are accessible to communities of concern and to promote our free and discounted Muni fare programs, which now serve about 80,000 customers.
Learn more about those efforts and the 25-cent cash-free discount in our April blog post.
Details on Other Jan. 1 Fare Changes
Youth Discounts Extended to 18: The age limit for discounted youth fares will be extended from 17 to 18 years old. (In other words, you'll be able to get the discount until you turn 19.)

This new age limit, which is becoming the norm for transit agencies in the Bay Area, will provide the youth fare discount to students who turn 18 when they're still in high school.

Reduced Discounts to Match Income-Based Fare Programs: For our discounted fares that aren't based on income — youth, seniors, people with disabilities and Medicare card holders — the discount rate will be reduced to 50 percent of regular adult fares.

With this adjustment, the discount rate for these programs will match the 50 percent rate provided through our low-income Lifeline pass program. Currently, the discounts for non income-based fares is actually deeper than the Lifeline pass.

This is part of our effort to update our discounted fare programs to serve those who need them most. In recent years, we've introduced programs that provide free Muni for about 60,000 low- and moderate-income youth, seniors and people with disabilities. That's in addition to our more than 20,000 Lifeline pass customers.

Recovering BART Costs for Monthly "A" Passes: The fare for the Monthly Adult "A" Pass, which provides unlimited rides on Muni and BART within San Francisco, will increase from $86 to $91.

You may wonder why this pass increase comes only four months after the previous $3 increase. Here's why these two changes are distinct: The September fare changes were set by our Automatic Fare Indexing Policy, which is determined by a formula based on monetary inflation and Muni's operations costs.

The January increase, on the other hand, was approved as a separate item specifically to recover more of the costs paid to BART to provide these passes.
To get your Clipper Card, visit any Walgreens or go to the Clipper Card Center at the Embarcadero Muni Metro/BART station. Starting today, Clipper ambassadors will be on routes with lots of cash fares to distribute cards. An easy way to pay for Muni one trip at a time is on our MuniMobile payment app. 
Remember, January passes will become available on Dec. 17 at the new fare rates.