Wednesday, January 11, 2017
Dr. King Holiday: Muni Service and Parking Enforcement Schedule
This Monday, in observance of the Dr. Martin Luther King, Jr. holiday, Muni will operate on a Saturday schedule.
Parking meters and restrictions for seven-day street sweeping will be enforced.
However, there will be no enforcement of parking restrictions for:
Monday through Friday street sweeping
Residential parking permits
Commute hour tow-away zones
For complete details, visit the holiday enforcement schedule webpage.
Events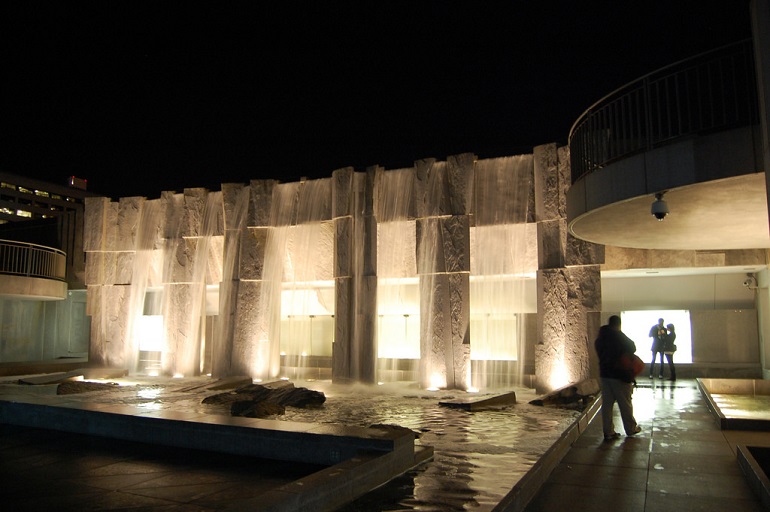 The Martin Luther King, Jr. Memorial at the Yerba Buena Gardens on November 29, 2008. Photo credit: Denmark/Flickr.
MLK2017 Weekend Events: Justice in the Beloved Community
Friday through Monday
Yerba Buena Center
Celebrate the life and legacy of Dr. Martin Luther King, Jr. with events at the Yerba Buena Center for the Arts this weekend. Presented by the NorCalMLK Community Foundation, events will include the seventh annual Liberation Film Festival, which will screen several short-format projects and human interest documentaries, a children's program designed to educate younger generations on the Civil Rights movement, as well as music and poetry on the lawn of Yerba Buena Gardens. The Black Comix Arts Festival will take place at the San Francisco Public Library's Main Branch and will include a grand expo, kids' activities, film screenings, panels and conversations, cosplay events and much more.
For a complete list and details about each of this weekend's schedule events, please visit sfmlkday.org.
You can take Muni to the festivities via the 8 Bayshore, 12 Folsom/Pacific, 14 Mission, 14R Mission Rapid, 27 Bryant, 30 Stockton or 45 Union/Stockton routes, the F Market Line or any Market Street route to Market and Powell/4th streets, plus any Muni Metro line to Powell Station.
Muni service note: Muni service may see minor delays due to increased ridership.
MLK Parade/March
Monday, 11 a.m.
4th and King streets
A commemorative one-and-a-half mile procession will recall the famed march led by Dr. King from Selma to Montgomery, Alabama. It will begin at 4th and King streets, travel east along 4th onto Channel Street, then turn west on 3rd Street across the Lefty O'Doul Bridge, culminating at the Yerba Buena Center at 3rd and Howard streets.
Special Muni bus shuttle service will be available between the Caltrain Station at 4th and King streets and Yerba Buena Gardens from 9 a.m. to 4 p.m.
We are honored to collaborate with the event organizers, the NorcalMLK Foundation, to provide commemorative Muni Celebration Train Passes for the March to Freedom celebration. The passes will be valid on all Muni buses and trains, except cable cars, from 9 a.m. to 7 p.m.
Muni service note: Muni routes and lines in the vicinity of the march may be subject to delays from around 11 a.m. to noon.
Learn more in our Tuesday blog post.
Van Ness Construction Reminder
All left turn lanes on Van Ness Avenue have been removed with the exceptions of those at Broadway (southbound), Lombard Street (northbound), and temporarily at Hayes Street (northbound).
Van Ness traffic lanes have been reduced from three to two on these segments:
Northbound from Post to Filbert Street
Southbound from Filbert to Washington Street
For complete details on these changes, please our Van Ness Improvement Project page.
Temporary J Church and K Ingleside Service Changes Reminder
Due to Balboa Park Station Area and Plaza Improvement construction work, there are now temporary stop changes in effect for the J Church and K Ingleside lines at Balboa Park Station. These stop changes will be in place through the end of February. For details, please read our September 1 blog post.
"On Tap" gives you a heads up about the big events in town and what Muni routes and lines will get you to the party. Look for this feature to be posted usually on Wednesdays for a look ahead to the weekend.