Muni, Traffic Impacts Ahead on a Laborious Labor Day Weekend
Wednesday, September 2, 2015
While most three day weekends are a time for rest and relaxation, this Labor Day weekend will be a true test of patience and stamina as the city will see a hectic influx of traffic congestion. Due to BART's Transbay Tube shut down, Central Subway track work near Caltrain, and an A-List music concert at AT&T Park, if you have designs on going somewhere be sure to plan ahead and give yourself plenty of time.
Event:
Billy Joel Concert
Saturday, 8 p.m.
AT&T Park
While the Giants are away, Billy Joel will play! With a songbook that plays like the soundtrack of countless lives, the "Piano Man" brings his repertoire of hits including "Allentown," "Back in the USSR," and "The Longest Time" for rousing and chorus-filled night at the ol' ball park. He'll sing you a song and by the end of the night he'll have you (and anyone within ear shot of AT&T) "feeling alright!"
If you're heading to the concert, Muni provides plenty of service to AT&T Park. Your options include: special event shuttle trains, N Judah, T Third, 10 Townsend, 30 Stockton, 45 Union/Van Ness, and the 47 Van Ness.
Muni service note: Muni service near the ballpark will experience delays due to increased ridership and construction work. For post-concert service, all outbound shuttle trains from AT&T Park will be allowed through the subway during the early closure and will make stops at all stations. These shuttle trains will be routed out of the subway either on the N Judah or M Oceanview lines. Bus shuttles will provide service from the ballpark to Caltrain.
Please see additional transit options below.
Ferries:
The Ferry will depart promptly 30 minutes after the concert.
Caltrain:
Caltrain offers hourly service between San Jose and San Francisco.
To accommodate the crowds, Caltrain will run a special post-event train after the concert.
The train will leave 25 minutes after the concert, or when full.
For fare and schedule information, visit www.caltrain.com or call 1.800.660.4287 (TTY 650.508.6448.)
For additional regional transit information for BART, Caltrain and the ferries as well as traffic, please go to www.511.org.
Construction Alerts:
Track work for the Central Subway project will take place at King and 4th streets beginning this Friday at 10 p.m. and running until 5 a.m. Tuesday. During construction, there will be no T Third service between Embarcadero Station and 4th and King streets. N Judah service will be single tracked through the construction zone. There will be no E Embarcadero service, and F Market service will be provided by buses. For specific details on the service adjustments for the N and T lines, please visit the service alert page.
BART will close the Transbay Tube. During the shutdown there will be no train service between San Francisco and the East Bay. Bus shuttles will make trips across the bay. Muni bus service near the Transbay Terminal will have additional service. Visit BART's project webpage for complete details. For traffic alerts and alternative routes visit 511.org.
The Muni Metro subway continues to close early each night at 9:30pm for system upgrades. Metro bus shuttles will operate between St. Francis Circle and The Embarcadero and Folsom Street from 9 p.m. to 1:30 a.m. NOTE: Over the holiday weekend, these shuttles will operate between St. Francis Circle and 4th and King streets, Friday through Tuesday.
Holiday service and parking:
Muni service will operate on a Sunday schedule. The holiday parking enforcement schedule: commuter tow away, residential parking permits and Monday-Friday street sweeping will not be enforced, while parking meters (including those on Port of San Francisco property) and seven day street sweeping will be enforced citywide.
On Tap for the weekend of September 12:
Ghirardelli Chocolate Festival, Sunday Streets: Western Addition, and S.F. Giants baseball.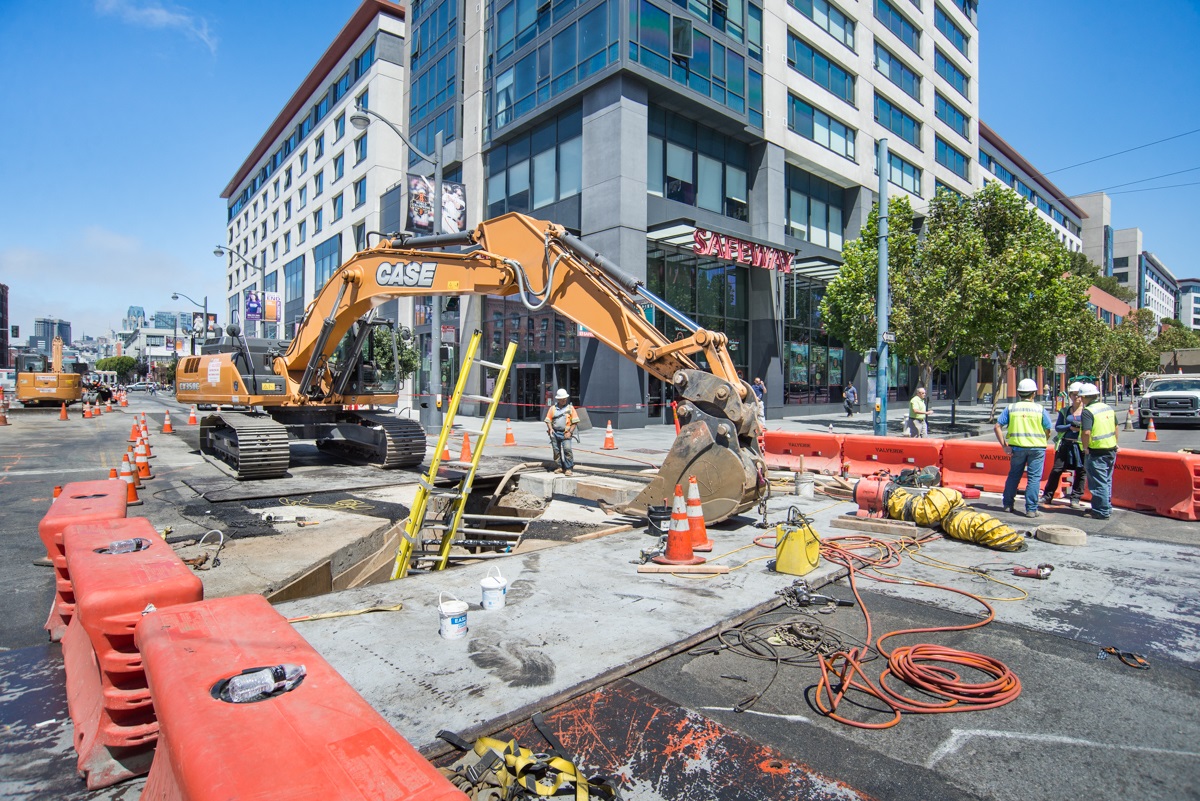 Central Subway construction crew working at Fourth and King streets. Photo: Central Subway archive
"On Tap" gives you a heads up about the big events in town and what Muni routes and lines will get you to the party. Look for this feature to be posted usually on Wednesdays for a look ahead to the weekend. Check out our Weekend Traffic & Transit Advisory for more details.