Saturday Muni Changes & Sunday Festivals
Wednesday, April 22, 2015
Muni Service Adjustments Reminder:
This Saturday, April 25, Muni's largest service increases in decades takes effect. Learn more and get complete details here.
Construction Project Reminder:
Van Ness Avenue between Post and Ellis streets will be closed beginning at 12 a.m. this Friday until 11:59 p.m. on Sunday for Sutter California Pacific Medical Center tunnel construction. Due to street closures, vehicle traffic will be diverted from that section of Van Ness, while all transit service including Muni's 47 Van Ness and 49 Mission/Van Ness routes will not. Plan ahead as streets adjacent to Van Ness will see increased traffic.
Sunday will be a great day to be out and about in the city. Travel up to Nob Hill for the biggest free car show in the country as the 25th annual California Mille brings together 67 classic autos and Italian music for an afternoon of La Dulce Vita. Not to be out done, the Across the Bay 12K/5K takes you on a spirited and panoramic run from Marin over the Golden Gate Bridge through the Presidio along the Marina to Aquatic Park.* Plus Glen Park and SoMa are the places to be. See details below.
(*) The 28 19th Avenue Route will have a re-route.
Glen Park Festival
Sunday, 10 a.m. to 4:30 p.m.
Glen Park
Starting out in 1997 as a folksy almost spur of the moment event, the Glen Park Festival has now become a highly anticipated neighborhood gathering bringing together the very best of Glen Park's eateries, artisans and musicians. The children's entertainment area will feature a jumpy house, story time and fire trucks.
Parking in the area will be limited, so think about taking public transportation. Muni service on the J Church Line, 23 Monterey, 36 Teresita, 44 O'Shaughnessy, and 52 Felton routes will get you there.
Muni service note: J Church Line, 23 Monterey, and 44 O'Shaughnessy routes may see an increase in ridership and slower moving service, while the 36 Teresita and 52 Felton will have re-routes.
How Weird Street Festival
Sunday, 12 p.m.
SoMa
With the motto of "experience the fun, feel the magic, and be weird," the 16th annual How Weird Street Festival is a creative mix of art show, dance music showcase and fashion boutique. This year's activities will include 10 stages of varying types of dance music, interactive and live art exhibits and unique and colorful clothing and jewelry designs.
Help ease congestion by taking the 10 Townsend, 12 Folsom/Pacific, 14 Mission, 14R Mission Rapid (formerly the 14L), or any Market Street route as well as the Muni Metro subway to Montgomery Station to reach the weirdness.
Muni service note: Due to street closures the 10 Townsend and 12 Folsom/Pacific routes will have re-routes.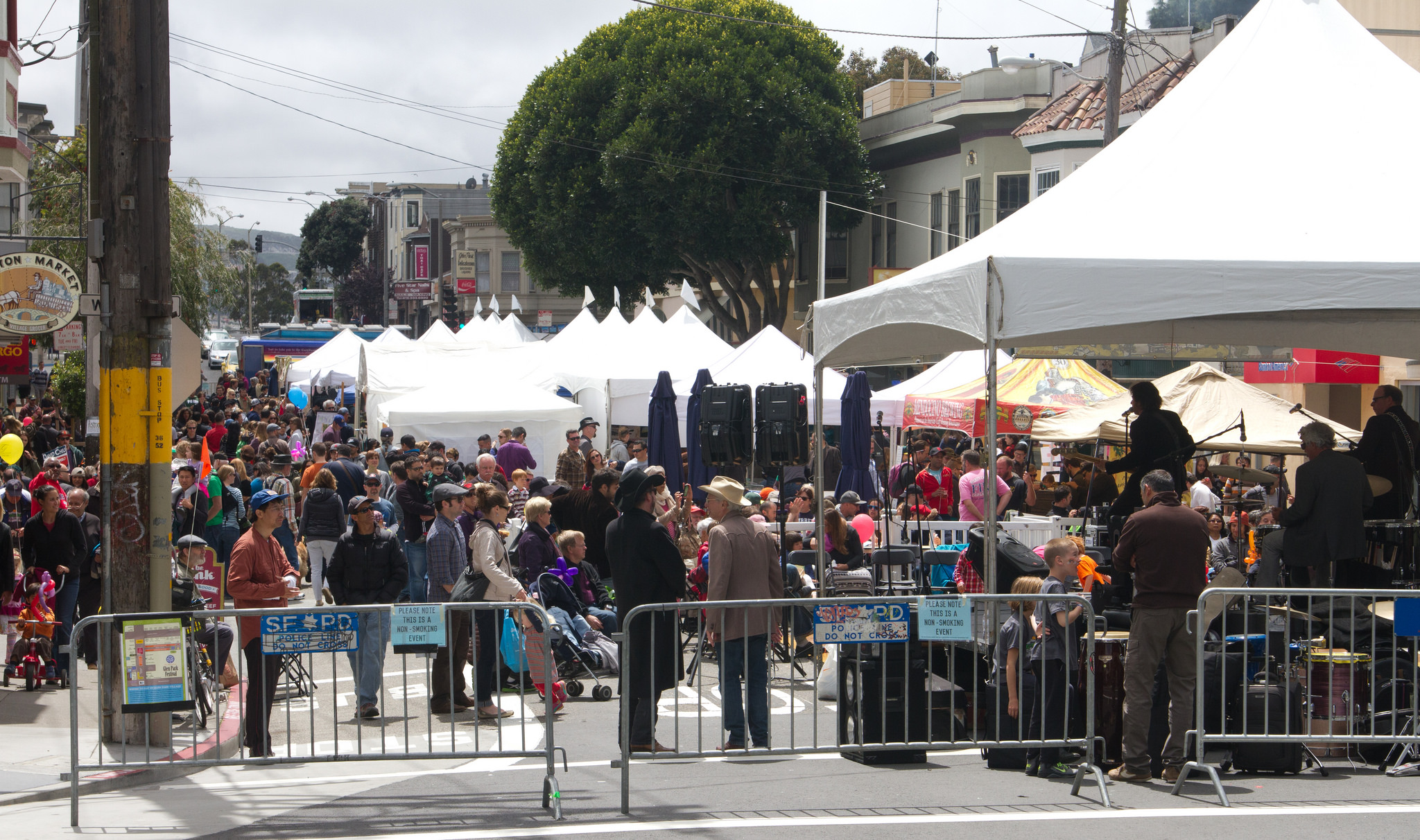 People gathered at the Glen Park Festival on April 27, 2014. Photo Credit: moppet65535; Flickr
"On Tap" gives you a heads up about the big events in town and what Muni routes and lines will get you to the party. Look for this feature to be posted usually on Wednesdays for a look ahead to the weekend.