South Van Ness and Mission Intersection Closure August 4-9
With the recent completion of the new red transit lanes along Van Ness Avenue, the Van Ness Improvement Project is now focused on its upcoming Mission Street closure as the project works to complete construction later this year. 
The major intersection closure, scheduled for August 4-9, is planned to reduce the duration of the work there. By closing the full intersection for five days, the team can complete work in the intersection that would normally require two months of work completed one segment at a time. The goal is to minimize inconvenience for the public.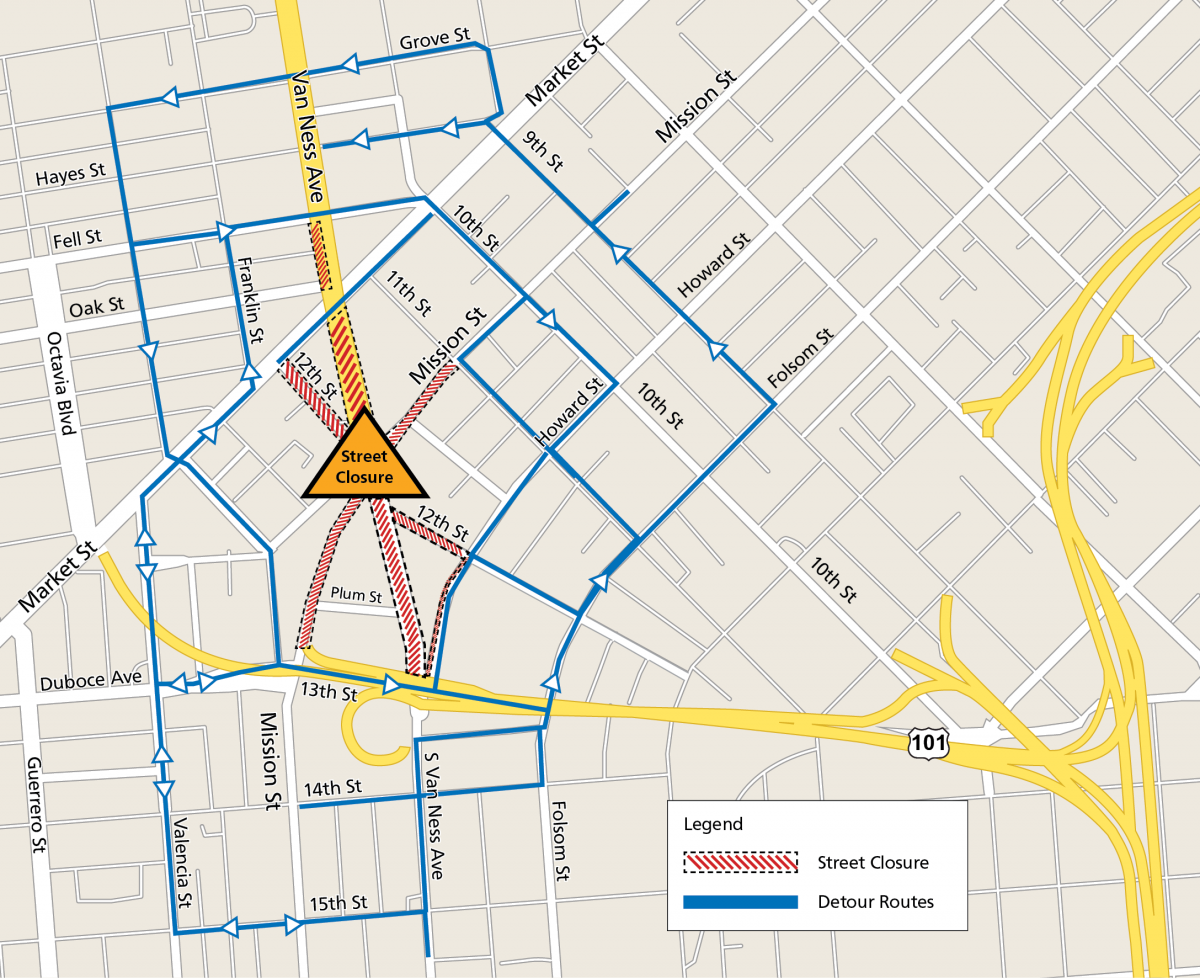 Map of Van Ness Avenue and Mission Street intersection with reroutes.
Once the construction during the intersection closure has been completed, there will be just a few more milestones left for the Van Ness Improvement Project before construction wraps up later this year. New overhead powerlines for transit lines will be installed. Additionally, crews will begin installing landscaping and irrigation systems, as well as pedestrian bulb-outs on sidewalks to aid in safer crossings for people walking.  
The project website details the available reroutes and provides additional information for motorists. While pedestrian access will be maintained at all times, people walking should consider bypassing the area. Transit will be rerouted, with Muni and AC Transit bus stops relocated and highly visible signage posted. Muni Metro and BART service will not be affected.
Once construction is complete, San Francisco's first Bus Rapid Transit (BRT) system, a much needed and globally proven solution to improve transit service and address traffic congestion on Van Ness, is expected to begin operation in early 2022.   
In addition to the building of the BRT, the multi-agency Van Ness Improvement Project has also included the replacement of 1800s-era water main to better withstand a major earthquake, new streetlights that are more power-efficient and brighter, installation of the overhead contact system that provides 100% emissions-free hydroelectric power from Hetch Hetchy—the city's municipal power source—to power the buses, new landscape to beautify the corridor, and new pavement on Van Ness for smoother travel and sidewalk extensions for a safer experience for people walking. Completion of the project is in sight, with construction projected to finish by the end of the year.
The August 4-9 closure will impact people driving, biking, taking transit and walking in SoMa, Tenderloin, Civic Center, Hayes Valley, Downtown and Inner Mission. The South Van Ness and Mission Street intersection will be closed at all times, as well as the roads leading to the intersection. People who travel in the area are encouraged to "Scout Your Route" before the shutdown and plan their travel accordingly.
Thank you to all the residents and travelers who have remained patient through the traffic reroutes, dust and noise! We appreciate your support and are excited to welcome you on to the new BRT in early 2022.