Street Food, Ocean Beach Music and Sunday Streets
Wednesday, October 10, 2018
Events: There will be no shortage of fun, unique events throughout the city this weekend. On Saturday, there will be a street food festival in Potrero Hill, the Ocean Beach Music and Art Festival in the Outer Sunset, the ever-adorable Corgi Con at Ocean Beach and the Yerba Buena Night Outdoor Arts Festival in SoMa. Come Sunday there will be the final Sunday Streets of the year in the Excelsior District, the penultimate Inner Sunset Flea of 2018 on Irving Street between Ninth and 10th avenues and the Bluxome Street Fair in SoMa. Read more about our featured events below: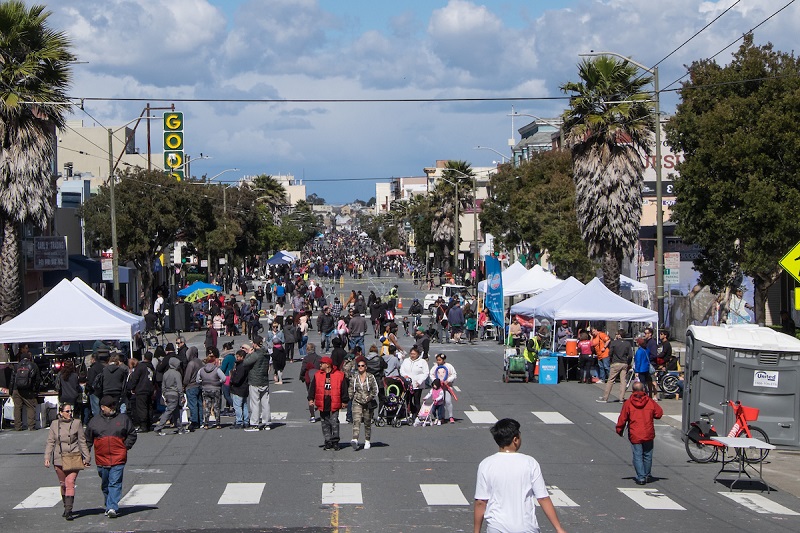 Sunday Streets returns to the Excelsior for its final outing of 2018. Photo: SFMTA Archives
San Francisco Street Food Festival
Saturday, 11 a.m. to 7 p.m.
Potrero Hill
La Cocina's San Francisco Street Food Festival is a celebration of community, culture and entrepreneurial spirit featuring delicious food from more than 30 Bay Area chefs and restaurants. The event revolves around a celebration of food, but it also strives to promote equality for food businesses owned by women, immigrants and people of color.
---
How to Get There on Muni: Riders can take the T Third Line or the 48 Quintara/24th Street Route to the event.
Muni Service Notes: There are no planned service changes for this event.
Ocean Beach Music & Art Festival
Saturday, 11 a.m. to 5 p.m.
Outer Sunset
Noriega Street in the Outer Sunset will be home to the 5th Annual Ocean Beach Music and Art Festival (formerly the Outer Noriega Street Fair) featuring multiple live music acts, art, beer garden, pumpkin patch and much more.
How to Get There on Muni: Riders may utilize the 7 Haight/Noriega or the 18 46th Avenue routes to the event.
Muni Service Notes: Both the 7 and the 18 will have reroutes during this event.
Sunday Streets
Sunday, 11 a.m. to 4 p.m.
Excelsior
Returning to the Excelsior to close out the 2018 season, Sunday Streets will be shutting down car traffic on Mission Street between Avalon and Geneva avenues. This end of the season blowout will feature activities for all ages, including live musical performances and a photo booth from The Excelsior and Outer Mission Merchant Association at the South Activity Hub. Also be sure to visit the Persia Triangle for games and fitness activities from the Excelsior Action Group (EAG), plus a pet adoption area and SF Recreation and Park's Mobile rock climbing wall. At the North Activity Hub, bring kids to learn to ride a two-wheeler with SF Bicycle Coalition's Freedom from Training Wheels and swing into the SF Public Library's Excelsior Branch for an open house with live music, button-making, a bookmobile and more.
How to Get There on Muni: Riders can take the 8 Bayshore, 14 Mission, 14R Mission Rapid, 29 Sunset, 43 Masonic, 44 O'Shaughnessy, 49 Van Ness/Mission, 52 Excelsior, or the 54 Felton routes to the event.
Muni Service Notes: The 14, 14R, 49, and 52 routes will have reroutes. Other coaches in the area of the event may experience minor delays and increased ridership.
Remember that you can Muni the entire day for a single $5 fare. The new $5 Day Pass, available on MuniMobile®, is part of Muni's recent fare changes. The pass is intended to encourage a safe, convenient way to pay your fare and quickly board Muni vehicles, which reduces overall travel time for everyone. The $5 Day Pass is Muni bus, rail and historic streetcars only. 
"On Tap" gives you a heads up about the big events in town and what Muni routes and lines will get you to the party. Look for this feature to be posted usually on Thursdays for a look ahead to the weekend. Check out our Weekend Traffic & Transit Advisory for more details.