Summer's Last Weekend: the Giants, Dragon Boats & an Autumn Moon
Wednesday, September 16, 2015
With weather temperatures headed back up, the last weekend of summer should be picture perfect. Beginning on Friday, the S.F. Giants close out this home stand with three games against the Arizona Diamondbacks. Muni service will take you to and from AT&T Park. Then on Saturday and Sunday, be sure to head out to Treasure Island for the Dragon Boat Festival. Muni's 25 Treasure Island Route may see increased ridership.
As part of the city's Make Your Market initiative designed to revitalize Market Street's sidewalks and plazas, Public Works launches Art Night SF in UN Plaza this Thursday from 5 to 9pm. Be sure to stop by and enjoy some art, food, music and more.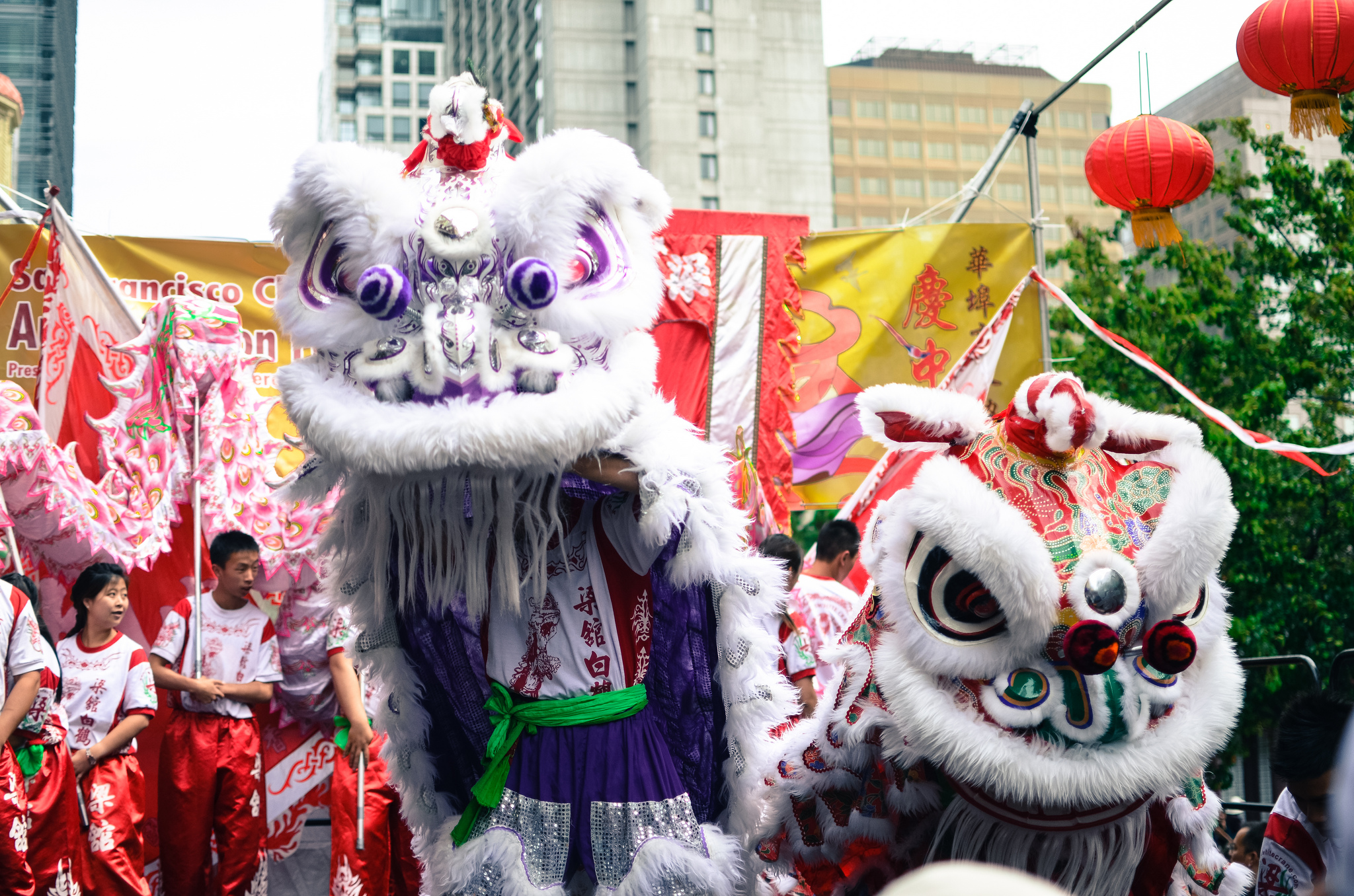 Lion Dancers at the Chinatown Autumn Moon Festival on September 23, 2012. Photo credit: Jonathan Chen/Flickr
Events:
Dreamforce 2015
Now through Friday
Moscone Center
Salesforce's annual convention, Dreamforce, is now underway at the Moscone Center. Be advised that a closure of Howard Street between Third and Fourth streets is now in effect and will continue through 8 p.m. on Sunday, September 20.
If you plan on attending the Dreamforce convention, your best transportation option will be using the Muni Metro subway to either Powell or Montgomery stations.
Muni service note: Due to street closures and additional pedestrian and vehicle traffic around the Moscone Center, Muni service may experience service delays leading to and from the downtown area.
Autumn Moon Festival
Saturday and Sunday, 11 a.m. to 6 p.m.
Chinatown
With the start of fall set to begin next Wednesday, the Autumn Moon Festival returns to help usher in the new season. Festivities kick off on Saturday with a parade at 11 a.m. beginning at California and Grant streets. Festival activities will include music and dance entertainment, an open-air street bazaar and a dog costume contest! There will certainly be something for everyone.
Expect heavy traffic in the area due to street closures and large crowds.
Consider taking Muni to this popular festival. Your transit options include the 1 California, 8 Bayshore, 30 Stockton, 45 Union/Stockton and the California Cable Car Line.
Muni service note: The 10 Townsend and 12 Folsom-Pacific will have re-routes. Other service routes in the area may experience minor delays due to an increase in ridership.
Upcoming Service Changes:
The second service increase this year will take effect on Saturday, September 26. For complete service increase details, visit the Muni Forward information page. Also, be sure to revisit our August 28 and September 11 blog posts which highlight the coming changes.
Construction Reminder:
The Muni Metro subway continues to close early each night at 9:30pm for system upgrades. Metro bus shuttles will operate between St. Francis Circle and Market and Drumm streets from 9 p.m. to 1:30 a.m.
On Tap for next weekend: S.F. Symphony Opening Night Gala, AC/DC Concert, Superhero Festival, Folsom Street Fair, Cole Valley Fair, and Race For the Cure.
"On Tap" gives you a heads up about the big events in town and what Muni routes and lines will get you to the party. Look for this feature to be posted usually on Wednesdays for a look ahead to the weekend. Check out our Weekend Traffic & Transit Advisory for more details.