Sunset Tunnel Work Kicks Off & City Honors Veterans
Wednesday, November 5, 2014
"On Tap" gives you a heads up about the big events in town and what Muni routes and lines will get you to the party. Look for this feature to be posted usually on Wednesdays for a look ahead to the weekend.
Sunset Tunnel Improvement Project
Friday, 7 p.m. through Monday, 2 a.m.
Sunset Tunnel
Opened in October of 1928 in the twilight of the Calvin Coolidge administration and nine years before a bridge would span the Golden Gate, the Sunset Tunnel began operation and has endured as the surrounding landscape has evolved during its 86 years of service.
Now the Sunset Tunnel is in need of a little nip and tuck, so beginning this Friday at 7 p.m. and running until 2 a.m. on Monday, November 10, track, sewer, and infrastructure work will take place.
This project is slated to occur over 15 weekends through June 2015. Work will also take place on November 14 to 17 and November 21 to 24. Construction work will be suspended from Thanksgiving through December resuming in early 2015.
Muni service note: during construction hours, bus shuttles will substitute N Judah Line service between Duboce Avenue and Church Street to La Playa and Judah streets. The N Line will see some residual service delays in both directions. N patrons should plan ahead and leave early when possible.

Veterans Day Parade
Sunday, 11 a.m.
Downtown
"Over there, over there, Send the word, send the word over there that the Yanks are coming, the Yanks are coming…"
Lyrics that inspired a generation of Americans into service during the "great war" and in recognition of that service, the "doughboy" veterans of World War I were feted with Armistice Day. In 1954, Armistice Day became Veterans Day in order to recognize and honor all service veterans.
This year's parade will stage on 2nd Street between Market and Folsom streets then travel up Market Street from 2nd Street ending in the Civic Center in front of City Hall.
Parade watchers and participants can take the Muni Metro subway to reach the parade at any point along its Market Street route.
Muni service note: during the parade, the F Market, 2 Clement, 5 Fulton, 6 Parnassus, 8X Bayshore Express, 9 San Bruno, 10 Townsend, 12 Folsom/Pacific, 19 Polk, 21 Hayes, 27 Bryant, 30 Stockton, 31 Balboa, 45 Union/Stockton, 38 Geary, and 71 Haight/Noreiga will have re-routes.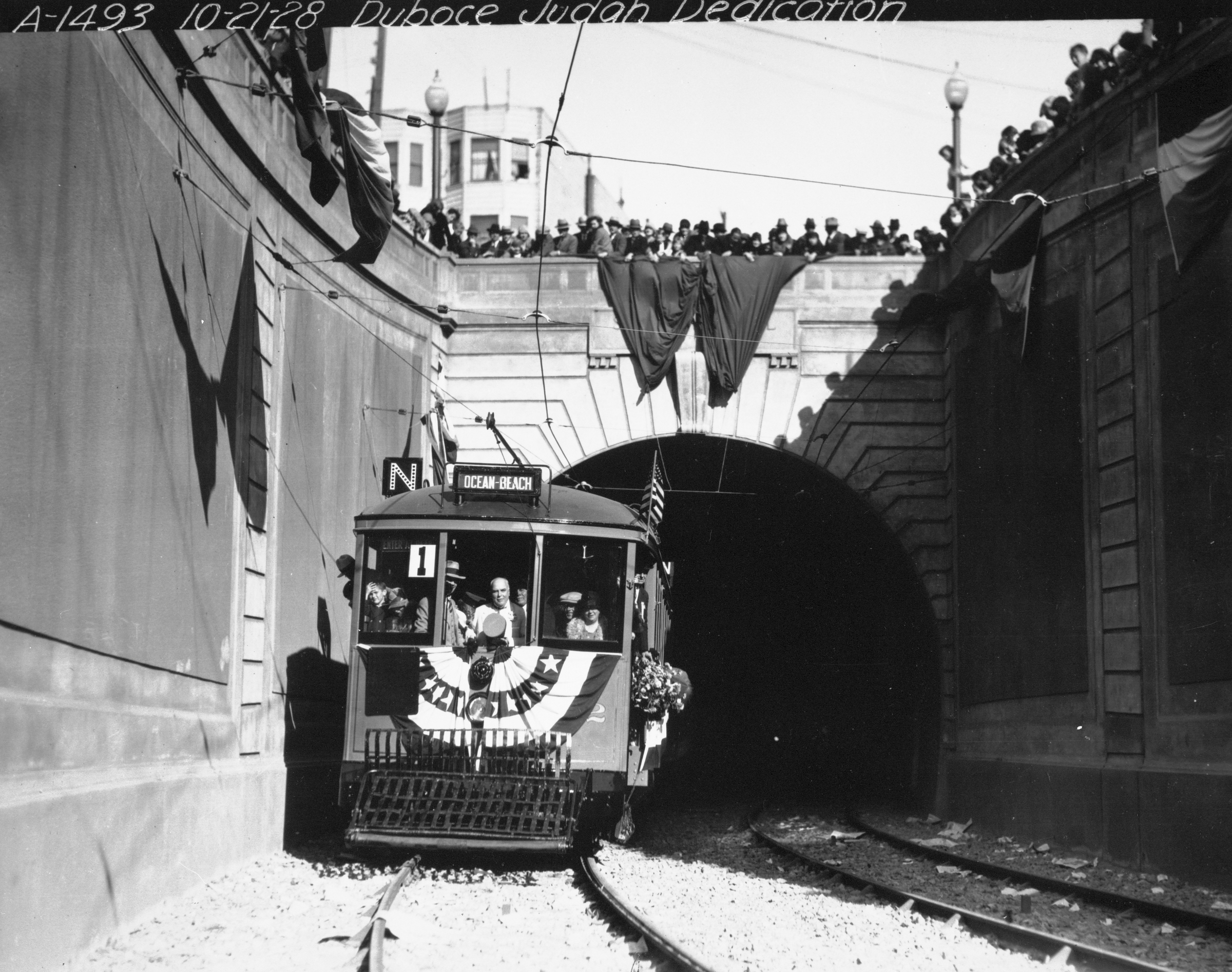 Mayor Rolph drives the first streetcar through Sunset Tunnel. October 21, 1928