Super Bowl 50: More Details to Help You Get Around
Thursday, January 21, 2016
As we've written in recent posts, traffic detours and Muni re-routes start this Saturday for the setup of Super Bowl City in front of the Ferry Building and the NFL Experience at Moscone Center. The events, which start January 30, will also restrict pedestrian and bicycle access in some areas and are expected to draw one million visitors over the course of nine days.
Naturally, we've heard concerns from local residents and commuters about how the Super Bowl 50 events will affect their ability to get around. Since November, we've been working to get the word out about the magnitude of the impacts to help make sure everyone can get where they're going safely.
There's a lot of information to take in, which is why we're rolling out the details with multiple posts (get the latest on our Super Bowl 50 page). Today, we thought it'd be helpful to delve deeper into some of the issues we've had the most questions about:
Access to Embarcadero Station entrances/exits
Walking through or around the Super Bowl City zone
Bicycle detours
Vanpool and casual carpool impacts
Muni changes (full list of links to stop re-locations at the bottom of this post)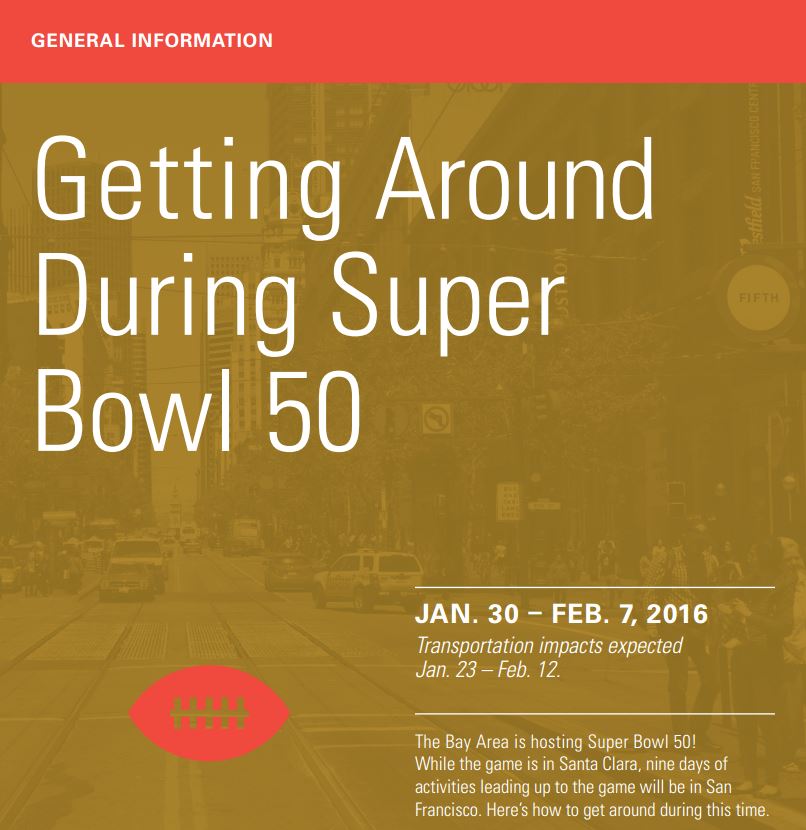 For those who need or want to help spread the word, on our main Super Bowl 50 page you'll find a .PDF brochure to download and share.
Overview
Super Bowl City will be a free-to-the-public fan village centered around Justin Herman Plaza, also known as the Ferry Plaza, in front of the Ferry Building.
Starting this Saturday, event preparations will require detours for auto and bicycle traffic, as well as Muni re-routes for almost three weeks.
During the nine-day event starting Jan. 30, a 24-hour security perimeter around the area will require pedestrians to pass through a secured entrance or navigate around. Crowds and traffic congestion can also be expected in the area for the events.
The NFL Experience, a paid-entrance event at Moscone Center, will also require a two-week street closure on Howard Street between 3rd and 4th streets from January 26 to February 9. The block will be closed to bicycle and auto traffic during that time, and the south sidewalk will be closed. Partial lane closures will also take place on Howard between 4th and 5th streets.
Note that in the area around the Ferry Plaza, some pedestrian and bicycle access restrictions could begin as early as this Saturday during event staging.
Will access to the Embarcadero Muni/BART station be restricted?
All Embarcadero Muni/BART Station entrances/exits will remain open and outside of the event perimeter, except for the one at Market and Spear streets (southwest corner).
Spear Street entrance/exit hours, Jan. 30 – Feb. 7
Open: Morning rush hours, approximately 6:45 - 9:45 a.m, February 1 - 5
Closed at all other times
How will I get between the Ferry Building and Embarcadero Station or Market Street while the event perimeter is in place?
The Super Bowl City zone will be free to enter at all hours, but pedestrians must pass through a security check or navigate around the event perimeter. Bicycles will be prohibited inside the perimeter, as will other items listed on the Super Bowl Host Committee's website.
For a full description of the perimeter area, see our previous blog post.
One on Market and Beale streets
Three directly in front of the Ferry Building
Additionally, there will be four exit-only locations along Market, and another in front of the Ferry Building.
At all other hours, only two secure entrances will be open:
One at Market and Beale
One in front of the Ferry Building's central entrance.
While walking through the Super Bowl City perimeter may be the most direct route to Embarcadero Station and Market Street, it may take extra time to queue up and pass through the security entrances.
Walking around the perimeter: The other option is to walk around the Super Bowl City perimeter via one of two detour routes:
Mission Street, to the south
Washington and Drumm streets, to the north
The most direct route to Embarcadero Station outside of the perimeter would be to walk south on the Embarcadero to Mission to the station entrance/exit at Market and Spear streets. (If the Spear entrance is closed, use the entrance at Market and Main streets.)
A couple of further heads-ups:
Shortcut at Market and Main streets: Note that pedestrians looking to cross Market Street near Main Street may bypass the security perimeter using the Embarcadero station entrances on either side of Market to travel through the Embarcadero Station mezzanine.
Walk your bike on the Ferry Building Promenade: Due to the anticipated crowds on The Embarcadero, bicycle commuters should plan to walk their bikes on the east sidewalk in front of the Ferry Building.
For further details about security restrictions and events, please visit the Super Bowl 50 Host Committee site.
Why must bicycle commuters be detoured to Howard and 2nd Streets?
The suggested bicycle detour route between the Ferry Building and Market Street is on 2nd street via Howard or Folsom Street. Howard, between 3rd and 4th streets, will also be closed to bicycle and vehicle traffic for two weeks (more on that below).
This detour may not have ideal conditions for all types of people who bike, but alternatives were considered.
However, with streets like Mission expected to carry more Muni vehicles re-routed off of Market Street (including the inbound 38-Geary route and F Market shuttle buses), separate routes for bicycle and transit traffic are the best way to keep everybody safe and Muni running efficiently.
Note that while 1st and Battery streets will be open to bike traffic, they are expected to be congested with auto traffic detoured off of southbound Embarcadero.
Howard detour at 3rd Street: For two weeks, Howard will also be closed to bicycle and vehicle traffic between 3rd and 4th streets.
From Tue., January 26 (evening) to Tue., February 9 (morning), the street will be used for activities as part of the NFL Experience at Moscone Center.
For those bicycling west on Howard during the street closure, the suggested detour is via 2nd to Market, though Mission will also be open to traffic. The north sidewalk of Howard will remain open to pedestrians.
Will vanpool and casual carpool locations be affected?
Casual carpool and vanpool locations will not change, but vehicles will be subject to the posted traffic detours.
Casual carpool pick-up detour: Due to the detour on southbound Embarcadero (Jan. 23 - Feb. 7), drivers using the pick-up location on Spear Street between Howard and Folsom should plan to access Spear via the northbound Embarcadero and Howard. Market and Mission will be closed to private auto traffic in that area.
Casual carpool drop-off: Drivers may continue to use Fremont Street to access the location on Fremont south of Howard. Fremont will be open to all traffic, but may see congestion throughout the duration of the event.
Vanpool parking on Washington Street will not be affected, but vanpool drivers will need to follow the posted detours.
Where will my Muni stop be moved, exactly?
All Muni route changes were listed and mapped in our recent blog post, but we thought it'd be helpful to publish the full list of stop changes associated with the Super Bowl events below.
Put simply: If your line isn't on the list, it won't be changed. However, Muni surface routes running through the area of the events may see delays due to the auto traffic detours. All Muni routes and lines will be up and running, with the exception of the weekend-only E Embarcadero streetcar line.
To recap, here's a brief summary of all Muni route and stop changes:
The F Market & Wharves streetcar line will be served by bus shuttles between Castro Street and The Embarcadero, and will re-route on to Mission east of Beale Street.
The 2 Clement, 3 Jackson, and 31 Balboa routes will turn back north of Market Street, where riders can connect to any of the routes traveling down that corridor.
The inbound 38 Geary and 38R Geary Rapid will re-route on Mission and 2nd streets between the Transbay Terminal and Market Street.
Terminal stops will be moved for the 6 Haight/Parnassus, 9 San Bruno and 9R San Bruno Rapid, the 14 Mission and 14R Mission Rapid, the 21 Hayes and the 41 Union routes.
Terminal stops will also be moved for these express routes starting Monday, January 25: the 7X, 1BX, 14X, 30X, 31AX/BX and the 38AX/BX.
No route changes are planned on Muni Metro lines, but extra subway service will be provided after concerts to help customers get home. The early nightly subway shutdowns for tunnel upgrades will end before street closures start on January 23.
We'll continue to post more details to help San Francisco residents and commuters, as well as Super Bowl fans, get around during the upcoming events. Stay tuned to our blog and our Super Bowl 50 page for the latest transportation updates. If you have any other transportation-related feedback or questions we can help answer, please share them in the comments.
For Super Bowl 50 event information, please visit the Super Bowl 50 Host Committee site or call 311.
Finally, here's the complete list of Muni stop closures and re-locations that will be in place from Saturday, Jan. 23 until Friday, Feb. 12. These changes are also shown on our 

Super Bowl 50 Muni Map (PDF):
Express routes: