Tenderloin Streets Transform During COVID-19
Wednesday, December 16, 2020
COVID-19 has disproportionately impacted people who live and work in the Tenderloin. As a result, the SFMTA has been working closely with District 6 Supervisor Matt Haney's office, other city departments, the Tenderloin Traffic Safety Task Force and community members to address the public health issues and unique challenges in the neighborhood through innovative interventions.   
The Tenderloin is home to many of our most vulnerable communities including historically marginalized groups such as people with disabilities, residents of SROs and supportive housing and limited-English proficient communities. With every single street in the Tenderloin on the city's High Injury Network -- the 13 percent of San Francisco streets that account for 75 percent of severe traffic injury collision and fatalities -- this critical neighborhood is the focus of our latest efforts to make the city safer for everyone. 
As part of the city's COVID-19 response, the SFMTA prioritized changes to Tenderloin streets that aim to achieve immediate and long-term results. Our main priorities, based on community advocacy and feedback, are:  
Expand physical distancing space to alleviate public health concerns around overcrowding  
Support local community group activities and small businesses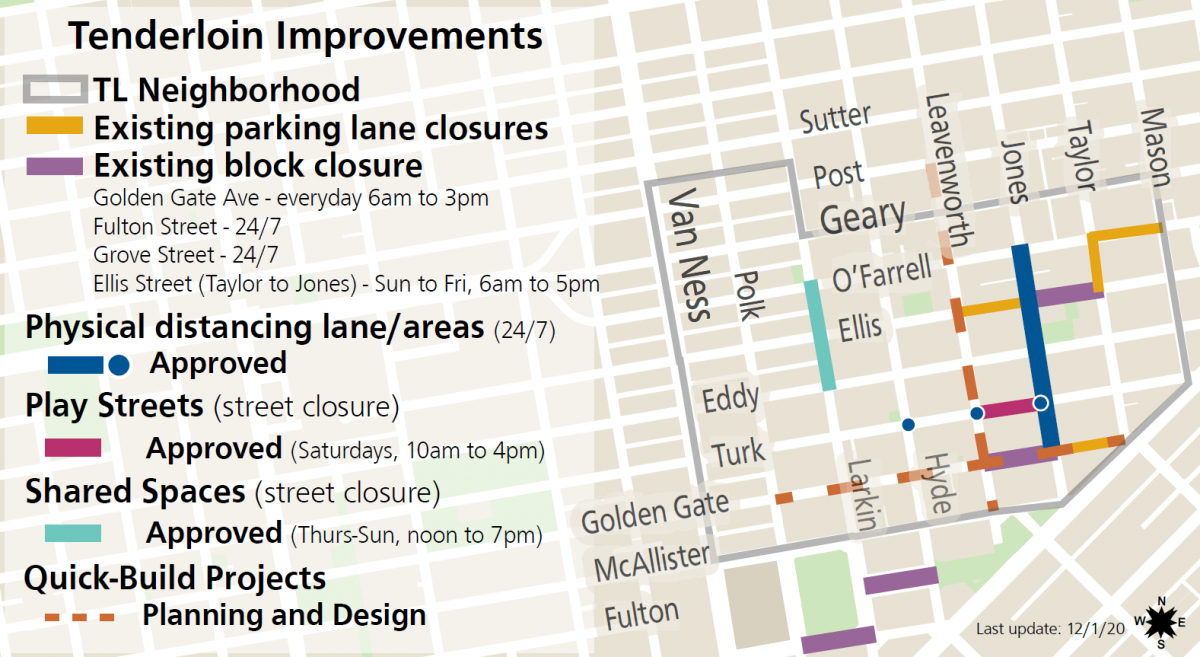 SFMTA COVID-19 projects in the Tenderloin: 
Parking Lane Prohibitions and Block Closures – Temporary vehicle restrictions were implemented on major blocks in the neighborhood to support essential services like safe sleeping sites, physical distancing and meal services. This includes daily street closures on the 100 block of Golden Gate at St. Anthony's and the 300 block of Ellis (except Saturday) in collaboration with GLIDE to provide the community with free meals programs. These closures have allowed the blocks to transform into vibrant, community spaces where residents and workers can receive COVID-19 testing, visit pop-up food pantries, take showers, get meals, and simply have outdoor space. 
Outdoor Dining (Temporarily paused for our current Health Order) – The city's Shared Spaces program is a vital lifeline for businesses by creating flexible uses of sidewalks, streets and outdoor spaces for restaurant and retail activities. In the Tenderloin, the program facilitated temporary closures on Larkin Street between Eddy and O'Farrell streets and previously parts of Golden Gate Avenue for Tenderloin restaurants and retail.  
Play Streets – Through partnerships with the Boys & Girls Club, Tenderloin Community Benefit District and other community-based organizations, a weekly closure of Turk Street between Leavenworth and Jones streets provides temporary car-free open space for children, seniors and Tenderloin neighbors to enjoy every Saturday. Play Streets have been successful in creating a space for children to play, for COVID-19 testing and resources and for neighbors to take a break outside.  
Jones Street Physical Distancing Lanes – Between Golden Gate Avenue and O'Farrell Street, a lane was established to provide temporary walking and rolling space on a critical north-south connection in the neighborhood. The eastern parking lane and one vehicle lane on Jones Street were repurposed to provide this pedestrian walking space -- doubling the width of the sidewalk. 
Turk Street Physical Distancing Zones – The sidewalks on Turk Street, a key east-west corridor in the neighborhood, have been expanded at intersections with high pedestrian volumes, including Jones, Leavenworth and Hyde streets so that people could physically distance themselves while waiting to cross the intersection. 
Upcoming Projects:  
Golden Gate and Leavenworth Vision Zero Quick-Builds - The project goal of the Quick-Builds is to improve overall comfort and safety for those walking and bicycling on Golden Gate Avenue between Market and Polk streets and on Leavenworth Street between McAllister and Post streets. Please join us for the Virtual Open House for the Golden Gate and Leavenworth Quick-Build projects from December 15th through January 8th. The Virtual Open House will be hosted in seven languages reflecting the diversity of the community.  
Tenderloin Neighborhood Traffic Safety Improvements - Building on past comprehensive neighborhood-wide efforts in the Tenderloin, including daylighting and signal retiming, we are proposing to reduce the neighborhood speed limit and implement "no turn on red" regulations. Studies show that lowering speeds greatly improves a pedestrian's chance of survival in the event of a collision. Currently, most Tenderloin streets are 25 miles per hour, and now, the SFMTA is proposing to lower the neighborhood speed limit to 20 miles per hour. If approved, the Tenderloin will be the first neighborhood in San Francisco to have widespread speed reductions. 
Thank You Tenderloin Community! 
We want to express sincere appreciation and acknowledge the Tenderloin community groups who have been tenacious in advocating for traffic safety and travel options in their neighborhood: Tenderloin Traffic Safety Task Force, Tenderloin People's Congress, Tenderloin Community Benefit District, Central City SRO Collaborative, Tenderloin Neighborhood Development Corporation and many others. We are committed to being responsive and partnering with the community as we work through this crisis together.   
Correction: the location of the Play Street has been updated. We apologize for the error.