Thanksgiving Weekend: Macy's Great Tree Lighting and "Snowvember" on Treasure Island
Wednesday, November 21, 2018
T Third Line Bus Substitutions This Sunday: In anticipation of the new Golden State Warriors' Chase Center and the growth in jobs, housing, healthcare and retail in the Mission Bay, the SFMTA is constructing a new center platform along Third Street between South and 16th streets. This Sunday, November 25, work on the platform will require bus substitution on a portion of the KT: K Ingleside/T Third line. K Ingleside trains will operate from Balboa Park to Embarcadero Station. T Third Buses will travel from Spear & Market to Bayshore Boulevard and Sunnydale Avenue. For more information please check out our project page.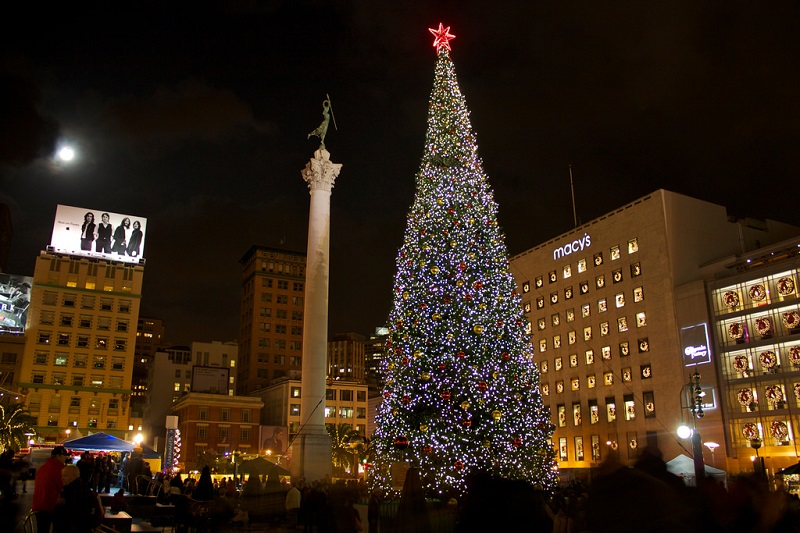 Usher in the beginning of the holiday season this Friday in Union Square with the Macy's Great Tree Lighting. Photo: Aaron Tait/Flickr
29th Annual Macy's Great Tree Lighting
Friday, 6 p.m.
Union Square
San Francisco's most recognized Christmas tree stands more than 83-feet tall, decorated with more than 33,000 twinkling energy-efficient LED lights and 1,100 shining ornaments. It will be officially lit this Friday, November 23 during the 29th annual Macy's Great Tree Lighting in Union Square. Attendees can also look forward to musical performances by Oscar and Grammy winner and Rock and Roll Hall of Fame inductee Darlene Love performing music from her Christmas albums, as well as students from American Conservatory Theater's renowned Young Conservatory,  the San Francisco Boys Chorus, Oakland Interfaith Gospel Choir and the cast of Mary Poppins from the San Francisco Playhouse.
---
How to Get There on Muni: Riders may take any Muni Metro line to the Powell or Montgomery stations, the F Market and Wharves Line, the Powell Cable Car lines, any Market Street bus route as well as the 2 Clement, 3 Jackson, 8 Bayshore, 27 Bryant, 30 Stockton, 38 Geary, 38R Geary Rapid, or 45 Union/Stockton routes to near Union Square.
Muni Service Notes: The Powell Cable Car lines will be substituted by bus shuttles along Powell Street, and the 2, 3, 38, and 38R will have reroutes in the area of the event.
"Snovember" Treasure Island
Saturday and Sunday, 10 a.m. to 4 p.m.
Treasure Island
After you've stuffed yourself on Thanksgiving (and taken Friday to recover!), head over to Treasure Island for the final TreasureFest of the 2018 season. While snowfall is a rarity in the Bay Area, the folks on Treasure Island will have 20 tons of the white stuff ready to create a winter wonderland for all in attendance. Along with the usual shopping and food and drink provided by dozens of local vendors, there will also be an appearance by Santa himself, who will be happy to take down any Christmas wish lists in between posing for free photos.
How to Get There on Muni: The 25 Treasure Island Route is the best option for traveling to and from this temporary winter wonderland.
Muni Service Notes: There are no planned service changes for this event, though ridership to and from the island may be higher than usual.
Upcoming Holiday Service Schedule and Parking Enforcement Alert:
Thanksgiving Day
On Thanksgiving Day (November 22), Muni will operate on a Sunday schedule.
There will be no enforcement of parking restrictions for:
Seven-day street sweeping;
Parking meters (including those meters on Port of San Francisco property);
Residential parking permits;
Monday through Friday street sweeping;
Commute hour tow-away
Black Friday
On "Black Friday," November 23, Muni will operate on a regular weekday schedule, though there will be no express bus service with the exception of the 8AX Bayshore A Express and 8BX Bayshore B Express routes.
Parking enforcement will be as follows:
Enforced: Seven-day street sweeping restrictions and parking meters (including those meters on Port of San Francisco property).
Not Enforced: Residential parking permits, Monday through Friday street sweeping, and commuter tow-away restrictions.
For complete parking enforcement details, visit the holiday enforcement schedule webpage. For complete details on Thanksgiving Day and Black Friday Muni service, visit sfmta.com/thanksgiving
Remember that you can take Muni the entire day for a single $5 fare. The new $5 Day Pass, available on MuniMobile®, is part of Muni's recent fare changes. The pass is intended to encourage a safe, convenient way to pay your fare and quickly board Muni vehicles, which reduces overall travel time for everyone. The $5 Day Pass is Muni bus, rail and historic streetcars only.
"On Tap" gives you a heads up about the big events in town and what Muni routes and lines will get you to the party. Look for this feature to be posted usually on Thursdays for a look ahead to the weekend. Check out our Weekend Traffic & Transit Advisory for more details.