Today in History: A Trip Down California Street July 26, 1974
Digging into our latest historic photo scanning work, we found a roll of 35mm film taken on this day, July 26, in 1974 along the California Street Cable Car Line. Take a trip back in time from Van Ness to the Financial District and soak in these vintage views along the way.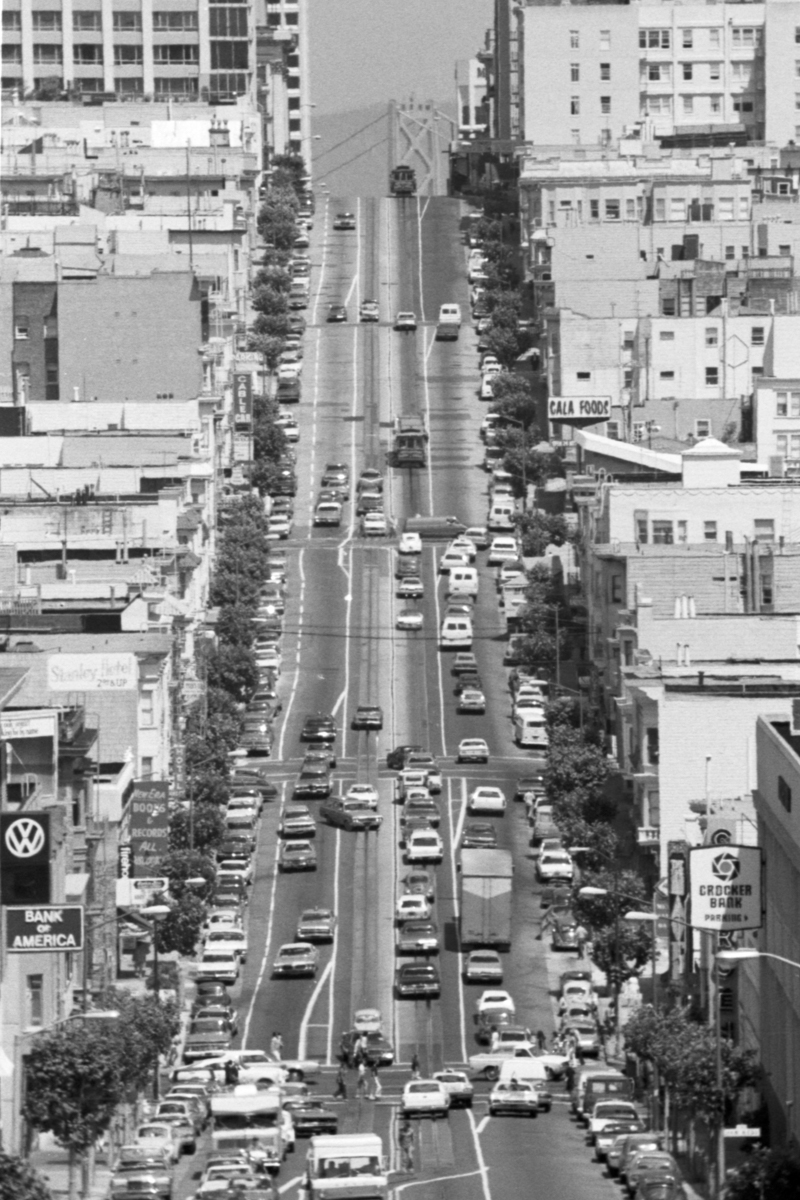 This view looks east towards the Bay Bridge from California near Franklin Street.
Starting off our trip, we look eastward to Nob Hill from about Franklin Street. A tower of the Bay Bridge looms just above the horizon line as a lone cable car crests the hilltop.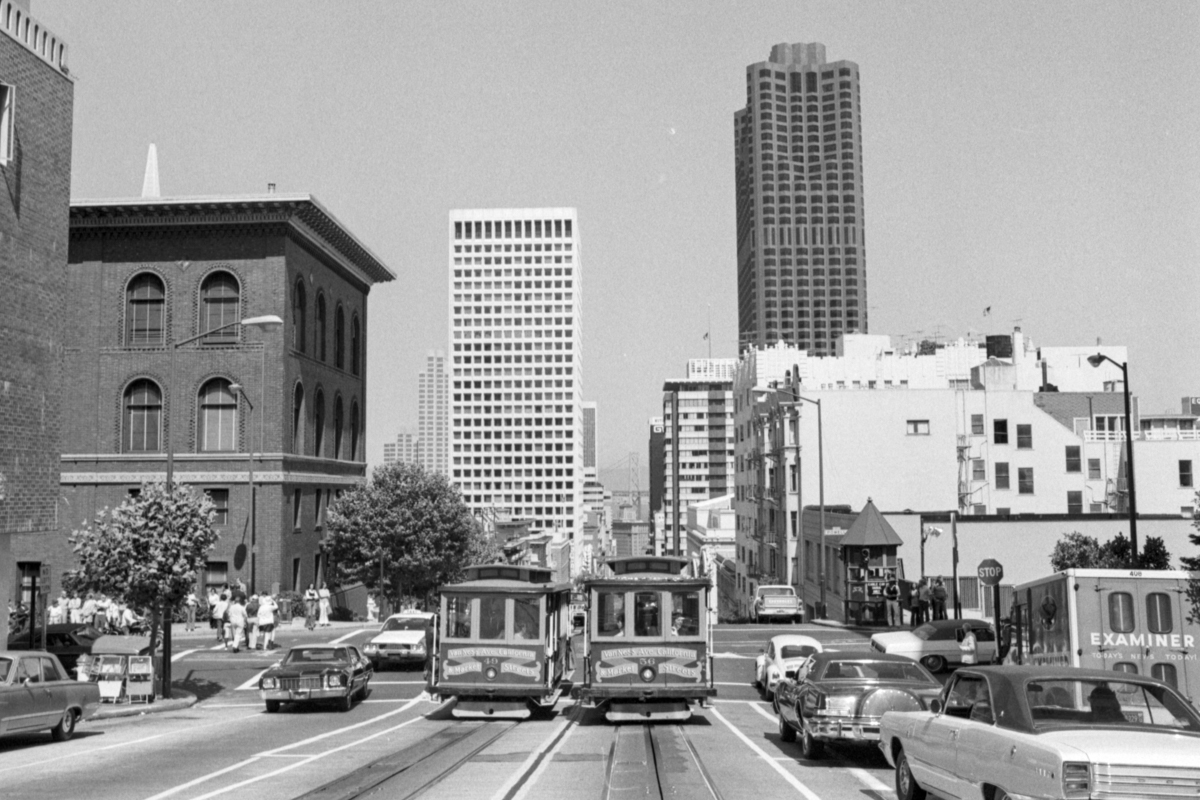 Seen at right is the Cable Car Signal Tower, which was built in 1907 after the original 1880s structured burned in the 1906 Earthquake and Fire.
Just over the top of Nob Hill, two cars pass each other near Powell Street amidst the hustle of cars and pedestrians. This tricky intersection is one of two cable crossings in the system. On the southeast corner of the junction stands the cable car signal tower, a small, octagonal building from 1907 that houses the signal operator and equipment to control the crossing of the Powell and California cable lines.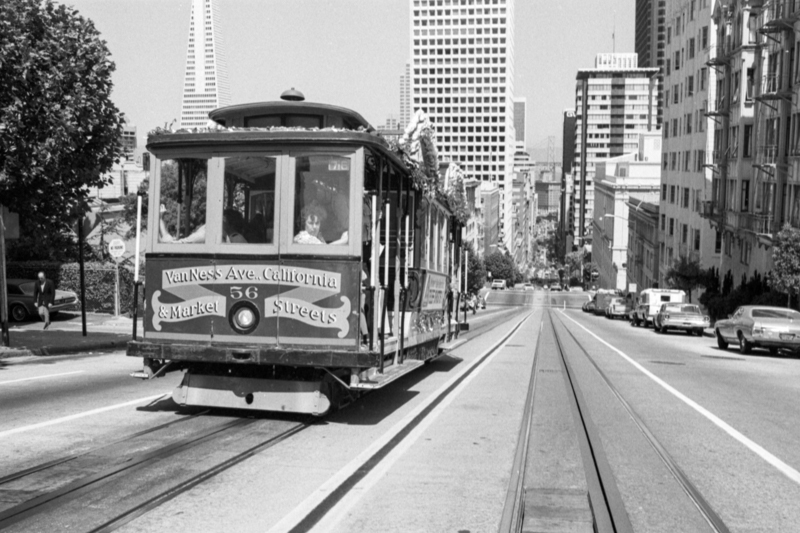 Cable Car 56 climbs Nob Hill in this easterly-looking shot taken near Powell Street.
Just east of the intersection with the Powell Cable Lines, a decorated Cable Car 56 rolls past on an outbound run to Van Ness. This car recently returned to service after a beautiful complete restoration done by the skilled carpenters, machinist, painters and mechanic's working with Muni's Cable Car fleet. Look for it shining like a gem next time you're on the CA Line!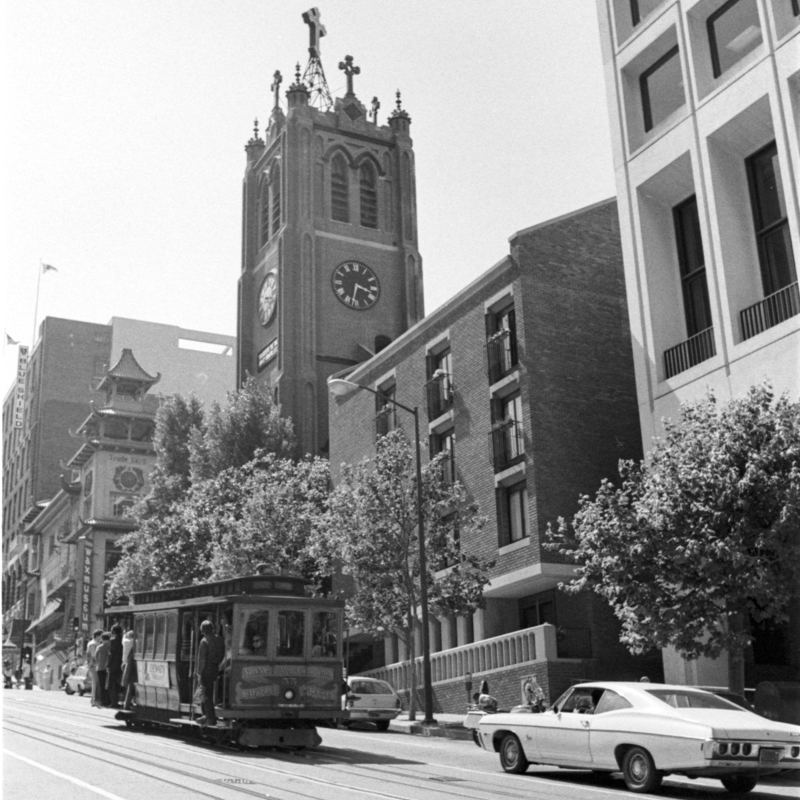 California Street and Grant Avenue is home to Old St. Mary's Cathedral, seen here rising above the cable car, is listed as a California Historic Landmark.
Next stop, Chinatown and Grant Avenue. Seen above is one of the most iconic views along the line-- Old St. Mary's Cathedral at right and the Sing Chong Building, noted for its multi-tiered pagoda roof at left. Old St. Mary's is one of the city's oldest buildings despite being extensively damaged and rebuilt after the 1906 earthquake. Dedicated in 1854, it still stands at its original location.

Cable Car 49 rolls past right-turning auto traffic as it nears the eastern terminal at Market Street.
The end of our journey brings us a view that at first glance, could almost be mistaken for present day. Shot near Front Street, Nob Hill rises skyward in the background while a couplet of Cal Cars wade through midday traffic past the classic SF staple "Tadich Grill".
Check out more of our recently digitized 1970s photos on the SFMTA Photo Archive website.