Updated Muni Service as Students Return to School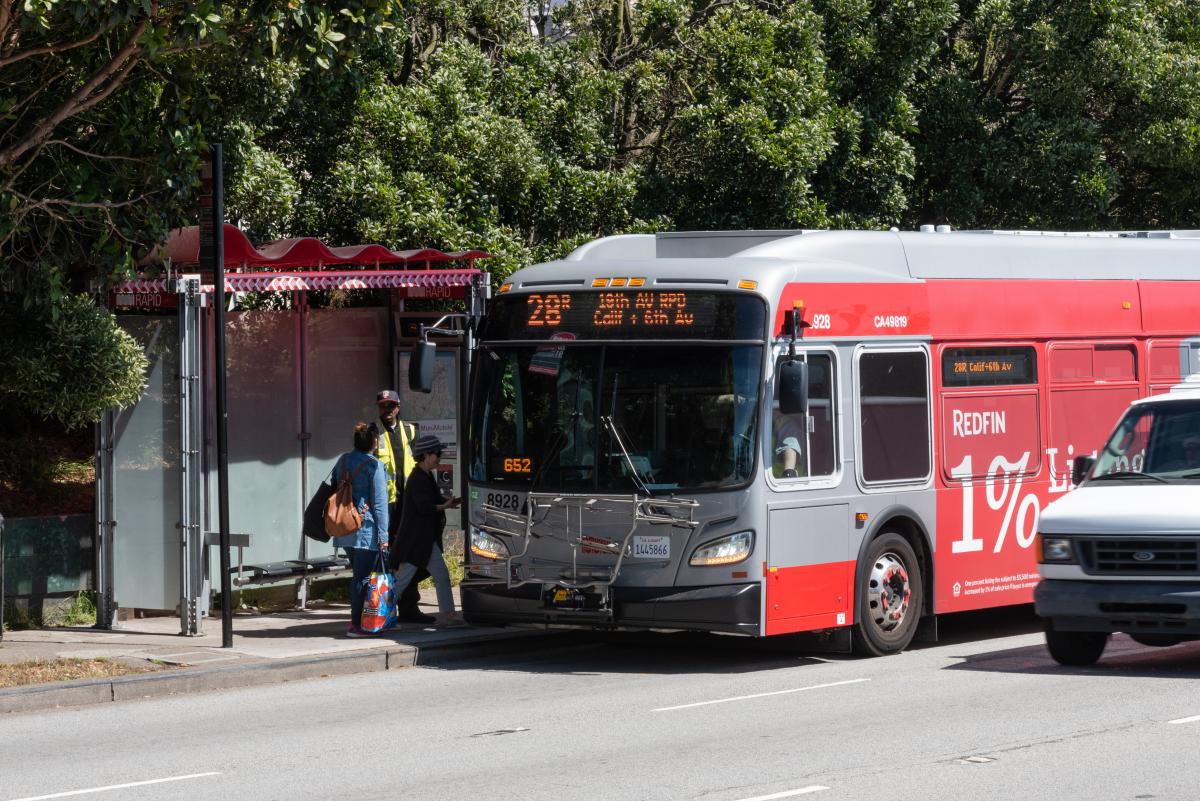 28R 19th Avenue will run on weekdays between 7 a.m. and 7 p.m. starting Monday, August 21.
Muni will make changes to service to address crowding starting August 19 as SFUSD students return to school. This includes the return of the 28R 19th Avenue and bus stop changes to the 29 Sunset to improve travel times.
28R 19th Avenue Rapid Service  
The return of the 28R 19th Avenue Rapid is a highlight of the upcoming August 19 Muni service changes. The restoration of the line since its suspension at the start of the pandemic will address crowding that riders on the 28 19th Avenue bus currently experience. The 28R 19th Avenue Rapid will run on weekdays between 7 a.m. and 7 p.m., every 12 minutes. Combined with the 28 19th Avenue, service on the corridor will be every six minutes.  
The 28R 19th Avenue Rapid will run on a modified route that ends at the Daly City BART station, rather than at the Balboa Park BART station as it used to. The new route will include the same 28R stops from 19th Avenue & Holloway Ave north, but after serving the 19th & Holloway stop, the bus will go directly to the Daly City BART.   
While the new 28R 19th Avenue will not provide service to stops on Arch or Alemany, it will provide a more direct route to BART for people along the 19th Avenue corridor. Riders along the Alemany corridor going to the Balboa Park BART station can continue to use the 54 Felton.  
Back to School 
With SFUSD students returning to school August 16, many families who rely on Muni to get to school will see Muni service increase after school as part of the new schedule. Because Muni vehicles often become crowded during morning peak hours and sometimes pass up stops when there is not enough room for extra riders, families are encouraged to plan their trips ahead of time and hop on Muni early to make sure students get to school on time. While the Muni service changes won't be implemented until August 19, school tripper service will be offered starting August 16, the first day of school for SFUSD. We have put together a list of Muni routes that serve SFUSD to help families plan their trips ahead of time. For more information, visit SFMTA.com/Muni2School. 
Highlights for the August 19 Service Changes 
As part of the 29 Sunset Improvement Project, 11 stops will be removed in each direction on the 29 Sunset to make trips quicker and improve reliability. The 29 Sunset's northern terminal will also change to 25th Avenue and California Street after 10 p.m. 

With the return of the 28R 19th Avenue Rapid, the 28 19th Avenue will see a decrease in weekday frequency from every 10 minutes during morning and evening peaks to 12 minutes all day. Combined weekday frequency with the 28R 19th Avenue Rapid will be every six minutes. 

To address crowding on the 14R Mission Rapid during the early morning and afternoon school hours, peak frequencies are shifting to more closely match demand. More frequent morning service will start at 6 a.m. and school service will ramp up around 2 p.m. 

The 31 Balboa will extend to Townsend and 4th (Caltrain) with eight new stops on weekdays only to make it easier to get to the South Bay. 

The 38 Geary service to Geary and 32nd Avenue will see an increase in service 8 a.m. to 11 p.m. on weekends to address evening crowding. The frequency 6 a.m. to 8 a.m. on weekends will decrease from 10 minutes to 20 minutes. 

The southern terminal for the 19 Polk in the Hunters Point Shipyard will change to Donahue & Innes, from Galvez Avenue at Hill Drive. All current stops on the line will continue to be served and the terminal will be in a location with better lighting to prioritize operator and passenger safety. 

The 30 Stockton will go back to terminating at Sports Basement (Crissy Field) until 8 p.m. The northern terminal after 8 p.m. will be on Divisadero at Chestnut. 

Inbound (16448) and outbound (16449) stops on Sloat at 43rd Avenue served by the 18 46th Avenue and 23 Monterey will be discontinued as part of the Sloat Quick Build Project. 

The 6 Parnassus inbound stop at Parnassus/Hillway (15892) will go out of service due to long-term construction. 

The 91 3rd Street/19th Avenue Owl inbound stop at North Point and Larkin (15465) will be removed due to long-term construction. 

The 48 Quintara/24th Street pilot reroute and eastern terminal change to 22nd at Iowa will be made permanent and will also apply to the 48 Owl. One weekday bus will be added to the 48 Quintara/24th Street to address crowding. 

To improve reliability without sacrificing frequency on the 57 Park Merced, we are adding a bus on weekdays from 11 a.m. to 7 p.m. This will allow the line to continue providing service every 20 minutes while contending with severe traffic congestion along the route.  Weekend frequencies will change to 25 minutes from 20 minutes to account for additional running time in light of congestion. 

The 55 Dogpatch will decrease in frequency from 15 minutes to 20 minutes to account for additional running time due to due to congestion and construction on 16th Street. 
We're also prioritizing safety on Muni. If you experience or witness customer or operator harassment on Muni, report it directly to the SFMTA by calling 311 or using the 311 mobile app or the Muni Feedback form (SFMTA.com/MuniFeedback).