This Weekend: Cole Valley Street Fair and TreasureFest
Thursday, September 27, 2018
Events: This weekend will be full of a wide array of events and activities including the annual Susan G. Komen Race for the Cure along the Embarcadero, the Folsom Street Fair, the last homestand of the season for the Giants against arch rivals the Dodgers, TreasureFest on Treasure Island, and the Cole Valley Street Fair. Read more about our featured events below.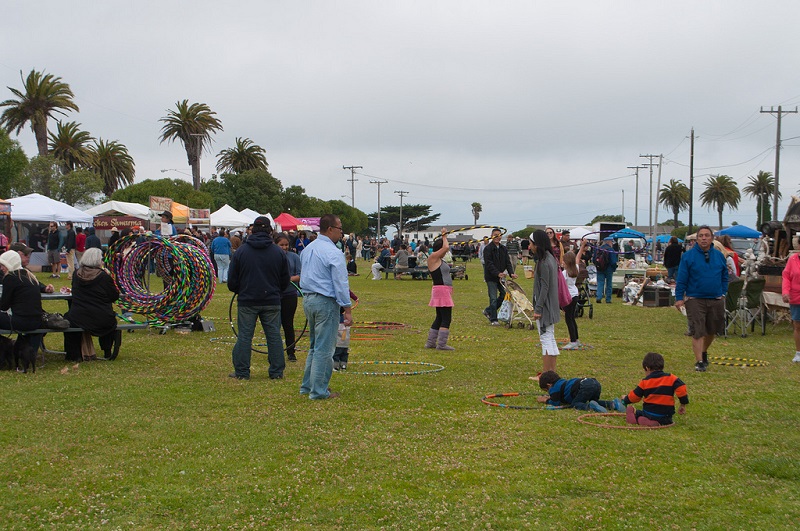 TreasureFest occurs the last weekend of every month (except December) on the east side of Treasure Island. Photo: InSapphoWeTrust/Flickr
TreasureFest: Shoptoberfest
Saturday and Sunday, 10 AM to 4 PM
Treasure Island
For the penultimate TreasureFest of the year, the monthly event will feature its first-ever Shoptoberfest. Along with the standard shopping and food vendors that people know and love, this month's event will have craft beers from over a dozen local brewers and happy hour $1-off special from 10 AM to 12 PM. As always, TreasureFest will also have scavenger hunts, DIY arts and crafts stations along with local arts and crafts vendors and much more for a family-friendly weekend experience in the Bay.
---
How to Get There on Muni: Riders can take the 25 Treasure Island Route to and from the island.
Muni Service Notes: There are no planned service changes for this event, though the 25 may experience increased ridership.
Cole Valley Street Fair
Sunday, 10 AM to 5 PM
Cole Valley
The annual Cole Valley Fair takes place on Cole Street between Carl and Grattan Streets in San Francisco. The event features local artists, food and drinks, live music, a neighborhood classic car show, children's events and more!
How to Get There on Muni: Riders can take the N Judah Line, the 6 Haight/Parnassus, 7 Haight/Noriega, 37 Corbett, or 43 Masonic routes to the event.
Muni Service Notes: The 6, 37 and 43 will have reroutes for this event. All lines in the area may see increased ridership or minor delays.
"On Tap" gives you a heads up about the big events in town and what Muni routes and lines will get you to the party. Look for this feature to be posted usually on Thursdays for a look ahead to the weekend. Check out our Weekend Traffic & Transit Advisory for more details.