Weekend Construction and Revisit the Panama Pacific Expo
Tuesday, November 10, 2015
To paraphrase an old song: if I had a hammer, I'd hammer in the morning, I'd hammer in the evening…and this weekend, that's exactly what will be happening throughout the city.
Construction Alerts and Reminders:
Construction at 4th and King to connect the existing T Third Line to the new Central Subway.
Central Subway track construction at 4th and King continues through Saturday, November 14. Here are some Muni service adjustments to remember:
There will be no E Embarcadero Line service on this weekend.

Bus shuttles are providing T Third Line service between Embarcadero Station and Sunnydale in place of trains.

The K Ingleside Line is operating between Balboa Park and Embarcadero stations.

The F Market & Wharves is beginning service 45 minutes later than regularly scheduled.

The N Judah Line will see delays in both directions.

Customers travelling to Caltrain should consider using the 10 Townsend, 30 Stockton, 45 Union/Stockton, 81X Caltrain Express and 82X Levi Plaza Express.
Sunset Tunnel construction work will resume this weekend beginning on Saturday at 2 a.m. During tunnel work, bus shuttles will provide N Judah Line service between Duboce Avenue and Church Street and Ocean Beach. Also, Nextbus time predictions for the N Line will not be available over the weekend.
Construction of the CPMC campus tunnel at Van Ness and Geary will resume this Friday at 12:01 a.m. and runs through 11:59 p.m. Sunday. Vehicle traffic will be detoured off of Van Ness Avenue between Post and Ellis streets during construction. Side streets will see an increase in traffic. Consider using alternative street routes or public transportation.
Van Ness Avenue will remain open for Muni and other transit services as well as for pedestrian use. The 47 Van Ness and 49 Mission/Van Ness routes may experience delays through the construction area.
The Muni Metro subway continues to close early each night at 9:30pm for system upgrades. Metro bus shuttles will operate between St. Francis Circle and Market and Spears streets from 9 p.m. to 1:30 a.m. even during 4th and King construction.
Events: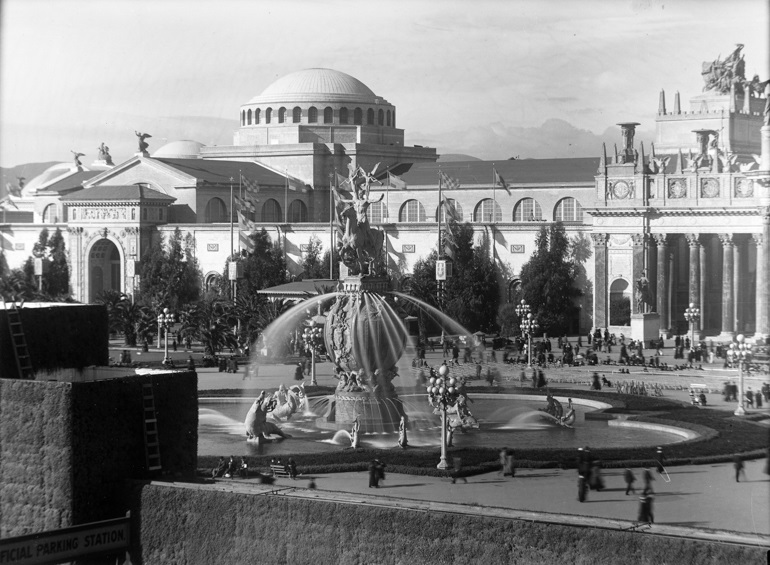 1915 Panama Pacific International Exposition, SFMTA Photo Archive
Panama Pacific Expo Photo Exhibit
Opening Reception
Thursday, 4 to 8 p.m.
Harvey Milk Photo Center
50 Scott Street
As the city continues to celebrate the Centennial anniversary of the Panama Pacific International Exposition, the SFMTA is participating in a special photo exhibit chronicling this seminal World's Fair that showcased the resilience, rebirth, and renaissance of San Francisco following the great earthquake of 1906. Curated by archivists at the SFMTA and San Francisco Public Library, and the director of Harvey Milk Photo Center, the exhibit will celebrate our city's history and the 1915 PPIE centennial while highlighting the work of the SFMTA Photo Archive to digitize and preserve our historic photo assets.
The exhibit opens on Thursday and runs through Wednesday, December 23, 2015.
History and vintage picture enthusiasts can take the 6 Haight Parnassus, 7 Haight/Noriega, 24 Divisadero, 37 Corbett and N Judah Line.
Muni service note: Service routes may see an increase in ridership.
Color Run 5K
Sunday, 8 a.m.
AT&T Park
Billed as the "happiest 5K on the planet," the Color Run is now the world's largest single event series, hosting more than 300 events in 50 countries. This year's race will take runners from China Basin through AT&T Park up along the Embarcadero to Rincon Park and then back down to China Basin for the finish line.
Runners and spectators can utilize the 8 Bayshore, 10 Townsend, 19 Polk, 30 Stockton, 45 Union/Stockton, 47 Van Ness, N Judah, and T Third lines to get to various points along the course.
Muni service note: Service along the Embarcadero may see minor delays due to increased ridership.
Veterans Day Holiday service schedule and enforcement reminder:
Muni service tomorrow will operate on a regular non-school schedule. Supplemental service will not run. For details view the service alert page.
Also tomorrow, seven-day street sweeping and parking meters (including those meters on Port of San Francisco property) will be enforced. Residential permit, Monday through Friday street sweeping, and commuter tow away will not be enforced. For complete details visit the holiday enforcement schedule webpage.
On Tap for next weekend: Urbanatholon
"On Tap" gives you a heads up about the big events in town and what Muni routes and lines will get you to the party. Look for this feature to be posted usually on Wednesdays for a look ahead to the weekend. Check out our Weekend Traffic & Transit Advisory for more details.