This Weekend: Lunar New Year Parade and Giants FanFest
Thursday, February 6, 2020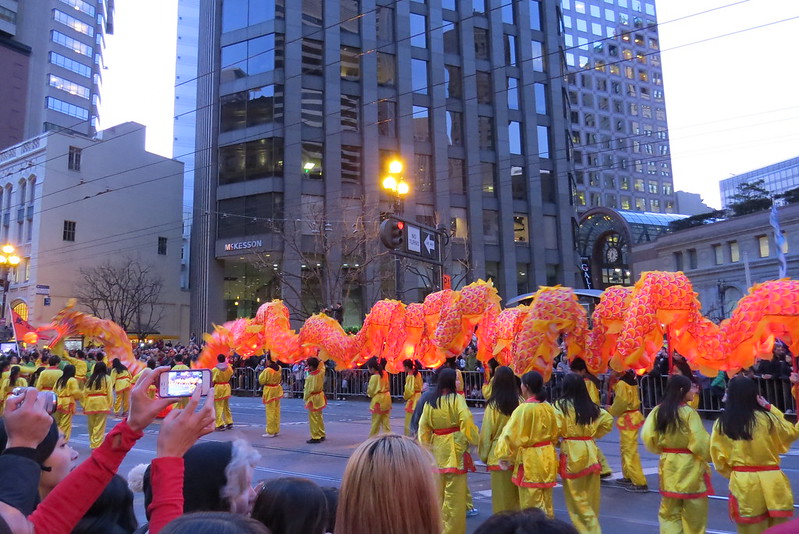 Dragons, firecrackers, food, music and so much more await those attending this weekend's Lunar New Year Street Fair and Parade. Photo: Carnival.com Studios/Flickr
Lunar New Year Street Fair and Parade
Saturday and Sunday, various times
Chinatown
The Year of the Rat is upon us and there will be no shortage of celebration of the Lunar New Year this weekend in Chinatown. The annual Lunar New Year Community Street Fair, now in its 29th year, will immerse visitors in the sights, sounds and scents of dancing, live music, delicious food and much more. Along with the shops and restaurants of the neighborhood, there will also be over 120 booths and concessions stands to ensure that there's a little something for everyone. The celebration takes place Saturday and Sunday, but be sure not to miss the grand parade on Saturday evening which will feature floats, costumes, and a 288-foot Golden Dragon that requires a team of over 180 men and women to carry.
How to Get There on Muni: Those traveling to the street fair may take the California Cable Car Line, 1 California, 8 Bayshore, 10 Townsend, 12 Folsom/Pacific, 30 Stockton, 45 Union/Stockton or 76X Marin Headlands Express routes to near the event along Grant Avenue. Parade-goers may take any of the aforementioned routes as well as any Muni Metro line to Powell or Montgomery stations, the F Market and Wharves Line, any Market Street bus route toward downtown, along with the 2 Clement, 3 Jackson, 14 Mission, 14R Mission Rapid, 38 Geary or the 38R Geary Rapid routes.
Muni Service Notes: There will be reroutes on the 10 and 12 throughout the weekend for the street fair. During Saturday's parade, there will be reroutes on the F, 1, 2, 5, 6, 7, 8, 9, 10, 12, 14, 14R, 21, 30, 31, 38, 38R, 45, 76X routes and the California Cable Car Line
Giants FanFest
Saturday, 10 a.m. to 3 p.m.
Oracle Park
For many, this Saturday's 27th annual Giants FanFest serves as the unofficial kick-off to the 2020 season. Giants fans can find players, coaches, alumni and other VIPs signing autographs at designated locations throughout Oracle Park, as well as have chances to have their photos taken with many of those VIPs. There will also be a chance to walk the field and temporarily pretend to be a major leaguer if just for a few minutes. 
How to Get There on Muni: Riders may take the K-Ingleside/T-Third Street or N Judah Muni Metro lines, as well as the 8 Bayshore, 10 Townsend, 30 Stockton, 45 Union/Stockton or the 47 Van Ness routes to near the ballpark.
Muni Service Notes: There are no service changes planned for this event. Routes heading to and from Oracle Park may experience increased ridership.
Remember that you can take Muni for the entire day for a single $5 fare. The new $5 Day Pass, available on MuniMobile®, is part of Muni's recent fare changes. The pass is intended to encourage a safe, convenient way to pay your fare and quickly board Muni vehicles, which reduces overall travel time for everyone. The $5 Day Pass is Muni bus, rail and historic streetcars only.
"On Tap" gives you a heads up about the big events in town and what Muni routes and lines will get you to the party. Look for this feature to be posted usually on Thursdays for a look ahead to the weekend. Check out our Weekend Traffic & Transit Advisory for more details.