This Weekend: A New Season of Sunday Streets
Daylight Saving Time Reminder:
This weekend is time to spring forward one-hour as Daylight Saving Time begins at 2 a.m. on Sunday morning. While most smartphones will make the time adjustment automatically, don't forget to wind those watches and clocks forward one hour!
Events: This weekend will feature the kickoff of the 2019 edition of Sunday Streets beginning in the Mission along Valencia Street, a celebration of National Corn Dog Day in SoMa, and a show of solidarity with Tibet at City Hall.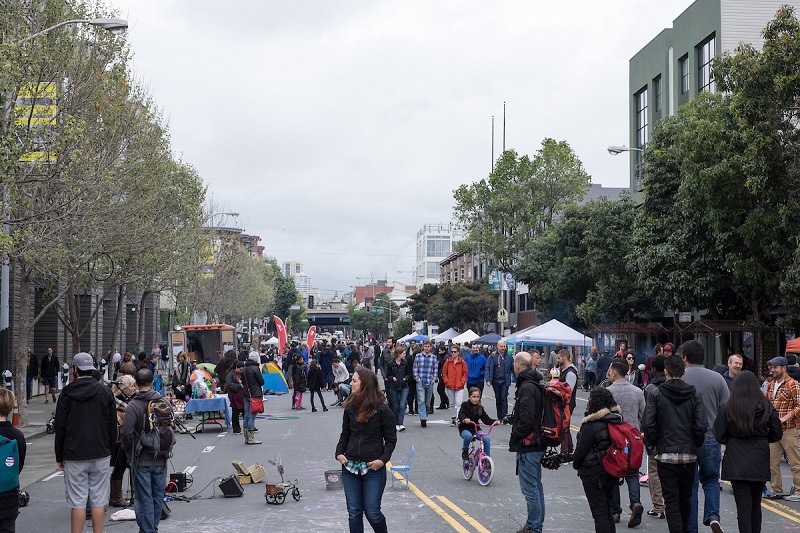 Fingers are crossed that the rainy weather will hold off long enough to allow everyone to enjoy this first Sunday Streets of 2019! Photo: SFMTA Archives
Sunday Streets in the Mission
Sunday, 11 a.m. to 4 p.m.
Valencia St. in the Mission
Sunday Streets kicks off the 2019 season in the Mission when the car-free fun will come to Valencia Street between Duboce Avenue and 25th Street. At over a mile in length, there will be plenty to see and do. There will be activity hubs at 16th and 24th streets, live music, a rock climbing wall and of course, everything the local shops and restaurants have to offer. Walk, bike, skate, or take public transit to the Valencia corridor to explore everything this vibrant neighborhood has to offer this Sunday from 11 a.m. to 4 p.m.
How to Get There on Muni: Riders may take the 12 Folsom/Pacific, 14 Mission, 14R Mission Rapid, 22 Fillmore, 27 Bryant, 33 Ashbury/18th Street, 48 Quintara/24th Street, 49 Van Ness/Mission, 55 16th Street or the 67 Bernal Heights routes to near the event on Valencia Street.
Muni Service Notes: The 12 and 55 routes will have minor reroutes near their respective terminals. Other routes in the area may see minor delays due to increased pedestrian activity from the event.
Remember that you can take Muni for the entire day for a single $5 fare. The new $5 Day Pass, available on MuniMobile®, is part of Muni's recent fare changes. The pass is intended to encourage a safe, convenient way to pay your fare and quickly board Muni vehicles, which reduces overall travel time for everyone. The $5 Day Pass is Muni bus, rail and historic streetcars only.
"On Tap" gives you a heads up about the big events in town and what Muni routes and lines will get you to the party. Look for this feature to be posted usually on Thursdays for a look ahead to the weekend. Check out our Weekend Traffic & Transit Advisory for more details.