This Weekend: SF Marathon Weekend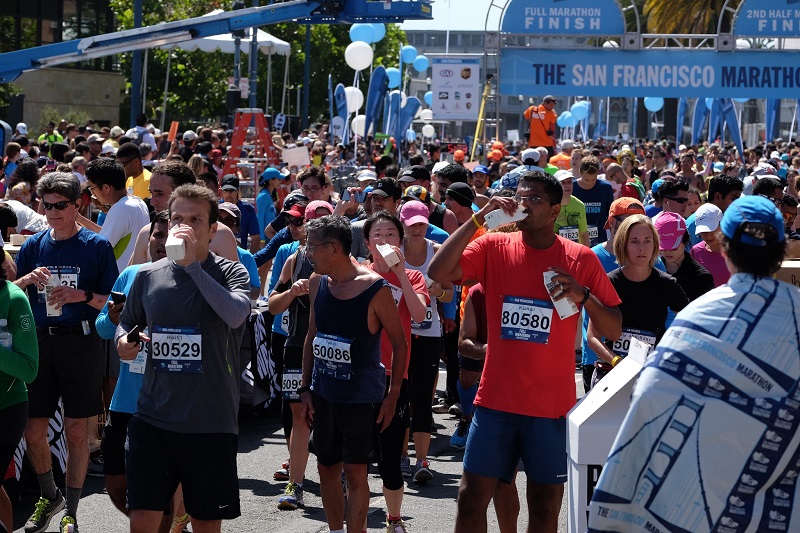 SF Marathon Weekend is upon us with activities taking place over the course of Saturday and the main race on Sunday. Photo: Jun Seita/Flickr
San Francisco Marathon
Sunday, various times 
The Embarcadero
Thousands of runners will take to the streets this weekend for the annual San Francisco Marathon. Five different races will take runners into the Mission, the Haight-Ashbury, Dogpatch, Golden Gate Park and out along The Embarcadero. Once runners cross the finish line, there will be a post-event festival along The Embarcadero.
How to Get There on Muni: Muni Metro subway service to Embarcadero Station, the F Market and Wharves Line as well as the 5 Fulton, 6 Haight/Parnassus, 7 Haight/Noriega, 9 San Bruno, 14 Mission/14R Mission Rapid, 21 Hayes, 31 Balboa and the 38 Geary/38R Geary Rapid routes will get you close to the starting line.
Muni Service Notes: The 6, 7, 10 Townsend, 22 Fillmore, 24 Divisadero, 28 19th Avenue, 29 Sunset, 33 Ashbury/18th Street, 37 Corbett, 43 Masonic, 44 O'Shaughnessy, 48 Quintara/24th Street, and 55 16th Street routes will be rerouted.
Remember that you can take Muni for the entire day for a single $5 fare. The new $5 Day Pass, available on MuniMobile®, is part of Muni's recent fare changes. The pass is intended to encourage a safe, convenient way to pay your fare and quickly board Muni vehicles, which reduces overall travel time for everyone. The $5 Day Pass is Muni bus, rail and historic streetcars only.
"On Tap" gives you a heads up about the big events in town and what Muni routes and lines will get you to the party. Look for this feature to be posted usually on Thursdays for a look ahead to the weekend. Check out our Weekend Traffic & Transit Advisory for more details.