This Weekend: The Urbanathlon and Sunset Tunnel
Wednesday, November 18, 2015
While last weekend looked like construction central with an array of projects taking place throughout the city, this weekend will be much less hectic as the last pre-holiday weekend looks to be a quiet one...unless you're grunting and screaming your way through this...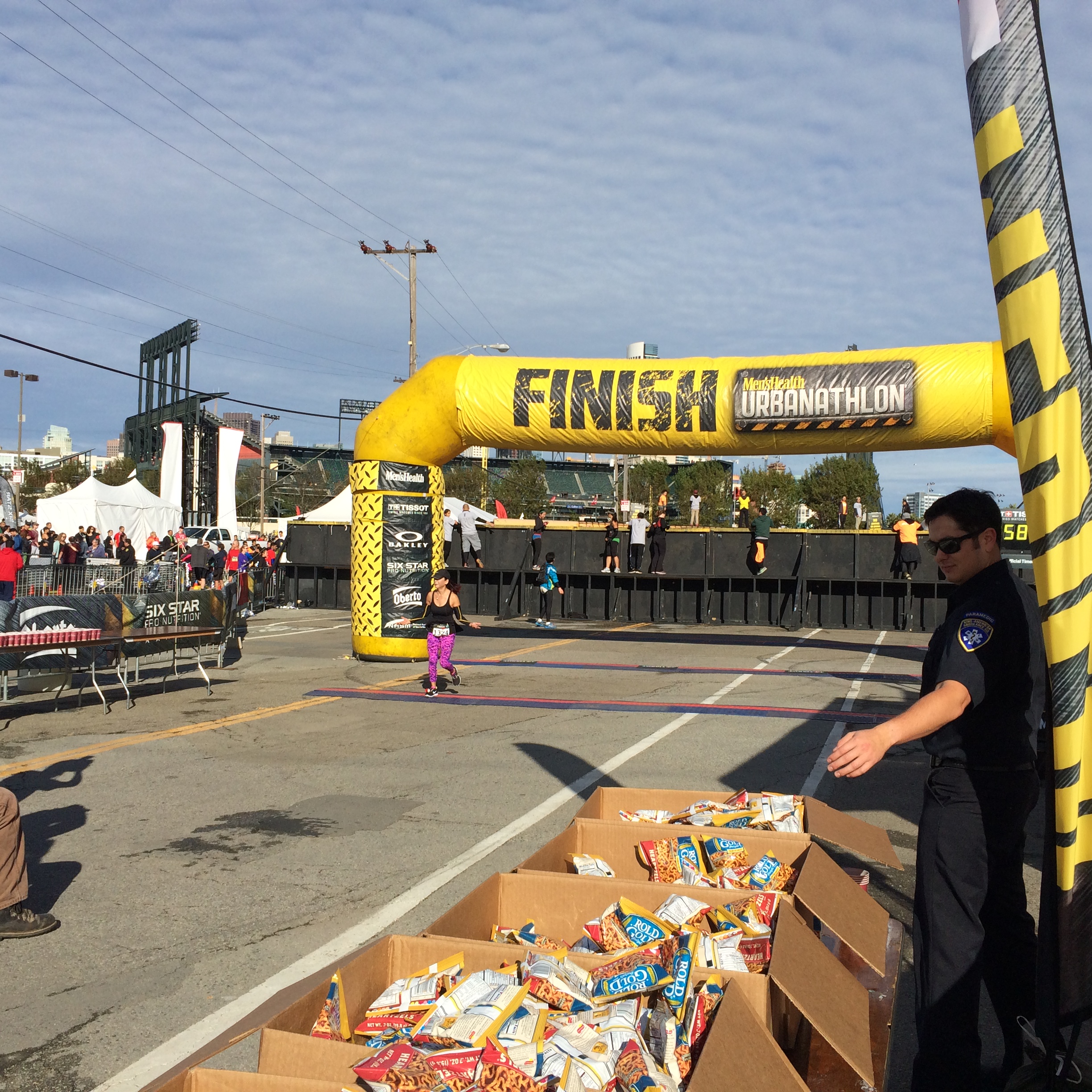 Competitors heading for the Urbanathlon finish line near AT&T Park on November 23, 2014. Photo credit: Nicki Dugan Pogue/Flick
Events:
Men's Health Urbanathlon
Sunday, 7 a.m.
AT&T Park
If you're looking to burn some pre-Thanksgiving calories, consider challenging yourself at this year's 10th annual Urbanathlon. Participants will tackle one of two races, either the "classic" which is an 11.2-mile run peppered with 18 obstacles, while the "sprint" is a truncated 3.8-mile run featuring eight obstacles. Once you cross the finish line in personal triumph, be sure to stick around for the post-race festival featuring music, food and event sponsor demos.
Race participants and spectators can take either the N Judah, T Third, F Market, 8 Bayshore, 30 Stockton, 39 Coit, 43 Masonic, or the Powell Mason Cable Car Line to get to different sections of the race.
Muni service note: The 39 Coit Route and F Market Line will have re-routes, while the N Judah, T Third, 8 Bayshore, 30 Stockton, 43 Masonic and Powell Mason Cable Car lines may see minor delays along the race course.
Construction Reminders:
Sunset Tunnel construction work continues this weekend beginning on Saturday at 2 a.m. running until 3 a.m. Monday morning. During tunnel work, bus shuttles will provide N Judah Line service between Duboce Avenue and Church Street and Ocean Beach. Also, Nextbus time predictions for the N Line will not be available over the weekend.
The Muni Metro subway continues to close early each night at 9:30pm for system upgrades. Metro bus shuttles will operate between St. Francis Circle and Market and Spears streets from 9 p.m. to 1:30 a.m.
News and Notes for the Thanksgiving holiday, November 26 and 27:
Service - Muni will operate on a Sunday schedule next Thursday with service on Friday, operating on a non-school weekday schedule (there will be no express route service.)
Holiday Enforcement  - Next Thursday there will be no enforcement of seven-day street sweeping, residential permit, Monday through Friday street sweeping, commuter tow away or parking meters (including those meters on Port of San Francisco property).
On Black Friday, seven-day street sweeping and parking meters (including those meters on Port of San Francisco property) will be enforced. Residential permit, Monday through Friday street sweeping, and commuter tow away will not be enforced. For complete details visit the holiday enforcement schedule webpage.
On Tap for next weekend: Thanksgiving Day 5K Run and Union Square Tree Lighting
Super Bowl 50: Watch this place for updates or sign up to get them sent directly to your inbox.
"On Tap" gives you a heads up about the big events in town and what Muni routes and lines will get you to the party. Look for this feature to be posted usually on Wednesdays for a look ahead to the weekend. Check out our Weekend Traffic & Transit Advisory for more details.