Weigh in on Design Details for a Safer 6th Street at Our Open House
Thursday, August 10, 2017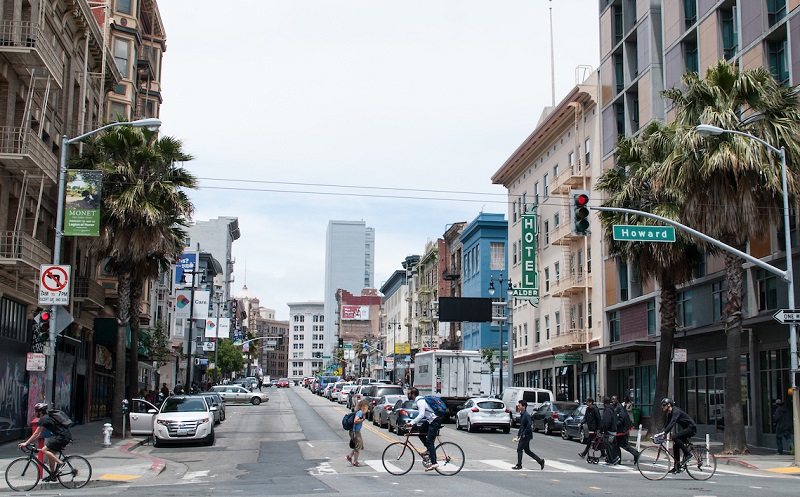 Help shape design details for a better 6th street at an open house meeting next Wednesday.
With the 6th Street Pedestrian Safety Project, we and SF Public Works aim to create a safer and more inviting place to walk, bike and drive on 6th, between Market and Brannan streets. In 2019, 6th Street is set to get improvements like wider sidewalks, more visible crosswalks, bike lanes, new traffic signals, as well as landscaping and street furniture.
The plans to reconfigure 6th Street's roadway shaped by input collected through outreach efforts in 2013, and we're now refining details on curbside parking and streetscape beautification. At next week's open house, we'll share the project proposal, information about the planning process, and ask for input on how to best designate curbside parking and loading zones. SF Public Works staff will be on hand to collect feedback on streetscape features like new pedestrian-oriented lighting, new trees and pavement treatments.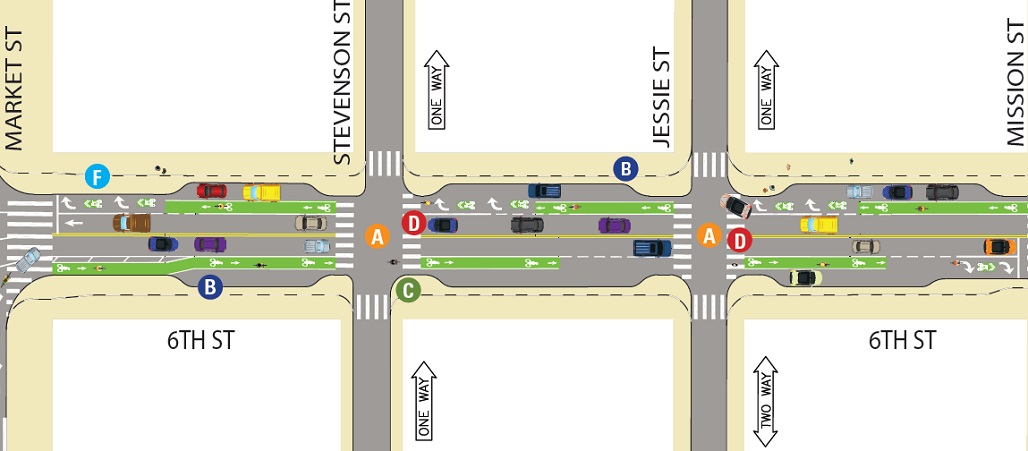 A preview of the plan to redesign 6th Street – see more details at our open house next week.
The plans to reconfigure 6th Street's roadway include reducing traffic lanes (also known as a "road diet") and adding bike lanes and sidewalk extensions to make the street calmer and safer.
Those safety improvements are crucial, as 6th Street has one of the city's highest rates of pedestrian injuries, and fatalities. From 2010 to 2015, there were 355 traffic collisions, 84 of which people walking, 6th between Market and Brannan streets. That makes the street a high priority for safety improvements in pursuit of Vision Zero – San Francisco's goal to end traffic deaths by 2024.
After environmental review is completed, we expect to hold a public hearing on the plan for 6th and present it to the SFMTA Board of Directors for approval this year. After detailed design for the project is completed, construction would take place in 2019.
If you're not able to drop by our open house, you can weigh in online with our curbside loading survey. Be sure to check out 6th Street Pedestrian Safety Project webpage to learn more about the project, contact us with other feedback and sign up for updates.
Wednesday, August 16, 5 to 7 p.m.
Bayanihan Community Center
1010 Mission Street